5 Ridiculous SkyMall iPhone Accessories
Open up any SkyMall catalog while on your next flight and you're bound to find a number of awful products, but when it comes to technology SkyMall has a number of ridiculous accessories.
If you look for iPhone accessories, the list gets even crazier with a number of out there products for your iPhone.
On the way to CES 2012 I leafed through the SkyMall catalog while I had to have all of my electronics gadgets turned off and I found the 5 worst iPhone accessories in the catalog, which I present below to share with you.
If you have purchased one of these devices, I'm sorry for your pain.
iPhone Wristholder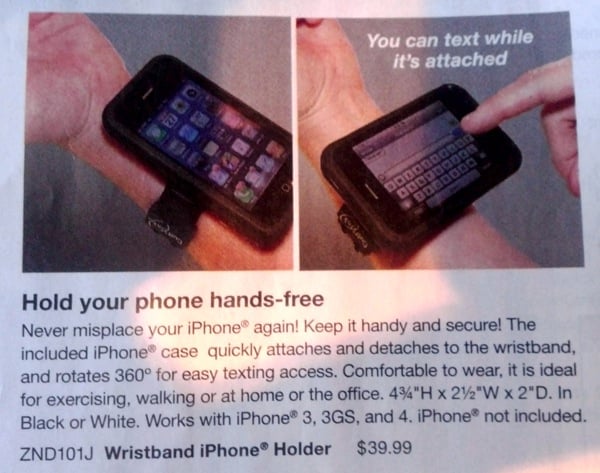 Sick of holding your phone while you use it? Why not strap it to your wrist and become a walking testament to the fact that there's a sucker born every minute.
Sure, you can text while it is attached to your hand and looks like it would be hard to lose, but why would you want to type with just a finger?
If you get bored, you can always spin your iPhone in the case, thanks to a 360 degree rotation.
For $40, you do get support for the iPhone 3G, iPhone 3GS and iPhone 4.
iPhone Desktop Handset
Forget bluetooth headsets or the built in speakerphone. Instead, you can spend $60 on a stand and headset that adds a cord to your iPhone so you can stay in one spot while you talk.
For your new tethered talking, you do get the ability to use your iPhone while you are talking, freeing you from listening to the droning on the other end of the call.
Who wouldn't want this lovely feature set at an affordable $60.
iPhone Photo Printer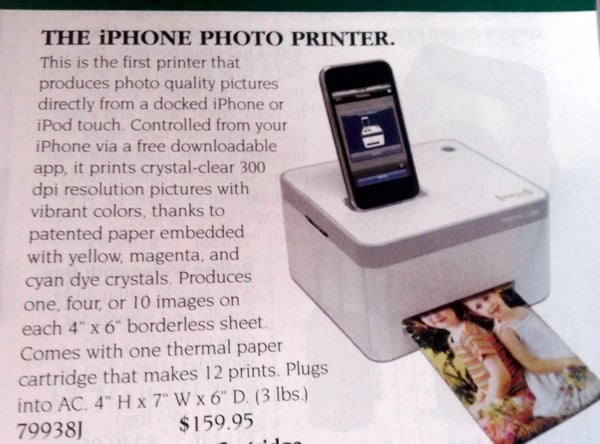 No more transferring pictures, using an app to order professional prints at the photo store or transferring your photos to a computer. With the iPhone photo printer you can print from the comfort of your home office.
At 70 cents a print, why wouldn't you print at home. Best of all, you can cram 10 photos on one 4″ x 6″ photo sheet.
At $160 for the machine and 12 prints, plus $25 for a 36 print refill, there's no reason to pass on this deal.
iPhone Dash Holder
When you hit the road, why surrender a cupholder to your iPhone? Cupholders are made for pop and coffee, not fruity phones.
This "stylish" console mount allows you to secure your phone to your dash. Just look how nice it looks in the photo, I'm sure it will fit right in no matter if you drive a Bentley or a Kia.
Why spend money on a nice mount when you can get the Mobi-Valet for $30 to $40?
Auto Tunes iPhone Cupholder Speakers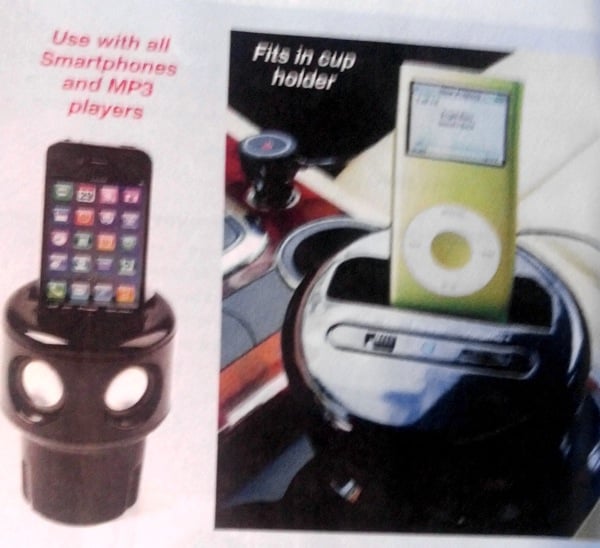 If you can give up a cupholder, the iPhone Cupholder speaker bypasses your car stereo and uses a "two speaker system" to free the music trapped on your phone.
Sure, you could buy an auxiliary adapter for your car or an FM adapter for the saw price, but you wouldn't be able to take that inside and plug in your laptop in the living room.
For $30, you can get this stylish looking upholder mount that even runs on AAA batteries when you aren't in the car.

This article may contain affiliate links. Click here for more details.