4 Things That Make the Surface Pro 4 Worth Buying
Cool things that redefine an entire kind of computing don't arrive on store shelves that often. We received two things that meet the threshold with the iPhone and iPad. Microsoft took influence from both devices to built the Surface line. All of the company's work culminates in the Surface Pro 4, a tablet that has the internals and soul of a notebook PC, blending the two form factors in ways computer lovers didn't think we'd ever get.
Microsoft announced the Surface Pro 4 at an event in New York City last October. Since then, I've used the Surface Pro 4 has become my do-everything device. I live with my decision to purchase the device daily. It's how I enjoy some very basic games. I'm currently keeping track of my cross-country move on the Surface Pro 4, keeping clippings of furniture I like and information about moving companies.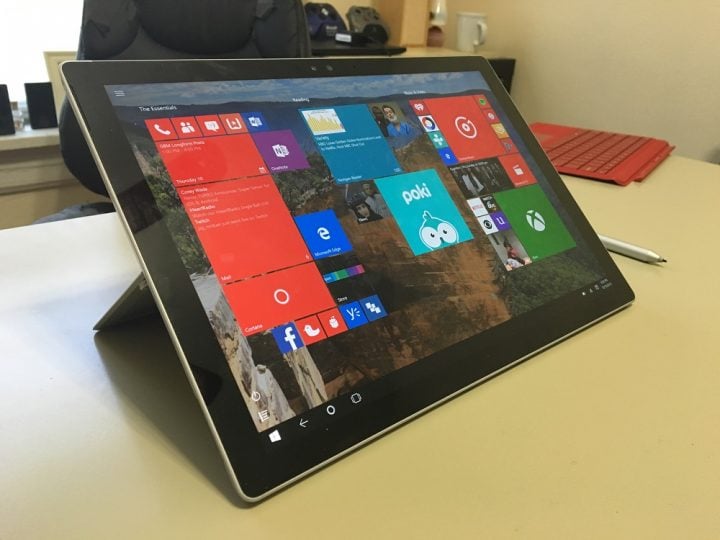 When I'm not using its pen to replace paper notebooks, I'm turning the paper notebooks I've kept all of these years into digital notes that I can search.  I'm able to do this using the 8 megapixel rear-facing camera and the devices free copy of OneNote. Also, nearly every piece I've written in the last half-year has been on a Surface Pro 4.
Read: Surface Pro 4 Review – The Best There Is
All of this time playing games, reading, writing and watching videos on the Surface Pro 4 has left me with what I'll admit isn't a completely unique perspective. The Surface Pro 4 is absolutely worth buying, despite its hefty price.
Surface Type Keyboard
I'm particular about my keyboards. In general, I prefer something that has some key travel. I don't mind texture, but I do mind when that texture combines with heat to make the keyboard really uncomfortable.  I'll level with you, the first Surface Pro keyboards were terrible. The Surface Pro 3's Type Cover added some much-needed space but kept the worst trackpad in the businesses.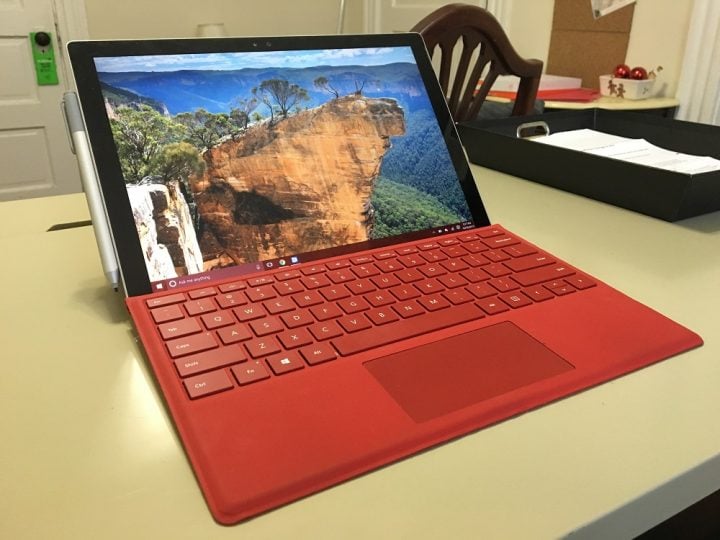 The Surface Pro 4 era Type Cover is an absolute dream. I didn't think that it would be a gamer changer at Microsoft's event, but has been. It has just the right amount of key travel. Better, each key is an island sticking out of the cover's surface. The trackpad is mostly glass now, with just the right amount of friction and space for scrolling. The right and left buttons are still a bit too loud. Instead I use finger shortcuts that take advantage of the trackpad's precision sensors.
That there's a soft textured exterior that makes it feel like a hind-end notebook is icing on the cake. I've taken to customizing mine with stickers to give it an "often-used" feel.
Microsoft's Attention to Detail
I've tried other devices like the Surface. Some of them have offered a few features that I wish were in the Surface Pro 4. Why Microsoft decided against a USB Type-C port in this device baffles the mind. I'm also still waiting for the company to deliver a Surface Pro that has built-in support for LTE.
What keeps me coming back to the Surface Pro 4 is Microsoft's attention to hardware details. I noted that the Pro 4 was more evolution than revolution in my Surface Pro 4 review for Gotta Be Mobile last year. It's basically, the Surface Pro 3 with design improvements.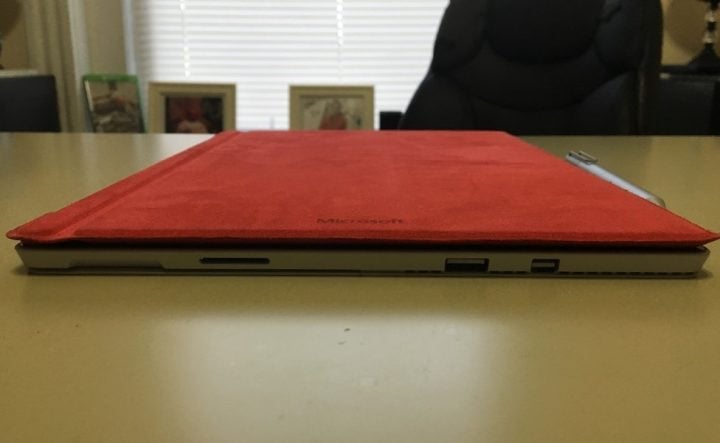 A thin little piece of metal kept the Surface Pro 3 from slipping when its kickstand was extended. The one on my previous device got caught on something and bent. The Surface Pro 4 ditched that metal band. I always found myself fussing with the Surface Pen, preferring to potentially lose it in a jeans pocket than attach it to my device with the Surface Pen loops that Microsoft thought charging $5 for was a good idea. The Surface Pro 4 has magnets for holding the pen now.
Read: 11 Microsoft Surface Pro 4 Tips & Tricks
Every angle, every button and the placement of every port underscore Microsoft's attention to fixing the tiny issues that plague Windows 2-in-1s and made the Surface Pro 3 less exciting. Every time I've tried to use a device made by someone else, I've noticed that they seemingly failed to learn these lessons. Some devices go back to using an add-on loop for storage. Some device makers have clearly not thought through their button and port placement either. Lenovo's ThinkPad X1 Tablet drops the pull-out kickstand mechanism for a button that users have to feel around for on the back of their device.
The Surface Pro 4 Kickstand
Often, I see criticism leveled at the Surface line's must identifiable feature from the early days: the kickstand. Having a kickstand built into my tablet feels kind of weird. You do notice the seam running through the backside of the device as you hold it in your hand to read, for example.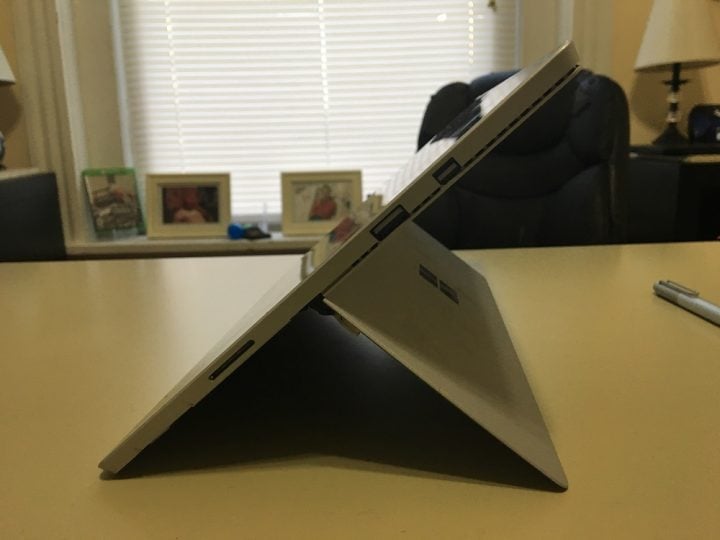 Still, it's the best implementation we've seen of a kickstand yet. Apple drops the ball entirely by forcing users to adjust a kickstand built into its keyboard cover. Sure, that gets rid of the seam, but then you have to invest in the keyboard. The aforementioned kickstand on the ThinkPad X1 Tablet folds down instead of outward. Not only does the device wobble when using its touchscreen and the kickstand, it feels awkward to extend.
More important than all of that, the tension system that Microsoft used for the extension mechanisms feels great. It allows you to get a really good angle for portrait writing or using the device on a desktop.
Writing with the Surface Pen
The Surface Pen is the thing that Microsoft understands better than its partners the most. Picture a digital stylus in your mind. What you're thinking of is probably skinny, black, has at least two buttons and doesn't give you the feeling that you're writing on paper. The Surface Pen for the Surface Pro 4 nails pen input.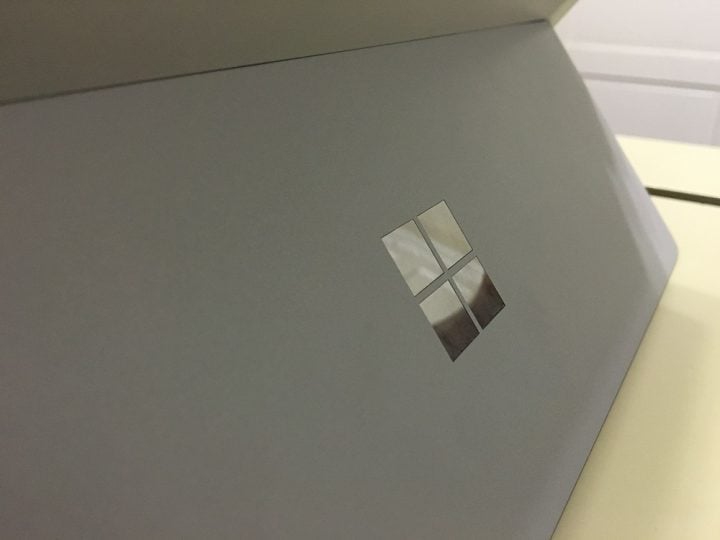 Yes, there are two buttons, but one of them is underneath the rubber eraser cap that makes this stylus look subconsciously familiar to you. Then pen tip can be as thick as you want, thanks to removable tips. I don't like that Microsoft charges Surface Pro 4 buyers for access to these tips, but I digress. The flat side of the pen makes it comfortable to keep your finger on its button, plus lends it some visual flair. The Surface Pen is rotund and hefty in the ways that high-end pens are.
Read: The Best Surface Pro 4 Deals
I'm not exactly advocating that you spend the $799 minimum that buying the Surface Pro 4 requires. I'm just saying that with the buggy Windows 10 software situation finally under control, the Surface Pro 4 is a perfectly great investment that's proved its worth for me. I suspect the same will be true of others willing to give it a chance.