5 Things to Do with your New iPad
If you received a new iPad for Christmas, here are five things that you should do with it soon after you set it up.
The iPad is one of the most popular tablets on the market right now, with the new iPad Air 2 as the flagship slate, while the iPad mini 3 takes over as the company's smaller version over the iPad mini 2.
Whether you received a brand-new iPad Air 2 or a last-generation iPad Air, you'll get plenty of entertainment value out of it. However, while you can simply just go through the set up process and begin using your new iPad right away, there are some things that you may want to consider doing in order to maximize the iPad usage experience.
You'll want to download some apps to get you going, as well as some games so that you can have some fun while you're out and about. Plus, you'll something to protect your iPad from damage if you accidentally drop it.
And what if your iPad gets stolen? You'll want to make sure that you have Apple's security features enabled.
Without further ado, here are five things to do with your new iPad.
Download Some Cool Apps
An iPad isn't complete without a bevy of apps to use it with. This is why you'll want to head to the App Store and download some cool apps and games to play around with.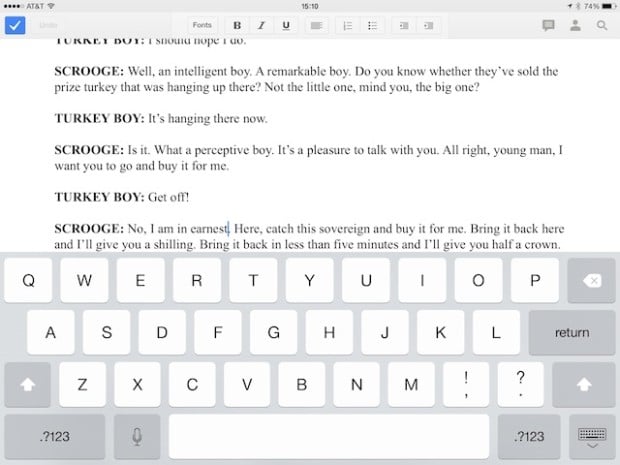 The iTunes App Store has thousands upon thousands of apps to choose from, and it can even be a little difficult to sift through the clutter and find those useful apps.
This is why we recommend checking out the Top Charts in the App Store to take a look at some of the popular apps that users love.
Some of our favorite apps include Evernote for note-taking, Feedly and Flipboard for keeping up with news, as well as the usual social media apps like Facebook and Twitter. You can check out some of our other favorite apps here.
Get a Case
To protect your new iPad, you'll definitely want to get a case for it. We recently reviewed the Poetic GraphGrip case for the iPad Air 2 and found it to be a great option that provides ample protection, but still keeps the overall package thin and lightweight.
If you want a keyboard or your new iPad, there are a bevy of keyboard cases that you can choose from, including options from Belkin, Logitech, and Zagg.
Keyboard cases offer a two-in-one package that provides a physical keyboard with the protection of an iPad case. They do add a considerable amount of thickness and weight to your iPad, but it's worth it if you need a keyboard to go along with Apple's slate.
Install a Screen Protector
The iPad's screen is made out of a toughened glass that's resistant to most scratches, but it can still get dinged up, which is why we recommend getting a screen protector for your new iPad.
There are plenty of screen protector options to choose from, including tempered glass and simple plastic protectors that are fairly cheap, although we recommend tempered glass screen protectors, simply because they can put up with more wear and tear.
Tempered glass screen protectors come in thin sheets of glass that you simply affix atop your iPad's screen. They're a bit thicker than regular plastic screen protectors, so the Home button may feel more recessed than usual, but that's something you can easily get used to.
One thing to be aware of is that tempered glass is a bit more expensive than other screen protector options, simply because it's glass and not just plastic, but it's highly worth it if you want to keep that premium glass feel when using your iPad.
Change Some Privacy Settings
Privacy is a huge concern for a lot of people, especially with all of this NSA hoopla that's been going around for the past year or so.
No one wants to be tracked or have all of their internet activity captured by web companies and sold to advertising agencies, but that's the kind of world we live in today. However, you can at least prevent most or some of that from happening by being aware of the privacy settings that you have control over on your devices.
Apple has been under target plenty of times in the past, with claims that the Cupertino-based company hands over Touch ID fingerprint data to the NSA and has the ability to read your iMessages. Of course, Apple has denied any claims like this, and CEO Tim Cook has even went onto television to make statements that Apple doesn't work with the NSA to hand over personal data. Whether you believe this or not is another story, which is why it's better to be safe than sorry.
There are a few privacy settings that you should change on your iPad if you're paranoid about companies and the NSA tracking you, including diagnostics and usage data. Open up the Settings app and navigate to Privacy > Diagnostics & Usage. Then tap on Don't Send.
Location-based iAds are another setting you should change. Open up the Settings app and navigate to Privacy > Location Services > System Services. You'll see a list of various toggles that you can turn off and on. You'll see one that says Location-Based iAds. Go ahead and flip the toggle to the right until it's grayed out.
Enable Find My iPad & a Passcode
Millions of phones get lost or stolen constantly, and usually there's not much you can do about it other than to try and go back and find it. If it's stolen, you're kind of out of luck, unless you can find a way to somehow locate it and get it back from the perpetrator. However, phone manufacturers are adding ways for owners to track and manage their phones if they ever get lost or stolen. Apple's Find My iPad is one example of this.
Find My iPad is a service that comes free with every iPad, and it allows you to track your iPad, whether it was lost or stolen. Of course, it only works when the tablet is on and it has a signal, so if it gets stolen and the thief was smart enough to turn off the tablet or put it in Airplane Mode, Find My iPad won't work, but it'll at least give you a fighting chance.
Open up the Settings App and tap on iCloud (You may have to log in using your Apple ID at some point). Then, scroll down until you see Find My iPad and switch it on if it isn't already. You might get a prompt confirming your action, so just tap Allow if this pops up.
As for a passcode, it's important to have one enabled so that other people can't access your stuff while you're not looking. To enable a passcode on your iPad, open up the Settings app and tap on Passcode. From there, select Turn Passcode On to set up a passcode for your tablet.

As an Amazon Associate I earn from qualifying purchases.