5 Things to Know About the HTC One M9
Now that the HTC One M9 is available in the United States and set to arrive on all major carriers starting April 10th, buyers are likely weighing their options and trying to decide if it's right for them, or if they should get an iPhone or the new Galaxy S6 instead. While our detailed HTC One M9 review is coming soon, below are five things buyers should know about HTC's latest flagship smartphone.
On March 1st HTC took the stage at Mobile World Congress and announced its new HTC One M9. The smartphone was leaked countless times before the reveal, so there were no surprises when it was unveiled. It didn't get released the same day, but it's now available from HTC, and hitting carrier shelves soon.
Read: HTC One M9 Release Date Breakdown for the US
HTC confirmed the new One M9 release date was in Mid-March, but that was only for Taiwan, and users in the US had to wait a little longer. The phone is now available for pre-order and will start arriving soon, and you'll want to know a few key details before making the jump and buying this impressive all aluminum smartphone.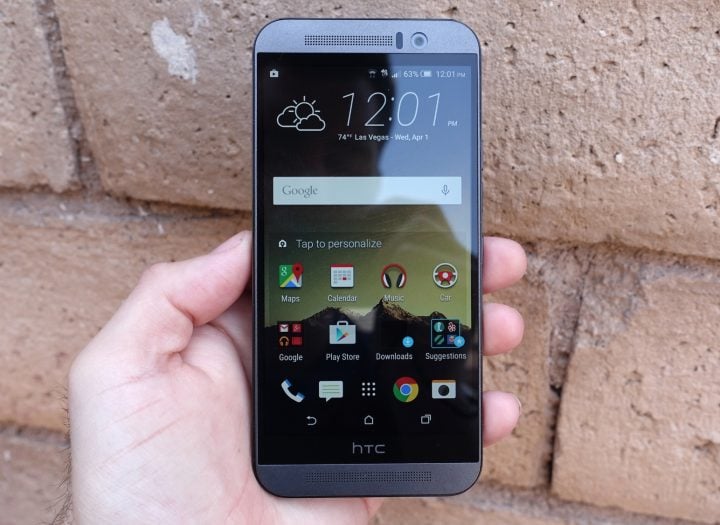 Just like last year the new HTC One M9 looks very similar to the model before it. In fact, looking at the front of the HTC One M9 and you'll barely be able to recognize it over the model released in 2014. They're nearly identical, but do have a few noteworthy features we'll talk about below. And while being the same as the model before it, they didn't take any risks, so may not get any rewards in the form of buyers loving the phone. Samsung, for example, made huge changes to the Galaxy S6 and so far it's shaping up to be one of the best devices released in all of 2015.
Beautiful Design
Yes the HTC One M9 looks almost exactly the same as the One M8 released in 2014, but that's not necessarily a bad thing. It had an award-winning design, a beautiful unibody aluminum frame, and felt great in the hand. This year is more of the same. Whether you like it or not. It features the same design, but is actually slightly smaller, more rounded on the edges, and actually easier to hold.
HTC knows how to build a beautiful phone, which is likely why those chose to stick to the exact same design as last year. That said, they've introduced a new two-tone color design, and the silver with a gold finish looks stunning. The all aluminum design looks and feels great, is very solid, but actually seems a bit lighter and cheaper than last years, but that's just nitpicking. It's still all aluminum, made extremely well, and is as finely crafted as any smartphone available today.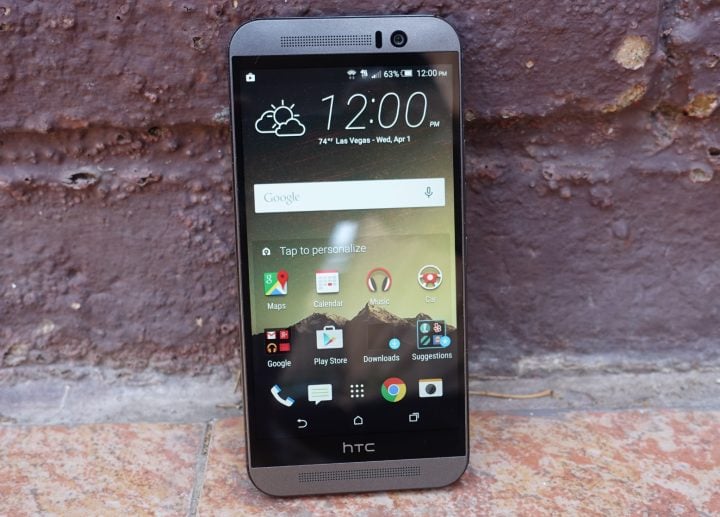 The metal frame appears to have a slightly more matte finish, so won't be as much as a fingerprint magnet as the One M8, and hopefully be more durable as well. The HTC One M8 got scratched all around the Duo camera and on the edges relatively fast for us, so here's to hoping the new One M9 can hold up better to the test of time.
As we said above, the One M9 actually is a little smaller, with more rounded edges. It's easier and more comfortable to hold, has a bigger battery and much better internals and an 8-core processor, yet is still smaller than last year. Meaning HTC did make some big improvements, even though they're not visible to buyers eyes.
All said and done the HTC One M9 is an amazing looking phone, feels great in the hand, and is a joy to use. Whether or not you want a phone that looks identical to the previous model though, is up to buyers.
Performance
While we'll dig deeper into performance and the Android 5.0.2 Lollipop software on board in our full review, our initial impressions regarding performance is extremely positive. This is still HTC Sense, which covers up stock Android, but it's butter smooth. Everything is fast, fluid, and runs great. This is in part due to improvements by HTC, as well as a powerful 8-core Snapdragon 810 processor with 3GB of RAM.
Playing games, launching apps, multi-tasking, and watching movies on Netflix are all a joy. The dual front facing Boomsound speakers actually sound better than last year, even if they don't get quite as loud. They've introduced Dolby Audio technology this year, which is a welcomed addition.
Early reports suggested the Snapdragon 810 processor wouldn't be a good choice for the phone, as the 8-core chipset was overheating. That doesn't appear to be the case. For those wondering, the phone has a powerful quad-core processor for most tasks, as well as a lower 1.2 GHz quad-core chip for smaller things like web-browsing, and simpler tasks. This means you have the power when you need it, and the low-power chip to let you browse the web and make calls without draining the battery. Which brings us to our next topic.
Battery Life
We're still busy using the new HTC One M9 as our daily phone, and so far battery results have been mixed. Some days are better than others, naturally, but our initial impressions are extremely positive. Thanks to keeping the same 1080p HD screen and not going to a 2k display like Samsung and LG, having the efficient Android 5.0 operating system, and now a bigger 2,840 mAh battery (compared to 2,600 mah last year) the HTC One M9 has great battery life.
On average I've been experiencing around 2-3 hours of the all important "screen-on time" with the phone still having enough juice to last me from 7:30 AM when I get up, all the way to the end of the day. I've made it from 8 to 8 with no problem, but other intensive usage days needed a quick top off or two. The HTC One M9 has Qualcomm Quick Charge 2.0 technology, meaning that once it gets below 10% it charges much faster than typical device. 30 minutes on the charger gets it to 50%, and you'll certainly have enough for the rest of the day.
Thanks to an efficient 8-core processor in the Snapdragon 810, a bigger battery, and Quick Charge technology, battery life won't be an issue like it has been on previous HTC smartphones. No, it won't last as long as the DROID Turbo or the Galaxy Note 4 and phones with a huge battery, but it has more than enough juice for all average owners to get through an entire day, if not more.
Camera
When it comes to the camera on the HTC One M9, we still need to do further testing, but our initial impressions are similar to last year. Those being that the HTC One M9 is a great device, but the camera is still one of its weakest links. Last year the One M9 had a "Duo Camera" system with a 4 Ultrapixel camera, and a secondary camera for added effects and features. Users could do some fancy things to add points of focus, and change the focus point after you took the photo. It was nice, but wasn't up to par with the iPhone or Galaxy S5.
The new HTC One M9 comes with a single and much better 20.7 megapixel camera on the rear, and that 4 Ultrapixel camera is on front for some pretty great selfies and group photos. However, snapping images with the rear camera isn't as good as we expected. There's no optical image stabilization like Samsung, Apple or LG offer, and images are decent if the conditions are good. Low light isn't nearly as good as we expected, the auto focus can be finicky and slow at times, and overall the experience has been sub-par.
The Galaxy S6 looks to have the best camera of any Android smartphone, and Apple's iPhone 6 takes some great photos too. HTC is doing better, slightly beating out the HTC One M8 last year, but that isn't saying much. However, they do have some neat software tools to help improve photos, change focus, and more. If the camera is extremely important, you may want to pass on the One M9.
Software & Themes
HTC has a software overlay that covers stock Android called HTC Sense UI. The HTC One M9 comes with an all-new HTC Sense 7 interface. It offers some neat new features, a cleaner and more simple look, and even a predictive widget on the homescreen that learns from your usage. It then, will gather popular and often used apps and place them in an easy to find widget right on your main screen. This is nice, but certainly not for everyone. It was constantly changing, so I quickly removed the widget and just put the apps I wanted on my main screen.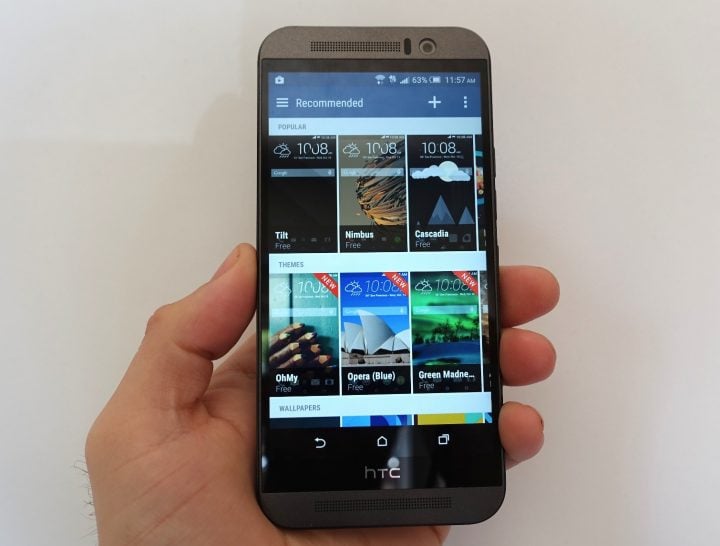 HTC Sense is still a bloated version of Android that makes the interface feel someone outdated. And while some love it, others not so much. I'm a part of the latter group. That said, there is a new HTC Theme engine (and community) that is simply excellent. In a matter of seconds you can change the entire look and feel of your device with tons of built-in themes, add-on themes that users have created, or even let the theme engine take colors from an image you took with that 20 megapixel camera and add it to the UI.
Meaning if you snap a color of the sunset, it will take the orange, reds, and blues and integrate that into the user interface. You can quickly change colors, header colors at the top of each page, font, and much much more. This is actually extremely nice, powerful, and one of our favorite additions to the new HTC One M9. This same area lets you change the icons if you want, ringtones, and more. This is customization we've been wanting from HTC, and it's finally here. You can even change the navigation buttons below the display, if you'd like.
Final Thoughts
So far we've been really enjoying all the HTC One M9 has to offer, but buyers need to go in knowing that it offers very much of the same. Meaning if you have an HTC One M8, you probably want to wait for another device next year. Those with the original HTC One will enjoy the bigger display, better camera, faster performance and more, but it's still a similar device to the original HTC One from 2013.
The all-new HTC One M9 has tons to offer prospective buyers, but we can't help but feel like they took an extremely safe route with the design, interface, and overall package. This is a great phone that will hit almost all US carriers on April 10th, so decide if it's right for you, and go pre-order one today.