5 Tips for Making the Windows 8 Start Screen More Useful
Windows 8's Start Screen has earned a decent amount of criticism over the last couple of years. Mostly because buyers of Windows 8 tablets, desktops, laptops and 2-in-1s don't think of it as being as useful compared to the Start Menu that it replaced.
Mostly, that's because the Start Screen is something entirely new in Windows 8. In its effort to make sure that touch users had an interface that they could interact with, Microsoft decided it would be a good idea to rethink the Start Menu. Unlike the Start Menu, the Start Screen isn't some miniature pop-up with a list of installed programs in alphabetical order.
Instead, the Start Screen is a touch friendly area that's filled with its own different kind of apps. These apps each have their own individual customizable tiles. App makers can put things like a user's bank balance or latest emails on the Start Screen for them to quickly glance at. Users can then resize these tiles and move them around for a bit of added customization.
Here are some tips for making the Windows 8 Start Screen more useful, inviting and functional.
Pinning Useful Live Tiles to the Start Screen for Easy Visibility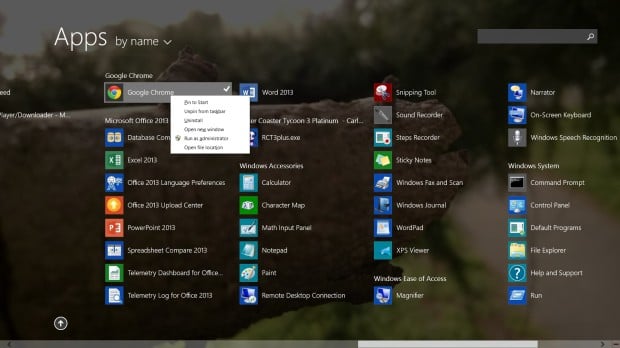 The biggest mistake new Windows 8 device buyers make is that they get their device home and stick to the live tiles that are pinned to the Start Screen. They never customize them and they never add any new ones. Instead, they keep diving back into the Desktop for all of their needs. This turns the Start Screen into a sort of pit stop on the way to the Desktop.
Windows 8 users should go into the app list by swiping up on the Start Screen from the bottom of their touch display or by clicking on the arrow in the bottom-left corner of their screen. Mouse users should right-click on each app that they think they'll want to access quickly and pin it to their Start Screen. Tablet users should tap and hold their finger on each app they find useful and pin it to the Start Screen.
It doesn't matter if the app is a Windows Store app or a Windows Desktop app. The point is to pin it to the Start Screen so that you can quickly dive into it without a problem.
Arranging Live Tiles Based on Usefulness and Priority
Looking at different tiles for information is daunting. Thankfully, Windows 8 allows users to rearrange and group live tiles in ways that makes more sense for their needs and break up the monotony of colored rectangles and squares. Many Windows users, myself included, separate apps into media apps, news apps, and tools. This allows the brain to instantly know exactly where to go to open a specific type of app or glance for new notifications.
Download Apps With Useful Live Tiles
Every installation of Windows 8 on every device comes with a default list of installed apps. Pre-installed apps like News and Weather provide sufficiently useful Live Tiles. Don't just stick to those apps though, there are plenty of Windows Store apps that have more robust Live Tile offerings.
Flipboard showcases the latest cover stories directly on its Live Tile and MetroTube surfaces user's latest YouTube subscription updates directly here. Simple apps like YourTime allow users to put a clock on the Start Screen instead of opening the Charms Bar. Look for apps with decent Live Tiles, and if possible never buy an app that doesn't have one. As you download and install these apps they'll become available on other Windows 8 devices you have.
Add a Background for a Bit of Personality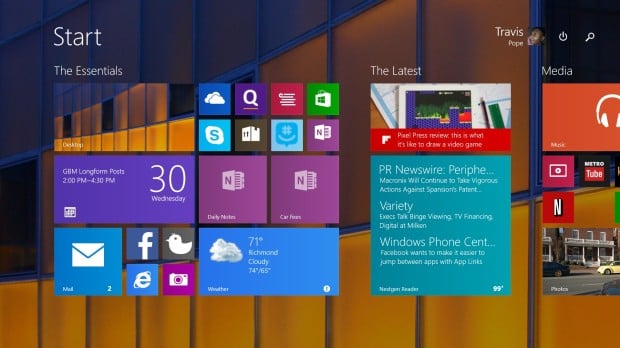 In early versions of Windows 8, Microsoft didn't have a built-in way for users to add their own pictures behind the Start Screen's Live Tiles. Why that was remains a complete mystery, but the company added the feature in a free update later. Enabling this feature also sets the default background picture to whatever other Windows 8.1 devices you have. Turning it on makes the Start Screen feel less like an empty colored hole and more like a cohesive useful part of Windows.
Read: How to Add a Background to the Start Screen in Windows 8.1
Replacing Live Tiles with a List of Installed Applications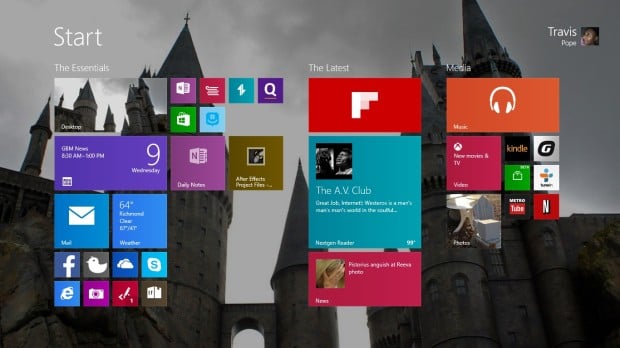 No matter what tips and tricks are available today, it's likely that some people still aren't going to want to use the Start Screen. That's not really a reflection on them as much as it is the Start Screen. Adding things to the Windows workflow was never going to please the subset of users who are set in their ways.
For those users, there's always the option to disable the Start Screen. This is done in two different ways. First, users can disable the Start Screen's Live Tiles and show only the list of installed applications when they hit the Windows button on their laptop or desktop.
The second option is a bit more involved but allows Windows 8 users to quickly recreate the Start Menu from past versions of Windows. Users can add the Start Menu back by installing Stardock's Start8 desktop program.
Read: How to Bring Back the Start Menu in Windows 8
Whatever tips you decide to take advantage of concerning the Start Screen remember that there isn't one way of doing things. For it to work best you the Start Screen needs to be customized for your personality and computing habits.  Change things often until you find what works best.