5 Tips for Picking a Great Smartphone or Tablet Case
While at the dentist today, my son played with my Amazon Kindle Fire. When finished, he set it on a table next to his cup of water and spilled water all over it. Fortunately, my case kept it dry. That was $40 well spent. It got me thinking about case selection.
Over the last couple of years I've played with more iPad, smartphone and tablet cases than you can imagine. Some of the cases we look at are truly great and others are awful but most, well, they just don't stand out. Some provide added features and others do little more than look nice.
What are the main things you should consider when selecting a case for your mobile device? Here are a few tips based on our team's experience of playing with literally hundreds of cases over the years.
Function Over Form
What's the most important purpose of a case? That depends on the device. Typically we use cases on our mobile devices for the following reasons:
Protection from drops, water or even dust
Added functionality like stand cases for an iPad or battery cases for an iPhone
Transformation of the device's feel or looks as in the case of my Kindle Fire case which makes it very book-like
Protection
In terms of protection, Otterbox cases will keep your phone protected if you drop it. You can also get waterproof cases from Otterbox, LifeProof and others so that you can answer the phone while working as a lifeguard or in a car wash.
Almost every case offers a degree of protection. I don't use rugged cases like those from Otterbox because they're too bulky and I don't like the screen protectors. However, I have dropped my iPhone half a dozen times and have yet to break one, and that's because I almost always use a case of some kind. A couple of weeks ago I dropped my iPhone 4S while it was safely housed in an Incase Snap Stand Case and, even though the case broke, my phone did not. It did make we want slightly more protection so I got another one from Incase, the Pro Slider Case, which has rubber padding along the edges both inside and outside of a hard plastic shell.
Functionality
Cases often perform specialized functions, if you need it. The iPhone 4S may not have the greatest battery life, but a good battery case can extend your talk time by hours, and your music playing time by half a day, if you pick the right one. For example, a few cases I'm testing, two from Mili and one from Mophie, do a really good job of giving you as much as an extra day of power.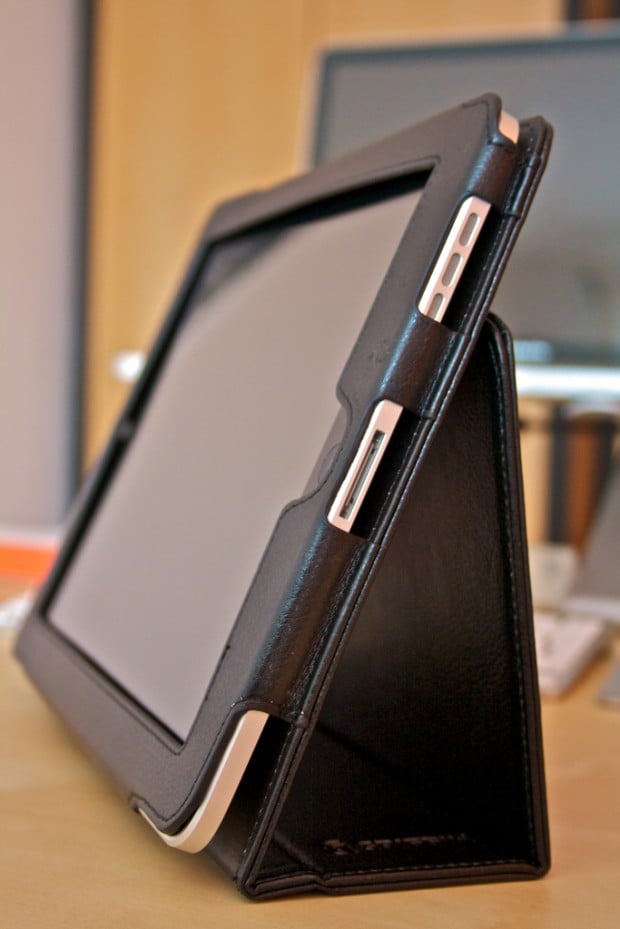 If you use an iPad or an Android tablet, you might want a case that doubles as a stand for easy viewing of movies, photos or typing while also protecting the device. Other cases add keyboards to the package. One case I reviewed turns your iPad into an automobile video entertainment system hanging from the headrest of the front seat of your vehicle or into a wall hanging device. Other cases can hold your stylus in place.
Transformation
If you don't really want added features or care about serious protection, you may look for a case based on how it looks. As I said above, most cases will offer at least a small degree of protection. If you want your device to enhance your fashion, then this is just a matter of looks. Find a case that looks good to you.
The Kindle Fire case mentioned above that protected the my Fire from water doesn't look as nice as one I've been eyeing from Pad & Quill, the Fire Keeper. It makes your Kindle truly look like a book. Based on my past experience with a case they make for the MacBook Air, this should really make your Kindle Fire look like a high quality book. The case material should be a consideration. You don't want something that will look horrible after a short period of use, like the Griffin Reveal Case for the iPhone 4 that started to yellow soon after I reviewed it.
Cost Consciousness
Manufacturers of Apple device cases like to gouge buyers. They aren't the only ones. The Kindle Fire Keeper that I really want unfortunately costs $60 plus shipping and handling. At at minimum of $70, it's hard to justify based on the price of the device. Should you really have to spend 35% of the cost of your device to cover and protect it?
Manufacturers can price their cases so high that you end up paying more than you should. I love my Kindle Fire and I love Pad & Quill cases. I don't know if I can justify $70 for a case. Their Octavo Case costs the same, but it protects a $500-$830 device. $70 seems justified in that situation.
Fit and Design
Finally, consider the fit and design of the case. As I mentioned I've been testing some battery cases for my iPhone 4S. Mophie makes the most popular battery-powered iPhone case, the Juice Pack line. I purchased the Mophie Juice Pack Air and I'm generally happy with it. Unfortunately, since they designed the case for the iPhone 4, the iPhone 4S mute switch isn't fully accessible through the cutouts on the left side of the case. Apple lowered the switch slightly in their updated iPhone design.
When you choose your case, make sure it was designed for your phone specifically. This will be easier with an iPhone or iPad. Manufacturers have created dozens of cases for each version of the iPhone and iPad not only because they are so popular, but because there are only a few models of each. With Android phones, you have dozens of popular designs and with tablets you have around a dozen of those too, but they haven't sold as well. You may be forced to select a case from the manufacture or one or two other accessory makers.
Even if you have a limited selection of cases, make sure the case fits. Resist the generic pouch case. I've never seen one that really worked well for a cell phone. Ask the store salesperson if you can take it out of the package to see if it fits. At my local Best Buy they always say yes in the phone center. I haven't asked in the tablet section.
Specific Recommendations
It's nearly impossible to recommend one case for people. So we often gather up all of the cases we can find for a popular device and post them for you. Here are a few roundups for various mobile devices.

As an Amazon Associate I earn from qualifying purchases.