5 Ways I'm Using my WIMM One Smart Watch Today
The days of watches that only tell you time and date are long gone. At CES we saw an explosion of smart watches from many vendors, but the most exciting smart watch I saw was the one I had on my wrist.
For the past month I've been wearing a smart watch, or as WIMM calls it, a wearable device. I want to share some of my favorite uses of a smart watch.
The smart watch I am using isn't some concept that might come out, it doesn't just offer a new watchface like the iPod Nano and it's way more useful than the MotoACTV if you aren't a fitness nut.
The WIMM One Developer Preview is a smart module that comes with a wriststrap that turns it into a smart watch, but we'll soon see a number other accessories that allow you to connect it to your bike, hiking stick, neckband and more.
The WIMM One Developer Preview is available for an attractive $199 at Amazon right now, and according to the company we'll see branded versions coming out from retailers in the near future.
Here's a look at how I am using a smart watch in my everyday life, and why I can never go back to a dumb watch.
How I'm Using a Smart Watch
Receiving Notifications
One of my favorite uses of the WIMM One smart watch is the ability to receive notifications of calls and text messages on my wrist. When you get a text message or phone call on your Android or BlackBerry the watch vibrates and makes a noise, which you can turn off if you need quiet.
At CES this was a necessity given the noise on the show floor, and now that I am at home I still love the notification feature. Wether I am in line at the store, driving or just sitting around I can see why my phone is making noise without taking it out of my pocket. You can even see photo of your contacts.
Right now I can send a call to voicemail, but I have no response options. According to WIMM, they are working on a set of 10 predefined auto responses, so hopefully I'll be able to respond soon.
Checking the Weather
Forget asking Siri what the temperature is today, just glance at your wrist to see the current temperature. Within a few taps you can even get a seven day forecast for multiple locations.
Paying for Coffee
The Starbucks Micro app lets you pay for coffee with your watch, just like you would on your smart phone. I love using this app to pay for my coffee — almost as much as the barista enjoys seeing it.
Checking My Calendar
Another nice feature is the ability to see my Google calendar on my watch This lets me get a look at my day without opening up my phone, and it sounds alerts for appointments, which I might not hear or see in noisy environments.
News Reading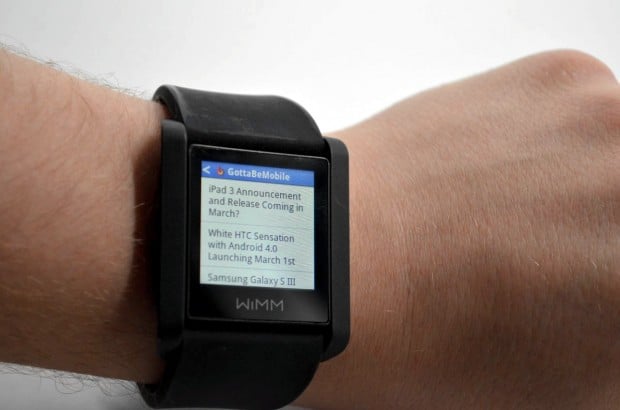 Your watch isn't the best place to read news, but if you want to catch up on a feed while waiting in line you can read your Google Reader feeds. The feeds sync over WiFi, pulling down new content based on your sync schedule.

As an Amazon Associate I earn from qualifying purchases.