5 Ways to Watch TV Shows in Windows 10
Microsoft understands productivity, but it seems to mostly draw a blank on entertainment. Try to watch TV shows in Windows 10 and you'll see the problem first hand. The same goes for movies.
Windows 10 has apps and a dedicated store for watching television shows and movies, but neither of them feel fully featured. The Windows Store is stuffed full of movies without fullscreen options. It doesn't offer Ultraviolet support for digitizing your physical media collection. You can't string together playlists of your own television shows and movies either. There's no wish list to keep track of movies that you might find interesting. That's the bad news.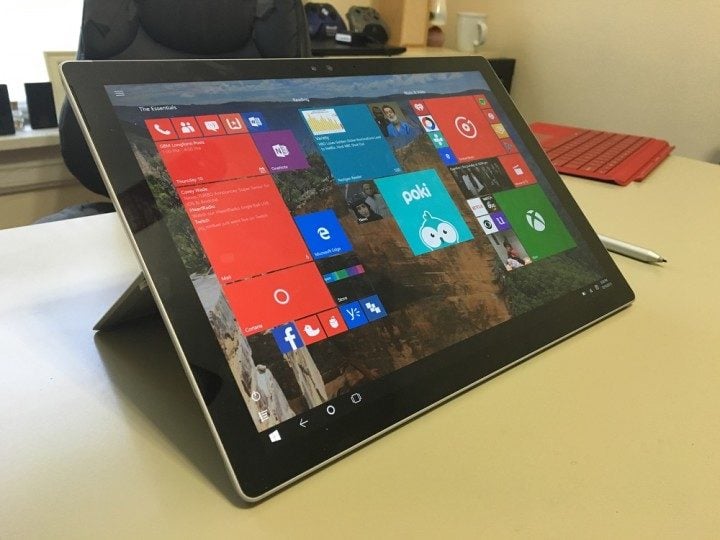 Read: How to Watch Videos, YouTube & More in Windows 10
The good news is that the company seems to know that its video offerings are in a rough place. Its app studios teams are slowly adding new features to the Movies & TVs app to make it more palatable. What's more, app makers are certainly starting to embrace the platform in big ways. A dedicated app for a completely digital television service recently arrived in the Windows Store. There's a wealth of apps associated with cable subscriptions making their way to the Windows Store too.
There are some great ways to watch TV shows on Windows 10.
Watch TV Shows in Windows 10: Microsoft Movies & TV
Microsoft's homemade app for watching video, Movies & TV is the dedicated video player for the movies and television shows that you can purchase through the Windows Store. In Europe, this same app is known as Films and TV.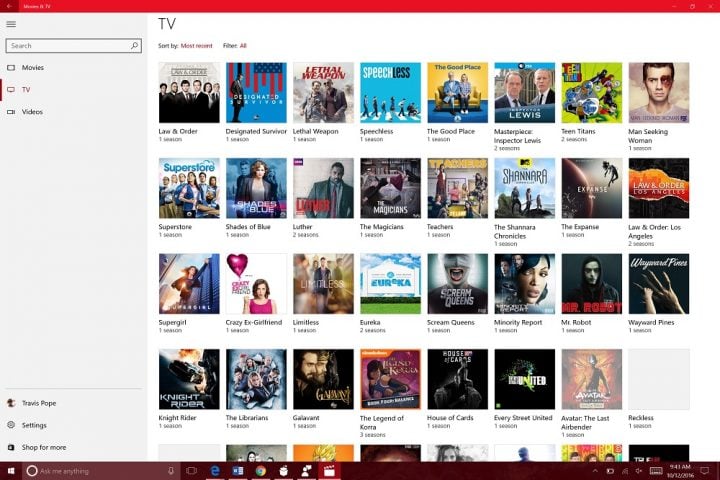 The content that you purchase from the Windows Store isn't available anywhere else but on a device running Windows 8, Windows 10 or the Xbox. Microsoft recently took away the ability to watch video purchased for Movies & TV on its website. Each of the apps sync viewing progress across each device that you're signed into with your Microsoft Account.
Television show prices can vary. Entire seasons start around $20. Individual episodes can cost as little as $1.99 for standard definition and $2.99 for high definition.
Watch TV Shows in Windows 10: Hulu
One of the earliest online video streaming companies to launch, Hulu's reason for existing has always been with broadcast and cable television. With Netflix and other services, you need to wait weeks, maybe months, for your favorite programs to get entirely new seasons. Hulu airs broadcast and cable shows the day after they appear on television.
Read: Hulu Ads Are Gone: What You Need to Know
The service offers two tiers of programming. First there's the $7.99 monthly plan that includes what they describe as "limited commercial interruptions." Second, there's an $11.99 subscription that has no commercials at all. There's a limited amount of movies and original programming available through the service too.
Watch TV Shows in Windows 10: Netflix
The oldest of all on-demand video services, you can watch TV shows in Windows 10 using Netflix without issue. The company recently updated its app, introducing support for 4K video content and automatic playback at the end of every episode.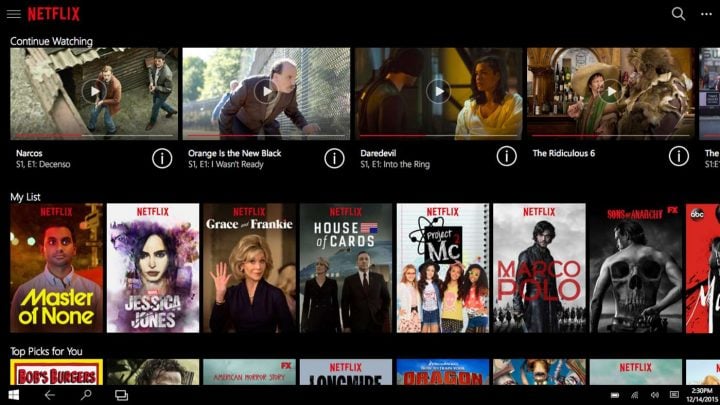 Read: Netflix Price Increase Coming for All Users
Netflix has three pricing tiers. Which you should go with depending on how many streams you think you need and how much you're willing to pay for high-definition content. At $7.99, everything is standard definition and you can only stream to one device at a time. For $9.99 a month, you get two video streams at a time and access to high-definition content. The $11.99 Netflix plan is perfect for families and hobbyists. It includes four simultaneous video streams and access to 4K video content. 4K is short-hand for video content that has four times the quality of high-definition video. You'll need a television and a streaming device that supports the format.
Watch TV Shows in Windows 10: Sling TV
Netflix forgoes the traditional cable model. Sling TV attempts to modernize it. If you want to watch TV shows in Windows 10 live, this is the best way to do it.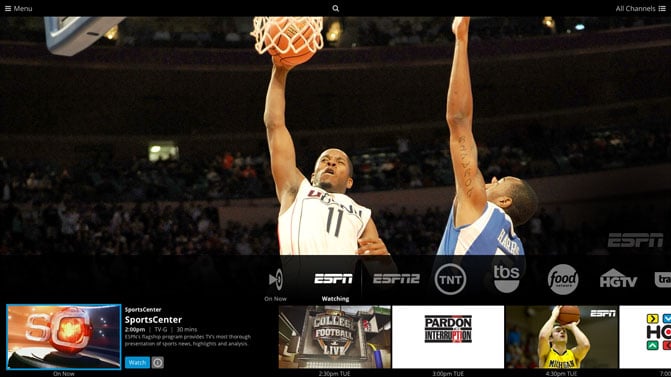 Read: Sling TV: 7 Things to Know Before You Subscribe
Sling TV packages start at $20 a month for around 25 different channels and expand from there. The $25 package includes 40 different channels. Every channel is available for $40. The two cheaper packages pick up or dump ESPN. As such, it's best for you to take that into account when you're choosing your plan.
Watch TV Shows in Windows 10: CBS & SeeSo
Lots of cable networks have dedicated apps for watching TV Shows in Windows 10. There's TBS, History, Lifetime, Bravo, AMC, USA, A&E, Disney, Syfy, Crackle and FX. Search for them in the Windows Store, but keep in mind that you'll need a cable subscription to enjoy full episodes of programming in each.
CBS and Seeso are two standalone apps that don't require a cable description at all. The former is linked to the CBS All Access service that'll carry Star Trek Discovery sometime in 2017. Subscribers to the $9.99 a month service get access to a live television stream too.
Seeso offers on-demand comedy video streams from NBC's library of programming. It costs just $3.99 a month.
Enjoy these new ways to watch TV shows in Windows 10.