5 Windows 10 Notebooks Worth Buying Instead of a Mac
Truth is that Microsoft's hardware partners spent the better part of a decade living in Apple's shadow. Performance machines they aren't, the Mac dominates the high-end notebook and desktop categories. Macs are made with only the best materials and engineered in a way that makes them last longer, Apple says. The Mac is seen as a luxury item by professionals and media makers too. When you want a notebook that'll last long and feel premium, the Mac is what everyone tells you should look into. Luckily, Macs aren't the only line of PCs that fit that description anymore. Windows 10 notebooks are the best they've ever been.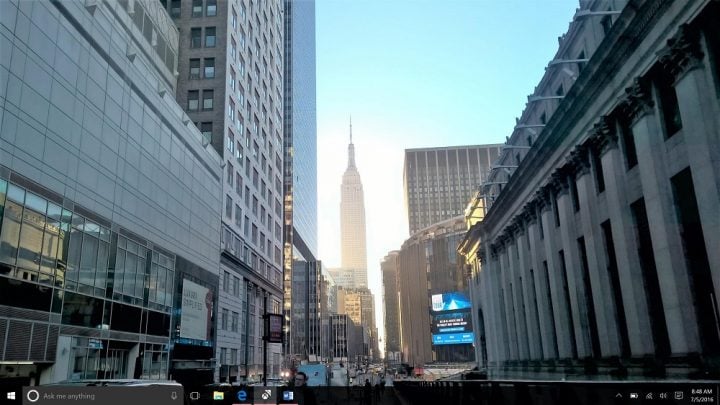 For starters, some PC makers have finally come around to Apple's way of thinking. It's no longer a race to the lowest prices at the expense of everything else. Lots of companies are betting on high-end PCs to remake their image and grow their profits. Second, PC makers are starting to understand the importance of quality materials and presentation. There isn't a high-end notebook launched in the last three years that doesn't have a marketing line about it being meticulously engineered. It's not just marketing either, some Windows 10 notebooks have more fit and finish than a Swiss watch.
For years, the main thing keeping PC users coming back for more were applications and power. Today, you can buy Windows 10 notebooks with great build quality, good design and the latest internals.
These 5 Windows 10 notebooks are worth buying instead of a Mac any day of the week.
Lenovo Yoga 900 S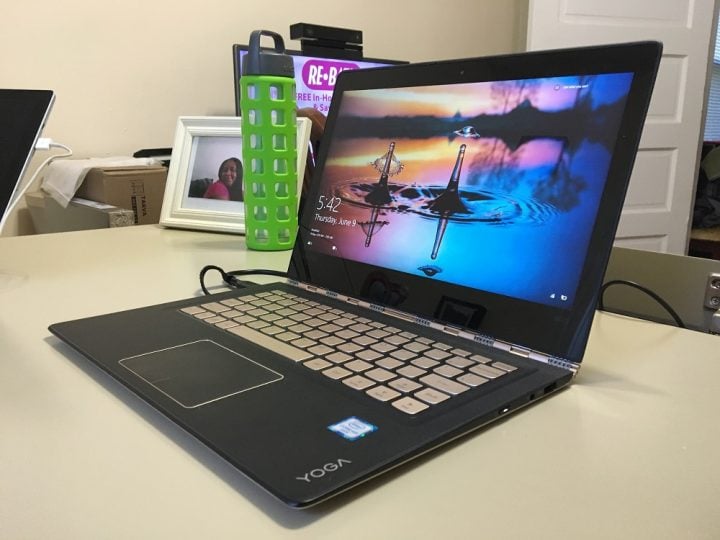 Designed to compete directly with the latest MacBook from Apple, the Lenovo Yoga 900 S is a lethal combination of decent design and quality materials.
From back to front, the Yoga 900 S measures just .5-inches. It can be configured with up to 256GB of storage and 8GB of RAM. Either configuration still gets you 10.5 hours of battery life. The outer shell of the Yoga 900 S is aluminum, with a the inside decked out in a dark, textured plastic reminiscent of leather. A metal watchband connects the two halves of the Yoga 900 S, giving the machine its signature, high-end look and feel.
Read: Lenovo Yoga 900 S Review
Smartly, Lenovo has a regular USB 3.0 port and a USB 3.0 Type-C port. Apple opted for just USB Type-C in the new MacBook. Folks have to carry around an adapter if they want to connect anything to the machine. This Yoga 900 S also morphs into a tablet.
The Lenovo Yoga 900 S costs $899.99.
[ Buy the Lenovo Yoga 900 S from Lenovo ]
HP Spectre
Billed as the World's Thinnest Laptop, The HP Spectre gets users a lot of fit and finish for $999.
From top to bottom, the notebook is just 2.45-inches and has a black and gold finish. The chassis is a mix of aluminum and carbon fiber, two materials that a lot of Windows 10 notebooks have these days.
The HP Spectre can run for just about 9 hours before its battery dies. Each has an Intel Core i 6th Generation processor inside, with up to 8GB of RAM. Three USB Type-C ports act as the only ways to charge and connect different devices to the HP Spectre. At least that's two more than what Apple gives users. The centerpiece of the HP Spectre is the 13-inch IPS display with gold hidden hinges just below the keyboard deck.
 [ Buy the HP Spectre from HP for $999.99 ]
Dell XPS 15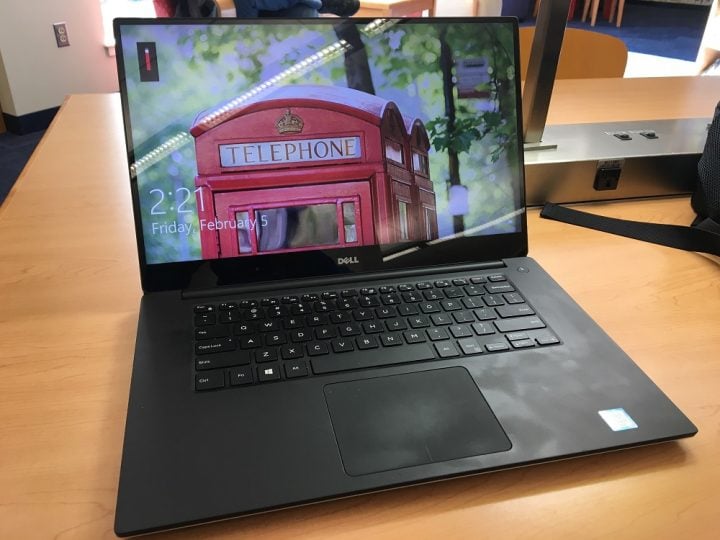 The new MacBook isn't the only thing that Windows 10 notebooks are taking on in Apple's line-up. Companies are anxious to move in on the MacBook Pro's territory too. Longtime PC maker Dell has been very successful in making a Windows notebook that can take on the MacBook Air with the XPS 13. Their alternative for the MacBook Pro is called the Dell XPS 15.
The latest in a long line of machines to carry the brand, Dell revamped the design of the machine a few years ago. That revamp includes a thinner chassis that's still made from the line's signature carbon fiber and aluminum. The new design also includes a display that's practically border-less on three sides. Closed or open, the machine looks gorgeous.
Read: Dell XPS 15 – Equipped for the Amazing
Inside is the stuff that media creators and light gamers need. For $999, users get a 6th Generation Intel Core i processor and 8GB of RAM. The most powerful configuration Dell offers includes a whopping 16GB of RAM, a 512GB SSD and a 15.6-inch 4K Ultra HD display with touch for navigating Windows 10. This machine also has USB Type C, but still carries HDMI, headset jacks and more.
[ Buy the Dell XPS 15 from Dell for $999.99 ]
Microsoft Surface Book
Microsoft has its heart set on prying the productivity market away from Apple hardware any way that it can. The Surface Book, the latest device to come from the company's hardware team, is a warning shot at the MacBook Pro too.
The Surface Book starts at $1,349. It includes a 6th Generation Intel Core i5 processor, 128GB of Solid State Storage and 8GB of RAM.
It looks like a notebook PC, but it's a tablet too. The 13.5-inch display completely disconnects from the keyboard for a total of 3 hours of battery life. Together they can last about 9 hours. A fulcrum hinge connects the two pieces of hardware together to form a notebook. Pressing a button on the keyboard disconnects them.
Read: Surface Book vs MacBook Pro
For artists, the Surface Book has an easel mode and a Surface Pen for digital drawing. For gamers and content makers, there are options with a discrete graphics card.
[ Buy the Microsoft Surface Book from Microsoft for $1,349.99 ]
ThinkPad X1 Carbon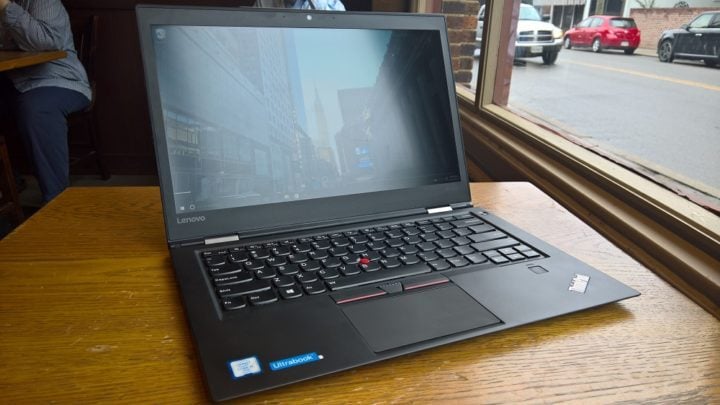 The ThinkPad X1 Carbon is for the business executive that's considering a Mac purchase.
It features Intel's Core iPro processors, instead of the standard bunch. Which makes sense given companies large and small may have some worries about protecting their data through encryption. It can be configured with Windows 7 too, despite coming with Windows 10 Professional. You won't want to play games on this machine or edit lots of video.
Read: Lenovo ThinkPad X1 Carbon (2016) Review – Flawless Execution
You will want to do just about everything else on it the ThinkPad X1 Carbon though. It's built from the ground up to be a mobile productivity powerhouse with no frills. There's no touchscreen but there is a high-definition 14-inch WQHD display. A finger printer and TPM chip keep data on it safe. WiGig lets business users ditch clunky wired docks for Lenovo's wireless alternatives. There are 3 USB 3.0 ports, microSD and HDMI. Options for mobile broadband are coming soon.
All of this is in a machine that weighs 2.6 pounds and is 0.65-inches thick.
[ Buy the Lenovo X1 Carbon from Lenovo for $1,124.10 ]
Whether you pick up a PC on this list or go looking for others that fit your criteria, Windows 10 notebooks are just as well designed and sometimes more powerful than their Apple-made counterparts. There's a lot of good PCs out there that aren't MacBooks. You owe it to yourself to check them out before making your next computer purchase.