5 Windows 8 Annoyances You Can Fix in 2 Minutes
A lot has been said about Windows 8, Microsoft's first attempt at meshing what users expect from modern operating systems running on today's devices and what users loved about previous versions of Windows. Even Microsoft is now willing to admit that it may have gotten the exact formula wrong and is preparing to even bring the Start Menu back at some point. That won't help confused users today, but hopefully a few quick fixes to common Windows 8 complaints will.
Doing any of these things will require Windows 8.1, the free software update that's available to everyone running Windows 8 in the Windows Store. Check to see if it's available in the Windows Store by looking for a banner the moment you enter it. If you don't see the banner, Windows 8.1 is already on your device.
Turn Off The Windows 8 Start Screen and Charms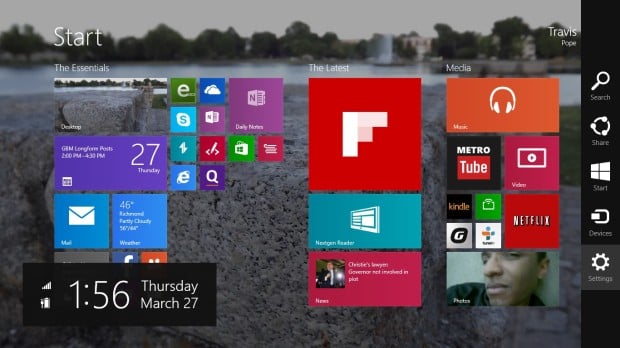 Ironically, the biggest complaint users have about Windows 8, that its new colorful Start Screen that comes filled with new Windows Store apps, is fairly easy to fix without any downloadable tools or extras. It's still impossible to get rid of the screen entirely — users won't be taken there but will have to go there to search for apps — but it's a start. To do that, read our tutorial on How to Turn Off the Start Screen in Windows 8.1.
Change the Windows 8 Default Apps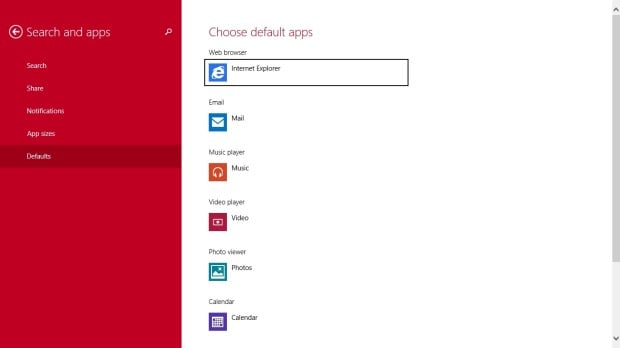 Hiding the Start Screen is just the first step for users who plan on ridding themselves of Windows 8's Start Screen. The next important task is to stop Windows 8 from launching the apps that can only be seen there and take up the entire display by default. To do this users need to change the default apps that are opened for different tasks in the Settings. To do that, read our tutorial on How to Set Apps to Open in the Desktop in Windows 8.1.
Stop Windows 8 App Notifications From Keeping You Up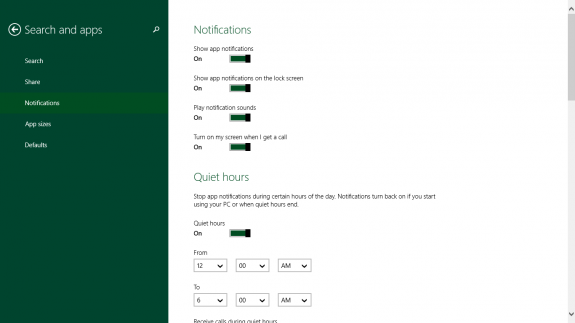 Windows 8 notifications can be both useful and a pain. They're great because they immediately alert you to something urgent, whether that be email or changes in your other apps. They include sounds that alert users even when they're not in front of their device. It's that chime that may become a liability in some situations, like when you're sleeping.
Thankfully, the Windows 8.1 update also introduced a setting called Quiet Hours. With it, any device can be set to not make a sound when a Skype message arrives, letting you continue your night without any disturbances. Follow our directions about setting up Quiet Hours here in this tutorial on How to Stop Notifications in Windows 8.1.
Stop Hunting for Apps and Pin Them to the Taskbar or Start Screen
Regardless of whether a user likes the Start Screen or not, Live Tiles themselves can be a bit of a hassle. There's only so much space on a single screen and pinning every essential app could leave users with a very unwieldy Start Screen that requires way too much horizontal scrolling. Some users have solved this problem by splitting where they pin their apps to.
Users should pin Desktop apps to the taskbar in the Desktop, since they open there anyway and leave all of your important Windows Store apps on the Start Screen. This keeps down on the clutter and allows them to use the Desktop as one big short cut to things that require it, like iTunes.
A complete list of installed apps is accessed by pressing the down arrow in the bottom-left corner of the Start Screen or swiping up on the Start Screen on touch devices. Users can pin items by right-clicking on them in the app list if they have a keyboard and mouse, or tapping and holding on them if they have a Windows 8 device with touch.
Turn On SkyDrive Syncing
SkyDrive syncing is one of the best features available to Windows 8 users and it's easy to see why. In previous versions users with two or more PCs were forced to make in changes in setting twice. Something as simple as changing a background or setting up email accounts in the mail app had to be done every time a user upgraded or moved between devices. Windows 8.1 killed off that problem for good and added complete settings syncing for any user who has a Microsoft Account. It's a godsend and something that truly sets Windows 8 apart from other operating systems.
Read: How to Back Up Files and Settings to OneDrive in Windows 8.1
Remember, you'll need the Windows 8.1 update before you're able to use any of these tutorials. Good luck on improving your Windows 8 experience.