5 Windows 8 Apps For Staying Productive
Here are 5 Windows 8 apps for staying productive and abreast of the latest news with your desktop, laptop or 2-in-1.
Windows 8, Microsoft's latest operating system, is often criticized for preventing users from getting work done. It's not an entirely factual claim, but it is one that's resonated with users. Thankfully, apps allow Windows 8 users to transform their experience.
OneNote
Perhaps no other Windows 8 app allows users to be more productive than Microsoft's own OneNote note taking application.
OneNote MX, like the Desktop version that came before it, is all about letting people organize their thoughts and ideas digitally. Mouse, keyboard and touch users can write entire notes in OneNote itself or they can use OneNote as a sort digital scrapbook. For example, OneNote MX allows users to share web pages and pictures with it directly from Internet Explorer and a ton of other apps.
Keyboard and mouse or one thing. However, there are always going to be users who prefer to take notes in class or stash stories ideas using a pen. That's understandable, it's how humans have kept track of the things going on in their lives for thousands of years. OneNote MX allows users with a touch screen to take hand written notes too.
All notes stashed in OneNote MX are synced between different devices, meaning no single device ever holds all of the user's information. Users can organize those notes into sections and notebooks to make them easier to find and keep track of. That includes the OneNote apps that are available on iPhone, iPad, Windows Phone and Android.
[ Download OneNote MX from the Windows Store ]
Reading List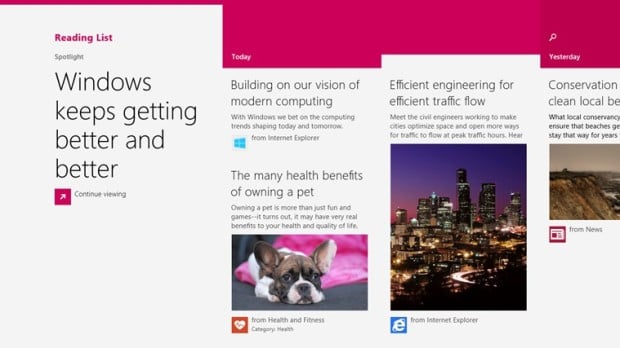 If Windows 8 users do decide that there's one app from this list they'd like to use religiously, it should be Reading List. Like OneNote, Reading List is free in Windows 8. Also like OneNote, Reading List features some serious Share Charm integration.
It's happened to us all at some point. We're out reading random websites or browsing in news apps and we come across an interesting article. In most cases you might have the time to stop what you're doing and read the full article. Sometimes you don't have the free time to read that article and that's what Reading List is for.
Reading List stores bookmarks and web links so that you can catch up your reading at some point in the future. Put simply, it's a place to store a backlog of articles that you've been meaning to read at some point. Simply using the Share Charm in Internet Explorer or even news reading apps allows users to store links in Reading List. Reading List also has a mobile application that lets users read and store bookmarks from their Windows Phone 8.1 device.
[ Download Reading List from the Windows Store ]
Dropbox
Every Windows 8 laptop, desktop or 2-in-1 includes built-in support for Microsoft's OneDrive cloud storage utility. It's great that it's there, but a growing number of users have friends and family that have already adopted Dropbox, another cloud storage utility that managed to catch on long before OneDrive was a valid alternative.
Dropbox isn't fancy. There's no background uploading of files or no way to integrate it directly into Windows for a more seamless experience. That being said it's still a great way to rearrange files and photos, upload new things and share photos and videos with friends.
There is one frill that's unique. Windows 8 allows apps to integrate directly with the file system. Once the Drop Box app is installed users can save files from other Windows Store apps directly to their Drop Box cloud storage, saving time and circumventing OneDrive and their hard drive if they'd like.
[ Download Dropbox from the Windows Store ]
Reddit2GO
There isn't a first-party app for Reddit, the social networking and giant forum website that mostly dominates news and community circles these days. Instead, Windows 8 users have a ton of third-party apps that can connect them to Reddit. Unfortunately, they're not all decent.
Reddit2Go, a Reddit app that's free for all users to download is a decent app. Users can set specific subedits that they'd like to keep track of. They can also login and post new messages on other's stories, submit new stores and vote on stories and content that they think more people should read.
The layout of the app is pretty basic, but at least Reddit2G0 saves users from having to dive into Internet Explorer to find out what everyone else is talking about online.
[ Downlaod Reddit2Go from the Windows Store ]
Wikipedia
Finally, there's Wikipedia. The site itself needs no introduction. Wikipedia, is the world's biggest repository of publicly available and freely editable information. If something or someone exists, there's a pretty decent chance Wikipedia has information about it.
Wikipedia for Windows allows users to share interesting articles to their Reading list, and share articles with friends and family through the People app that holds their contacts.
[ Download Wikipedia from the Windows Store ]
Here's to saying productive! Remember to check the Windows Store often for more productivity apps and tools.

As an Amazon Associate I earn from qualifying purchases.