50% Off Discounts on PDF Annotator Coming Soon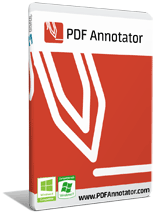 If you've been hankering for a PDF annotating solution for your Tablet PC but have not been wanting to fork over the cash, then May 19th and May 20th are going to be your lucky days.
On May 19th, PDF Annotator 2 will be on sale, via BitsDuJour, for one day only at $34.95 – that's 50% off the normal $69.95. Here's the link you'll want to hit up on Tuesday, May 19th.
Then, on May 20th, there will be a very special one day discount for students only: $14.95, which is 50% off the already low student price of $29.90! Here's the link for all you cash-strapped students to hit up on Wednesday, May 20th.
Remember, these are one day sales only, so you'll want to act quickly. We'll give everyone a gentle reminder tomorrow and Wednesday so you don't forget.

As an Amazon Associate I earn from qualifying purchases.