6 Essential iOS 7 Cydia Tweaks You've Probably Never Heard Of
Even though the unjailbreakable iOS 7.1 is out and about, avid jailbreakers are still on iOS 7.0.6 and older, and that means they can still take advantage of some great iOS 7 Cydia tweaks. We have six more tweaks that we think you'll enjoy, and they're probably some that you've never even heard of before.
The official iOS 7 jailbreak has been available for quite some time now, and we've been taking some time to play around with some jailbreak tweaks (old and new) for iOS 7 and seeing which ones are worthy of your time.
We've already discussed several iOS 7 Cydia tweaks that dramatically improve the iOS 7 experience, but we're back with some more, since jailbreak developers are constantly updating and releasing new tweaks that are compatible with iOS 7 and take advantage of all the new features in the new mobile operating system as well.
Of course, we only like to focus on the jailbreak tweaks that can drastically improve your iPhone or iPad experience, and there are a ton of great Cydia apps and tweaks out there, but a lot of them are fixes for problems that don't even exist (like a tweak that hides the app name under the icon, or hides the carrier name at the top — unnecessary, but to each his/her own). The tweaks that we mention, however, are ones that are huge boons to your iOS 7 experience, and they fix real issues that have annoyed iOS 7 users since day one, so here we go!
Guestmode
If you share your iOS device with a household member, most likely a young one, then you can install a neat jailbreak tweak called Guestmode, which pretty much does exactly what the name suggests. It adds a "Guest" button to the passcode lock screen that anyone can access without needing to enter in the main user's passcode.
However, the owner can set boundaries as far as what apps the guest can or cannot access by just simply checking off apps that guests will be allowed open up and play around in.
This tweak is perfect for those who don't want their kids accessing banking apps or other sensitive apps. Guestmode can also be good safeguard for when friends get on your phone and try to pull pranks, which we all hate. This tweak will prevent that from happening.
StatusHUD 2
I don't know about you, but whenever I'm watching a video and want to adjust the volume, I hate when the volume status graphic pops up right in the middle of the video and won't go away until a few seconds after you're done adjusting the volume. This is really annoying, but thankfully there's a jailbreak tweak to fix that.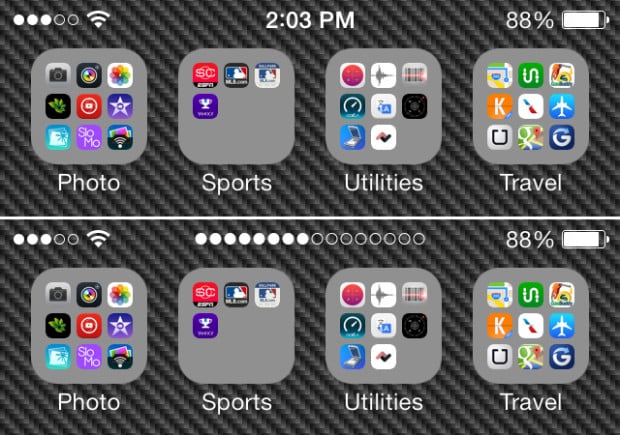 StatusHUD 2 moves the volume status to the top of the screen on the status bar so that it's always out of the way. You can even change some of the settings for the tweak, including the shape (either circles or squares), and even change how long it takes for the volume status to disappear after you've adjusted the volume.
If you still prefer having the traditional pop-up, but maybe just want it faded a bit, you can download TransparentVolume, which tones down the opacity of the pop-up so that you can still somewhat see the whole screen without the volume pop-up blocking anything entirely.
ColorBadges
Notification badges in iOS are handy when it comes to wanting to know if you have a notification waiting for you to attend to in a particular app. However, the bright red of the notification badges can be a bit distracting and "too much" for some users.
This is where ColorBadges comes in handy. This tweak changes the notification badge's color to match the color of the app icon itself. Furthermore, to prevent the badge from completely blending in with the app icon, the tweak adds a white border around the badge to give a bit of pop and make it stand out from the app icon so that it's still noticeable from a glance.
DismissMyKeyboard
One nice feature about the iPad keyboard is that there's a dedicated button that allows users to dismiss the keyboard whenever the moment strikes. However, the iPhone is missing this critical feature and sometimes it's difficult or even impossible to make the keyboard disappear in some apps.
Sometimes you can dismiss the keyboard by tapping in the area outside of it, but it doesn't work in all apps and it's really annoying. However, DismissMyKeyboard allows iPhone users to quickly get rid of the iOS keyboard by simply swiping to right on the spacebar. It's a quick and easy jailbreak tweak that doesn't involve any extra setup time — just install and you're good to go.
Edit Alarms
We love jailbreak tweaks that are dead simple, yet add a tiny feature that drastically improves the iOS 7 experience. Edit Alarms is one of those apps. The name is exactly how it performs, and it allows you to quickly edit alarms without having to tap on Edit and so forth — simply just tap on an alarm and you can edit it right away.
HiddenSettings7
If you're a more advanced iOS user and want to tweak certain aspects of the mobile OS down to the tee, you may want to give HiddenSettings7 a try. Essentially, it gives you access to hidden SpringBoard settings that Apple usually hides from consumers.
The tweak can change a ton of different stuff about iOS, including the highlight color of toggle options in control center. You can also change how much the rubber band effect bounces apps and such.
It's a very detailed jailbreak app and it allows you to take control of a ton of different things. You may not know what everything does until you go in and change it yourself, but it's a great little tool for those who enjoy experimenting (as many jailbreakers do).
One thing to be aware of with HiddenSettings7 is that it adds a quick access button to the settings in Control Center, and that's the only way to access all of the nifty settings, but if you have a Control Center tweak like Auxo 2 installed, HiddenSettings7 won't work, unfortunately.

As an Amazon Associate I earn from qualifying purchases.