6 Fantastic Pokémon GO Gameplay Videos  
Video game developer Niantic is busy toiling away in its development studio right now. You've probably never heard of the studio before, but it's tasked with the biggest game launch of the year: Pokémon GO.
Pokémon GO is a complete rebuild of the game franchise that millions have fallen in love with since the early 1990s. In this game, you're still a Pokémon Trainer trying to fill your Pokedex and discover new creatures. You'll still use PokéBalls for containing wild Charizards. You'll still need to train your Pokémon so that they're as powerful as possible.
What's different is where all of this takes place. Your city or town is the game's region. Using GPS technology embedded in mobile devices, the map that you explore in the game is the area in which you live. Cameras overlay wild Pokémon in real-world locations. Pokémon GO is not played on a Nintendo handheld. Instead, Nintendo and Niantic plan to let iPhone and Android users download the game completely free.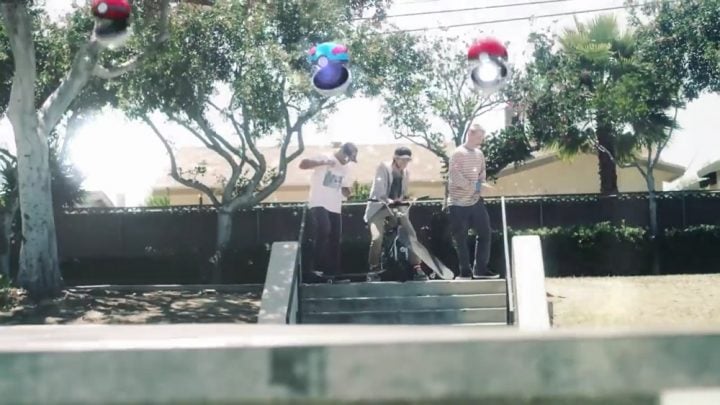 Nintendo and Niantic haven't talked a lot about Pokémon GO publicly. They've confirmed that the game will be free to all with an iPhone or device running Android. They've also showcased the assisted reality features of the game, but remained quiet on a lot of its other mechanics outside that. Almost everything we know about the game now is thanks to videos posted to video sharing websites by Pokémon GO Field Tests.
Read: The Pokémon GO Release: Features Confirmed
Here are 6 fantastic Pokémon GO gameplay videos
Capturing a Pokémon in Pokémon GO
Niantic is making its mark on the franchise by taking a different approach to a lot of the things that Pokémon players are familiar with. One of them is the simple act of capturing a creature to begin with. Pokémon GO is not something that you can play stationary. You'll need to walk around your neighborhood to encounter Gyms, Stops and wild creatures.
When you do encounter a wild creature, expect a very, very different experience to the one you may be used to on the Nintendo 3DS, GameBoy Advanced and GameBoy Color.
Evolving Pokémon in Pokémon GO
Almost no mechanic has gone untouched in this game. One of the more controversial changes is how Evolution works. Instead of evolving a creature through leveling, Evolution Shards are needed.
In this video we see one Pokémon GO Field tester trying out the mechanic by evolving one of his creatures using Evolution Shards. The amount of Evolution Shards it takes to evolve a creature will grow as that creature becomes more powerful.
Trainer Customization & Look
Because Pokémon GO isn't aiming to let you take on the mantle of someone else, but feel like you're a real-life Trainer, customization is key. More than a few pieces of leaked gameplay footage include breakdowns of the game's character customization.
Besides skin tone, look forward to choosing your clothing style, shoes and more.
Real-Time Training Battles
No one would ever describe a Pokémon battle in any version as boring. That being said, Niantic is taking things up a notch with this new game. Instead of turn-based training, battles happen in real-time with Pokémon GO. What that means is that every training session at a GYM is an all-out brawl between two creatures, with moves being exchanged at a pretty fast pace.
Pokémon GO Eggs, Stops & the Map
Pokémon Eggs are present in Pokémon GO, giving players the opportunity to raise their own creatures in addition to capturing any wild ones around them. This gameplay video breaks down the act of capturing a wild creature and hanging out at any of the many PokéStops players will find at well-known landmarks around their city or town.
Pokémon GO Economy
With the game's release apparently near, the Pokémon GO Field Test is getting a lot of new content lately. The latest update, according to those in territories where it's available, finally included hints at the game's economy.
Pokémon GO will be absolutely free to download and play, but it won't be entirely free. If players choose, they'll be able to purchase things using PokéCoins from the game's built-in store. The video above breaks down what's already available with PokéCoins and what will be available in the future, according to Niantic.
Players can purchase PokéBalls. Also available are storage upgrades, so that players can carry more items in their backpack and have more captured Pokémon at the ready.
Read: Pokémon GO Release – What We Know Now
Look out for more Pokémon GO videos and leaks to arrive as the summer begins. So far, Niantic and Nintendo remain committed to launching Pokémon GO and the Pokémon GO Plus, an accessory that'll allow players to enjoy the game without gazing at their screens all-day, sometime this year. We assume that the release will come sometime before the fall because Nintendo and The Pokémon Company confirmed Pokémon Sun and Pokémon Moon release in November.

As an Amazon Associate I earn from qualifying purchases.