6 Mac Privacy Settings You Should Change
If you just bought a new Mac or simply want to audit your settings on your current Mac that you already have, here are six Mac privacy settings you should change.
We've discussed some iPhone privacy settings that you should change, but we don't want to forget about the Mac either, especially since you might use your Mac way more than your iPhone, especially if you do all your work on the computer.
While the iPhone and smartphones in general have been the center of a lot of privacy controversies over the years, many people forget about their Mac, but there are just as many privacy concerns on Mac as there are on the iPhone.
Read: How to Set Up a New MacBook Pro or MacBook Air
It's important to go through your settings and change any that might be beneficial to you, but if you're not sure where to start, here are six Mac privacy settings that you should change in order to put your mind at ease.
FileVault
Perhaps one the most important privacy features on your Mac, FileVault encrypts your entire hard drive so that even if your Mac gets stolen and the thief has access to the desktop, they can't access your files without knowing your admin password.
This is great for those who travel with their laptops and might be at risk of getting it stolen. However, there are some cons to FileVault that you should be aware of.
First off, if you forget your password, there's absolutely no way to get access to your files without completely reinstalling OS X, and if you don't have your Mac backed up, you'll lose all of that. Secondly, encryption takes up space, which means using FileVault will take up more space on your Mac than normal. It's not a huge amount, but you're already hurting for space, that's something to keep in mind.
Guest Account
If a friend or family member needs to borrow your computer, you might just let them get on your main account and let them do what they need to do, but it's best to have them use the Guest account.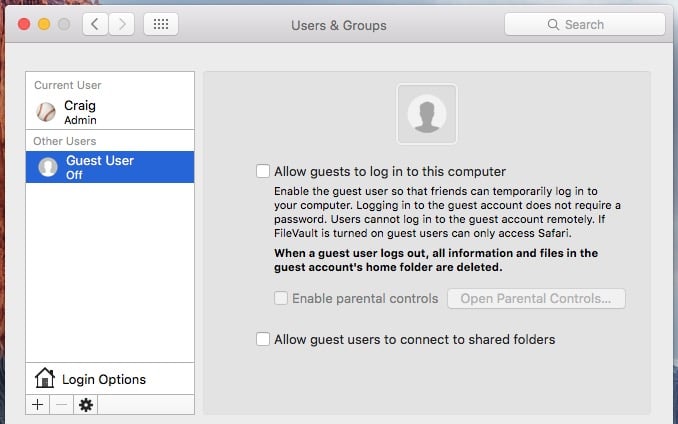 While these people would access to your personal files, they also have the ability to download stuff to your Mac, but with a Guest account, you can set restrictions so that they can't access your personal files and do certain things, like download more apps.
You likely won't have a lot of people wanting to borrow your computer, but it's something to have running just in case.
Location Services
One of those most private things you have is your location, and sometimes your Mac needs to know your location for various things, and some apps need to know it to give you a better experience, especially Apple Maps on the Mac.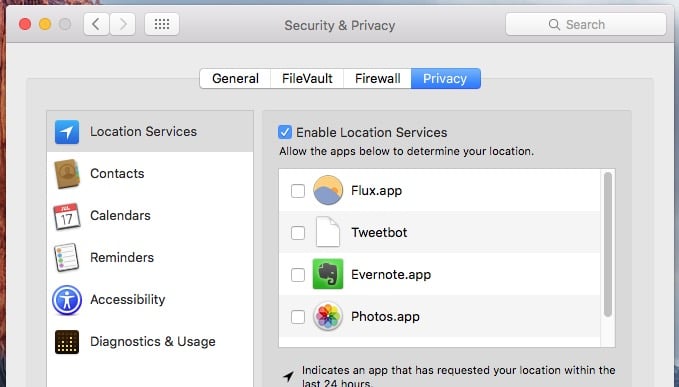 However, some apps have access to your location that don't really need it for anything, which is why it's a good idea to go through these apps and disable any of them that don't need to know your location.
Simply go into System Preferences > Security & Privacy, and then click on the Privacy tab at the top and select Location Services in the side bar. From there, disable any apps that you don't want using your location.
Account Password
Just like a passcode on your iPhone, it's always a good idea to enable an account password on your Mac so that not just anyone can access your files.
If you don't have a password set up for your Mac, you can easily do so in System Preferences > Security & Privacy > General.
Automatic Login
Not only should you have a password on your Mac, but you should also disable Automatic Login if it's enabled by default.
Automatic login is essentially when you boot up your Mac and it skips the login screen and goes straight to your desktop. It's a lot more private if you have your Mac stop at the login screen instead.
Go into System Preferences > Security & Privacy > General. Place a checkmark next to Disable automatic login.
Use a VPN
If you want to have extra privacy, then your best bet is to get a VPN.
VPN stands for Virtual Private Network, and it essentially routes your traffic through a different IP address so that any unique information about your internet connection that's sent to website servers is masked and disguised as other information, keeping your original info safe.
VPN's aren't free though, but you can get a VPN service for around $5 per month. Personally, I like Private Internet Access, but there are a ton of other VPN services out there to choose from.