6 Smart Home Products for Renters
If you're renting an apartment or a house, here are six smart home products that won't upset the landlord.
All of these awesome new smart home products that are coming out may make you want to turn your residence into the ultimate smart home, but if you're renting an apartment or a house, installing smart home products is a tricky subject. Many of them require hard-wiring, and if you're renting, you can't exactly get your hands dirty by messing with the building's wiring.
However, there are a handful of smart home products that exist that not only make them easy to install, but they also don't require any modifications to the foundation.
Landlords usually frown upon their renters making any big changes to the residence, and even something as trivial as drilling holes can be against the rules for many landlords. However, here are six smart home products that don't require any major installation at all, with the messiest process simply consisting of a few screws and maybe a wire or two.
LittleBits Smart Home Kit
Starting off the list is a kit  that looks rather intimidating at first, but once you get to know it, it's really easy to use. The LittleBits Smart Home Kit consists of a bunch of different tools to turn your ordinary household appliances into smart gadgets.
With the kit, you can set it up to turn on lamps using your phone from anywhere in the world, as well as turn on and off your coffee maker, heater, AC unit, etc. using your device. The kit also includes a temperature sensor that can be used to automatically turn on and off a heater or AC unit when the room reaches a certain temperature, if your heater or AC unit don't have that functionality.
The kit is priced at $249, which is a lot of cash for sure, but the possibilities are endless as far as what you can do with it all.
August Smart Lock
There are many smart locks on the market to choose from, and that's a good thing, but none of them are perfect yet. However, the one that seems the most ready for primetime is the August Smart Lock, which comes with a great design and the ability to unlock your door using your smartphone from anywhere in the world.
The lock also has time access, which means you can allow certain people access into your home only for a certain time block during the day. So if you only wanted your maid to come between 2-4 in the afternoon, you could set the lock to only allow the maid access during those hours.
The August Smart Lock is priced at $249, which is expensive, but it's competitive with the rest of the smart lock market. It's also powered by four AA batteries and it installs over your current deadbolt, so it's really only a couple of screws to install the lock.
Philips Hue Lightbulbs
Smart LED lightbulbs are growing in popularity, and many companies are getting in on the action, but Philips and its Hue lightbulbs are by far the most popular smart lightbulbs.
The best thing about smart LED bulbs is that they're pretty much the easiest smart home product to install, as it just takes a few twists into the light socket to install Philips Hue bulbs. From there, you connect the bulbs to your WiFi network using your smartphone and then you can control the bulbs from your smartphone from anywhere in the world, as long as you're connected to the internet.
You can buy a starter pack with two bulbs and the Hue bridge for $100 on Amazon, which is a bit pricy. There are cheaper options out there, though, including a smart LED bulb from Cree that's priced as low as $7. And the best part is, they're compatible with the Philips Hue system.
Notifi Lightbulb & Security Camera
Perhaps the easiest way to add a security camera to your front door is by using the new Notifi smart lightbulb. It was unveiled at CES earlier this month, and it's one of the simplest security camera options we've seen.
The Notifi includes a smart LED lightbulb that you screw into your front porch light fixture, and then a small security camera is attached to it with a short wire. Simply attach that security camera to the light fixture and you're good to go.
From there, you can receive a notification and a picture whenever the camera detects movement, and you can also view a live stream video if the picture doesn't do it justice.
Priced at $199, Notifi won't be available until the fall, but take this time to put it on your wish list, that way you'll hopefully be ready for those pesky Halloween pranksters.
Belkin WeMo
Belkin's WeMo line of home automation products keeps getting bigger and bigger. It first started out with the WeMo Switch, which is a simple device you plug into an outlet and then you can plug any appliance into the Switch, giving it smart WiFi capabilities that allow you to control it from the WeMo app.
The WeMo lineup of products now includes a ton of different products, including a whole host of new sensors that were revealed at CES earlier this month. The best way to start using WeMo, though, is by buying a Switch, which cost only $40 a piece on Amazon.
Nest Thermostat
Perhaps the most popular smart product available is the Nest Thermostat, which is a thermostat that connects to your smartphone and allows you to control it right from your device. It's also a smart thermostat that can learn your AC and heating habits and automatically adjust itself for you after it learns how you control the temperature in your house or apartment.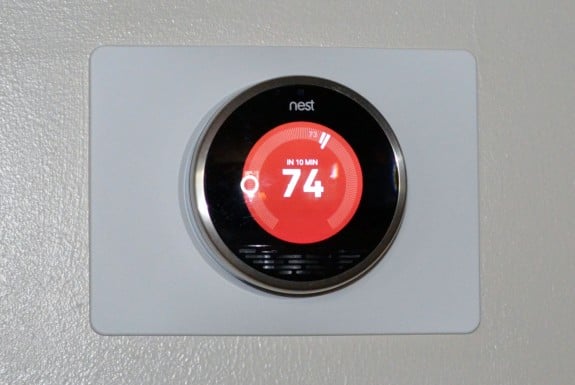 The biggest downside about the Nest Thermostat for renters is installation, which is something you'd have to talk to your landlord about before you installed it, but installation is a rather painless process for any thermostat.
Priced at $250, the Nest Thermostat is pricy, but it can save you a lot of money on your utility bills over the next few years.

As an Amazon Associate I earn from qualifying purchases.