6 Things to Do with Your New Mac
If you got a brand new Mac for Christmas, you might be tempted to just dive right in, but after the initial setup process, there are a few things you'll want to do before diving in too deep.
Macs were most likely hot items over the holiday season, and those who were lucky enough to receive one for Christmas will have tons of fun playing around with it, as well as find it useful for getting work done or using it in school.
OS X Yosemite comes with all sorts of fun and nifty features, including Handoff and the ability to send and receive both SMS text messages and phone calls directly from your Mac, which is something many Mac users have been looking forward to for a while, and now it's finally possible.
However, before you start playing around with your new Mac, try to gain some self control and do these six things before digging deeper into your new machine.
Enable Handoff
Handoff is one of the big features that Apple touted with OS X Yosemite, and while it might not be useful for everyone, we can see it being a huge hit with a majority of Apple users.

Handoff allows you to start a task on your iPhone or iPad and finish it on your Mac, or vice versa.
Essentially, the feature should be enabled by default on both iOS 8 and OS X Yosemite, but to double check (or make sure that the feature is on), you can check out this quick guide that will show you how to set it up and begin using it.
Change the Admin Password
By default, your Mac's admin password is your iCloud password. This is a new feature introduced in OS X Yosemite, but it's something that not all users like, as many Mac users like to use a more simpler password for their computer.
The nice thing about past versions of OS X was that you could establish your own admin password during the set up process when you first installed OS X, but OS X Yosemite no longer does that and it simply just uses your iCloud password as the default admin password, which means you have to enter it in every time your Mac needs your authorization to open up a certain app or change a certain setting.
If your iCloud password is long and complicated, this really isn't a convenient way to go. However, you can still reset your admin password and change it to something that's a bit easier to type in, and you'll no longer be forced to stick with using your iCloud password every time. This guide shows you how to do that.
Set Up SMS Forwarding
OS X Yosemite comes with a really cool new feature that lets you send and receive SMS text message on your Mac.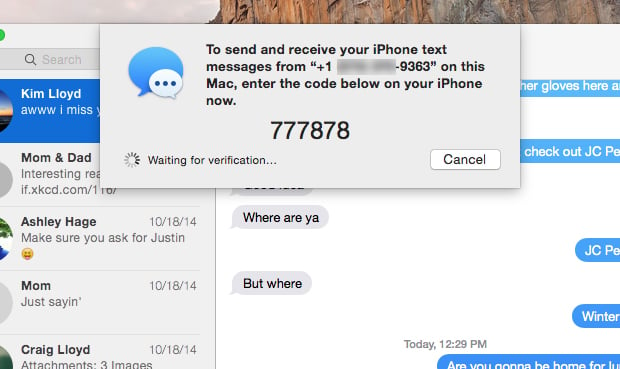 Apple calls this Text Message Forwarding, and it allows text messages that are received by your iPhone to be mirrored on your Mac running OS X Yosemite. You can also send SMS text messages from your Mac as well using this method.
However, the feature won't work automatically, as there are a few conditions that you need to be aware of. This guide shows you how to set up Text Message Forwarding so that you can begin receiving and sending SMS text messages on your Mac.
Enable Phone Calls
Your Mac has the ability to make and receive phone calls directly from the desktop. It's a new feature that's a part of Apple's Continuity initiative that aims to get OS X and iOS working seamlessly together, and OS X Yosemite is the first version of Apple's Mac operating system that truly does this.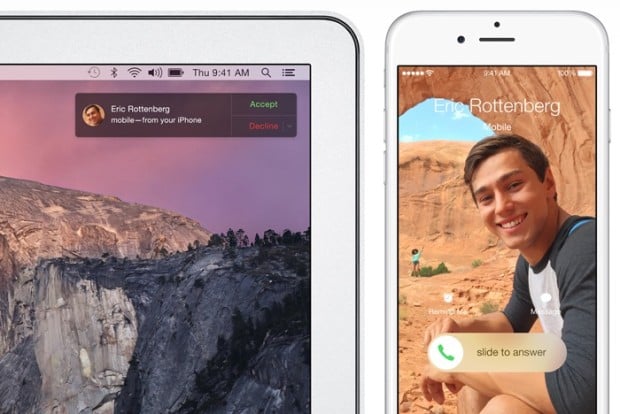 To make and receive phone calls on your Mac, you'll need to make sure that both your Mac and your iPhone are connected to the same WiFi network and are also signed into the same iCloud account. If you're at home and only have one iCloud account anyway, then you're most likely all set to go, but it wouldn't hurt to double check this.
Here's a handy guide on how to set up phone calls on your Mac.
Improve Performance
While OS X Yosemite runs quite well on newer Macs, you can get more juice out of it by tweaking the settings a bit.
We've heard of many issues affecting users who installed OS X Yosemite on their older Macs and had an awful time with it. Apps were slow, the boot-up time was abysmal, and overall performance was simply lacking. So these tricks can also work for users on older Macs, but newer Macs can benefit as well.
There are a few tweaks you can tinker with to OS X Yosemite to make it perform better on your Mac machine, from toning down the eye candy to disabling a handful of resource-hogging features.
Here's a guide on how you can improve the performance of OS X Yosemite on your Mac.
Get iWork for Free
Apple announced last year that its iWork suite of apps, which consists of Keynote, Pages and Numbers, would come free with any new Mac that you buy. Previously, these apps were $20 a piece.
However, current Mac users with older Macs aren't able to take advantage of that deal, seeing as how the company is only making iWork free for new Macs bought after yesterday. Here's how to get iWork for free either way.
It turns out, there's a clever loophole that allows older Macs to get the iWork suite of apps for free. It does require a little bit of elbow grease — certainly more effort than just downloading and installing the apps, but it may be worth it for some users who have been wanting the apps for some time.
Here's how you can get iWork for free on your new Mac running OS X Yosemite.

As an Amazon Associate I earn from qualifying purchases.