6 Ways to Watch Movies on Windows 10
If there's a kind of video content that Microsoft and the companies that make apps for its Windows operating absolutely want users buying more of, it is movies. Each year, a smaller amount of people are willing to make the trek to a movie theater just to see the latest releases. Hollywood production companies are hoping to turn their fortunes around by making their movies available to users at home, with relative convenience. There are a handful of ways to watch movies on Windows 10 devices.
Microsoft's own Movies & TV offers the bare minimum. Users can purchase movies in the store or rent them for set periods. The purchases and rentals sync across devices – this way they can purchase a movie on their tablet, then enjoy it on their television.
When the Movies & TV selection in the Windows Store just won't do, there are other options too. The store's app catalog has some big name services that let users stream any amount of movies they want from that service's catalog – without having to pay anything more than a flat monthly fee. There's even one that doesn't have a monthly fee at all, viewers just need a subscription to their cable channel.
Here are six ways to watch movies on Windows 10 desktops, smartphones, tablets, all-in-ones and notebook PCs.
Read: 5 Ways to Watch TV Shows in Windows 10
How to watch Movies on Windows 10: Movie Streaming
Netflix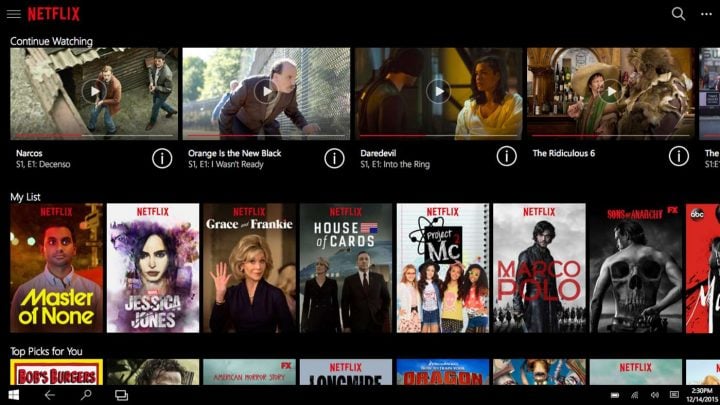 Of course, Netflix is by far the easiest way to watch movies on Windows 10. Mostly, that's because you probably already have a membership to the $9.99 service already. The Netflix app for Windows 10 recently received an update that add support for 4K videos and notifications for new movies and television shows that the service thinks you might like.
[ Download Netflix from the Windows Store ]
Hulu
Another service that you're probably familiar with, Hulu is more known for offering television shows and original programming than it is movies. The service is the home of the Criterion Collection and offers a growing number of films for its $7.99 monthly fee. There's no longer a free edition of Hulu.
[ Download Hulu from the Windows Store ]
Sling TV
Part of a Dish Network's traditional cable offering, Sling TV allows users to experience digital cable through the internet and their PC instead of a cable box and their television. EPIX and other cable channels that traditionally offer lots of movies are available through the service. Subscriptions start at $20 a month, but can go up to $40 for the service's complete line-up of channels.
[ Download Sling TV from the Windows Store ]
EPIX
EPIX isn't a standalone movie service, it's a cable channel that happens to also offer a dedicated Windows 10 app. If you've already got a subscription to the service through your cable provider, you can enjoy EPIX movies free of charge by singing into the app.
[ Download EPIX from the Windows Store ]
How to Watch Movies on Windows 10: Movie Rentals & Purchasing
These services still let you watch movies on Windows 10, but they don't charge you a flat rate per month or tie into a cable subscription in any way. Instead, you simply pay for the movies that you want to watch.
VUDU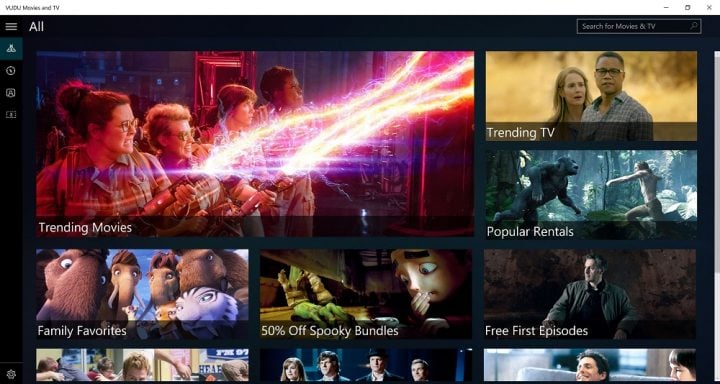 Vudu is a relatively new addition to Windows 10; the app only launched around a month ago. It offers on-demand rentals and purchases. Its marketing boasts that it sometimes provides access to movies that aren't yet available on Blu-Ray or DVD. By far, its best feature is that it supports something called UltraViolet.
At stores around the world, you can purchase DVDs and Blu-Ray discs that give you access to Ultraviolet content. You enter the code that comes with this DVDs into Vudu and you get a digital copy added to your library at no additional cost. Right now, Vudu is the only app that supports the feature on Windows.
[ Download Vudu from the Windows Store ]
Microsoft Movies & TV
Microsoft Movies & TV is the dedicated video playback and browsing app for any device running Windows 10. No matter what device you own, it's installed.
You make all purchases for the Movies & TV app through the Windows Store that also comes installed on your device. High-definition movies tend to cost around $3.99 for a standard definition rental and $4.99 for a high-definition rental. Purchases run about $9.99 for older films all the way to $19.99 for some Disney and Marvel classics.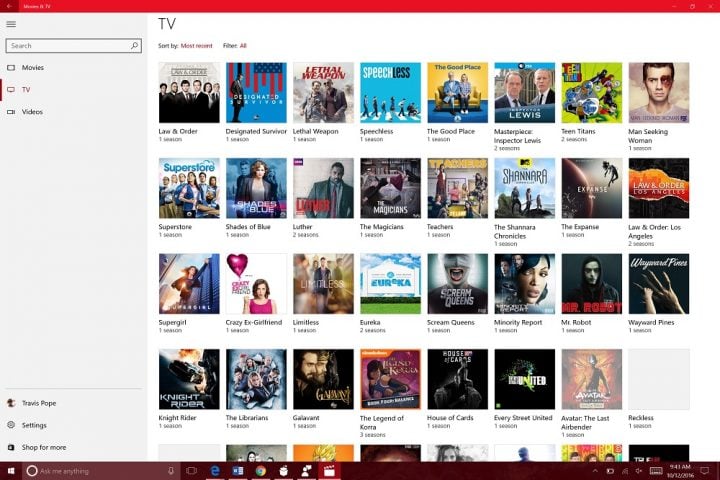 The movies that you purchase for Movies & TV sync to any device that you have your Microsoft Account connected to. Your progress does too, meaning you can always pick up where you left off. Microsoft Movies & TV doesn't offer UltraViolet support, but it does have support for Disney Movies Anywhere. Any Disney film you purchase in the Movies and TV Store gets unlocked on other devices. For example, your iPhone will have a digital copy of The Avengers if you purchase it through Movies & TV.
Besides purchasing new content, Movies & TV has a built-in video player for content that you've managed to rip off of a DVD.
Good luck with finding an app and service to watch movies on Windows 10.