6 Great Windows 10 Anniversary Update Features Revealed
Microsoft's Windows 10 operating system has gotten an update containing new features once since it became available for everyone running Windows 7 and Windows 8 last year. Compared with the three years it used to take the company to deliver significant updates to Windows before, once less than a year since launch isn't a bad thing at all. That's especially when you factor in individual updates to Windows apps that are happening all the time. Announced today, the Windows 10 Anniversary Update will add new features and mark one year since the operating system became available through the Free Windows 10 Upgrade Offer.
What we know about the Windows 10 Anniversary Update isn't a lot yet. Microsoft only announced the upgrade this morning at its BUILD 2016 conference for developers and Windows enthusiasts. Like Windows 10 itself, the upgrade will be absolutely free for users to download and install on their devices.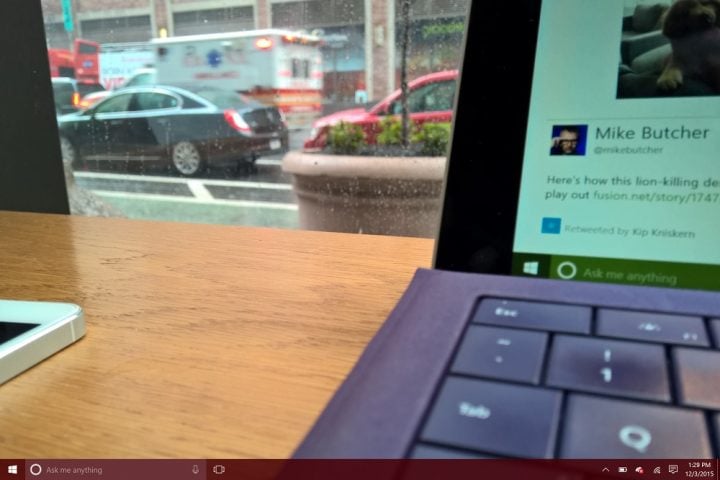 Read: Windows 10 Updates: What We Know Now
Of what Microsoft talked about today, Windows 10 Anniversary Update features can be perfectly sorted into three categories. There are features to make Cortana easier. New add-ons for making using a Pen easier, and new features for developers to bring their apps to the Windows Store.
Windows Hello for Your Apps
With Windows 10, Microsoft revealed that it wanted to kill off the password. It's plan to do that included Windows Hello, a subsystem that talks to sensors built into PCs, notebooks, phones and tablets and checks to make sure that you are who you think you are. Today, Windows Hello uses Iris Scanners and Fingerprint readers to let you get into your account without typing in a Pin Code or Password.
With the Windows 10 Anniversary Update, Microsoft is bringing this feature to apps. Developers will have the option to bring Windows Hello authentication into their apps instead of relying on passwords. If that sounds familiar it's because Apple does the same thing with its iPhone and TouchID fingerprint reader. For example, users can log into Bank of America with their finger.
Refreshed Sticky Notes
Last updated with Windows 7 really, Sticky Notes was a widget that you could add to your desktop and write yourself notes in. This way, you'd never forget what you were planning to do. For the Windows 10 Anniversary Update Microsoft is refreshing Sticky Notes. The refresh is part of a bigger push to make styluses more relevant in Windows 10.
After downloading the Windows 10 Anniversary Update and you'll get to create a sticky note that sits on the Desktop. This new version lets you actually write on the Sticky Note instead of being forced to type anything in. Microsoft says that it'll also include hotlinks so that Cortana knows when you're reminding yourself of a task that might require a Calendar reminder.
Send & Receive Text Messages
Cortana for iPhone is still behind Windows 10 Mobile, but Cortana for Android is quickly catching up. Both Windows 10 Mobile and Android versions of Cortana will pick up the ability to send and receive messages to Windows 10 PCs. Windows 10 Mobile smartphones are the only devices that can do this today.
Microsoft Edge Extensions
They haven't been shown at BUILD yet, but Microsoft is working on adding Extensions for its Edge web browser. These Extensions will do for Edge what Extensions for Chrome and Firefox do: let developers add features to the browser on their own.
When they're ready, Microsoft plans to add Edge Extensions for download to the Windows Store. We'll have to wait for the Windows 10 Anniversary Update to get our hands on them officially, it seems. Members of the Windows Insiders Program already have access to them.
Windows Ink
Microsoft lavished attention on pen and styluses this morning during its keynote presentation. The move makes sense, a growing number of Windows 10 2-in-1s come with a stylus or support for buying one if a user chooses to. Microsoft's Surface Pro 4, Surface Pro 3 and Surface Book all come with a Pen, for example.
Windows Ink is a new set of features all designed around ink input. The new Sticky Notes app is a part of this experience. Microsoft is adding a dedicated Pen button to the right-side of the Taskbar. This button will launch the Ink Workspace, a dedicated area that offers links to recently used Pen apps, Sticky Notes and the new Sketch Pad app. Think of Sketch Pad as OneNote, but without the page organization.
Windows Ink goes beyond these basic features though. Microsoft Office Mobile apps will offer better ink support so that users are able to write and highlight words. The feature also includes support for stencils and sketching, with developers able to call upon Windows Ink rulers and stencils whenever they need to.
Voice Commands at Any Time with Cortana
Cortana is picking up some pretty nifty features with the Windows 10 Anniversary Update. One of the more interesting new features is the ability to run above the lockscreen.
Once this update arrives, you'll be able to give Cortana a voice command without first having to unlock your device. This fixes one huge problem with the personal assistant today, having to unlock your device or press the power button isn't convenient enough.
Being able to turn on or off a PC is just one of the new voice commands the company teased today.
Again, Microsoft plans to release the Windows 10 Anniversary Update sometime this summer, but isn't ready to share details beyond that. The company already has early versions of the operating system update out for users to test through the Windows Insider Program. Of these features, only Microsoft Edge Extensions are available today.