7 Awesome iPad Games You Won't Believe Are Free
Gaming on the iPad is just one thing that makes Apple's tablet so great. Here are seven awesome iPad games that are so good, you won't believe they're free to play.
There are a ton of games available for the iPad that are free to download and play, but many of them are pretty basic and you kind of just expect them to be free in the first place. Many larger games that are more in-depth usually cost at least a couple of dollars to buy.
That's not completely surprising at all, but it might be surprising to know that there is a wide selection of awesome iPad games that you might think cost money to download and play, but are actually completely free to play.
Of course, most iPad games nowadays that are free to play usually have a caveat, and that caveat is in-app purchases, whether it's to get boosts so that you're better while playing, or paying to make wait times go down, as many free-to-play games come with time constraints.
However, that doesn't mean that the gameplay isn't good, so without further ado, here are seven iPad games you won't believe are free.
Modern Combat 5: Blackout
If you enjoy playing Call of Duty on the console, but wish you could get that experience on your iPad, you're in luck, as the Modern Combat is as close to Call of Duty as you can get on the tablet.
Specifically, Modern Combat 5: Blackout is the latest installment in the Modern Combat series, and it's a first-person shooter with excellent graphics and immersive gameplay.
Seriously, one quick look at the gameplay and graphics will make you believe this game has to have a hefty price tag on it, but it's actually free to download and play. There's even an Apple Watch companion app.
The game does require an internet connection to play, and you need at least an iPad 2, but if you're a hardcore iPad gamer, you most likely have a newer iPad anyway.
Real Racing 3
The first two installments in the series used to cost money, but Real Racing 3 took a different approach.
Real Racing 3 is perhaps the only true racing simulation game available on the iPad, and it's really good — on part with many of the great console racing games for sure. It's getting a bit dated, but for an iPad game, it's still one of the best out there.
Real Racing 3 is free to play, but it uses time limits on car repairs and upgrades to pressure gamers into paying for quicker upgrades and repairs. However, you can still easily play the game without spending a dime and still enjoy it.
Clash of Clans
Perhaps the most addicting game over the last couple of years, Clash of Clans is a game that should cost money to play because of how much fun it is.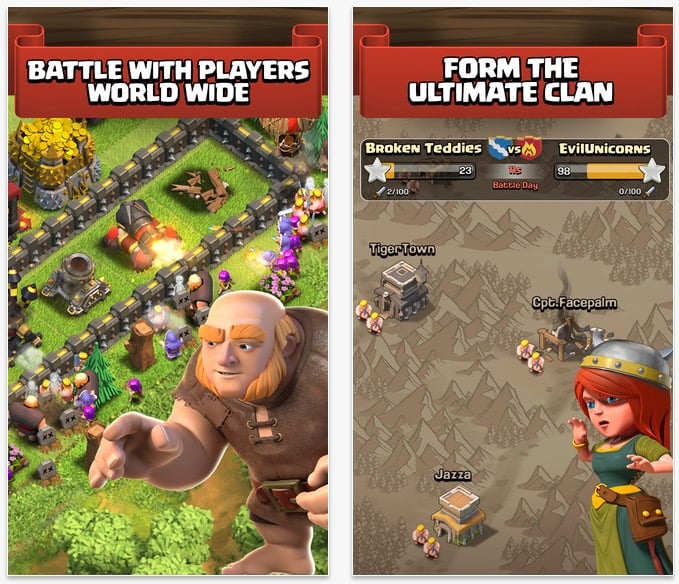 Clash of Clans tasks you with building a "base" full of defensive weapons, walls, and gold storage, upgrading them all as you progress through the game. You attack other bases to earn money for which you then use to upgrade your army and defenses.
It's very similar to Age of Empires, but with different characters and a more cartoony feel to it all.
Granted, you can still spend money if you want in order to progress quicker through the game, but I have yet to spend a single dime and I'm enjoying myself. Also be sure to check out our tips for beginners.
Hearthstone
If you're a bit fan of the whole World of Warcraft genre and also enjoy playing card games, then Hearthstone is the game for you, and it's completely free.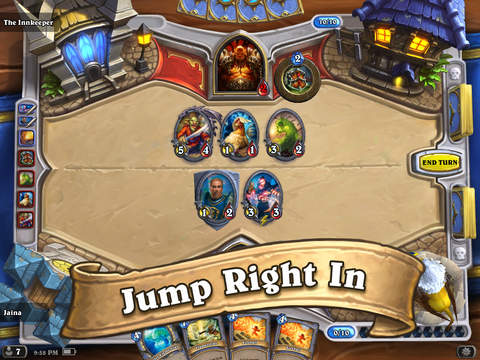 The game comes from the makers of World of Warcraft and it's a turn-based card game that also tasks you with collecting cards. Again, Hearthstone is free to play, but there are also in-app purchases that you buy that speed up the card-collecting process.
During matches, players take turns playing cards that can cast spells, use weapons, and more. It's certainly not a game for everyone, but if World of Warcraft's popular is any indication, Hearthstone could be the next big iPad game, and it already kind of is.
Boom Beach
From the creators of Clash of Clans comes a new similar game called Boom Beach.
This game tasks you with building a base on an island and defending against enemy troops. Like Clash of Clans, you build defenses and upgrade them to become more powerful, as well as build up your army. It's also really addicting.
The game really reminds you of the World War II era and when the Allies attached Normandy Beach. There's a bit of nostalgia there. Before you get too invested into the game, be sure to check out our tips and tricks.
Asphalt 8: Airborne
While Real Racing 3 provides a realistic racing experience, Asphalt 8 provides one of the best arcade-style racing experiences on the iPad.
Asphalt 8 is a down-right fun game to play. You, of course, race around courses, but also hit jumps and perform all kids of tricks like barrel rolls and 360 spins.
There's also a multiplayer mode to race against friends and other people online, and you can race actual cars in actual locations around the world. There's even a ghost racing feature that lets you race friends without having to be online at the same time.
Madden NFL Mobile
Madden is one of the most popular console video games ever, but did you know it's also available for the iPad? And it's free?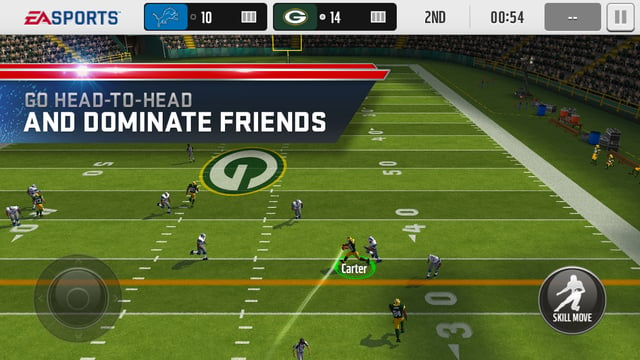 Many of the same features in the console game are in the iPad game as well, including Ultimate Team and those amazing graphics, which almost make you feel like you're playing on a console.
The controls are something that some iPad gamers might have to get used to, as they're not as easy using a physical controller, but even if you're having a hard time getting the hang of things, Madden NFL Mobile can provide hours of fun for football fans. Just be sure to bring your iPad charger along with you.

As an Amazon Associate I earn from qualifying purchases.