7 Casual Games for Windows Phones for the Holidays
The holiday season is a time for giving and sharing. Maybe you've shared your thoughts on devices like the Lumia 1520 or the HTC One M8 with family who'll get you one to celebrate the giving season. Maybe you're planning to reward yourself for a year's worth of hard work with a smartphone running Windows Phone.
However someone comes into a Windows Phone, there's never a better time to get in some mobile gaming than during the holiday season. Every Windows Phone comes equipped with a games app that connects directly to Microsoft's Xbox One experience. An Xbox One companion app is available for every platform. Where Windows Phone differs is the amount of titles that have direct Xbox Live integration. You can't play real-time multiplayer and voice chat from Microsoft's servers, but you can earn achievements from hundreds of Xbox Live enabled games. In effect, you can pump up you gamescore from anywhere in the world.
Here are 7 casual games you can download to your Windows Phone to keep yourself entertained during a car ride or everyone else in the car from asking, "Are we there yet?"
Infinite Flight
I never quite understood the love gamers have for flight simulators until I picked up Infinite Flight and tried to land the Space Shuttle. Flying in Infinite Flight is such a detailed thing. Pitch is important, so is speed and having a good eye. Infinite Flight is the only decent flight simulator there is on Windows Phone. It's $4.99 and you can't earn Xbox Live achievements, but it's so detailed and nice you'll want it anyway. There's a free trial available for folks who are nervous about paying that much for a mobile phone flight simulator.
[ Buy Infinite Flight from the Windows Store for $4.99 ]
Kinectimals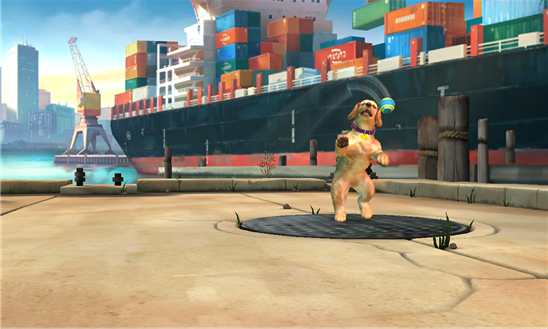 The original Kinectimals was a pet simulation that let Xbox 360 users almost feel like they owned a real dog. This new Kienctimals is almost the same thing, only it's for smartphones and is based around touch. You use certain gestures on your touchscreen to pet and take care of the animals you have. The game is free, but add-ons allow you to personalize the experience. This game does require that users have an Xbox Live account.
[ Download Kinectimals from the Windows Store ]
Hexic
Matching different colored hexagons has never been as exciting as it is in Hexic. The Windows Phone version, like the ridiculous amount of other versions that preceded it, are all  about getting a high score while hitting as many combinations as possible. Sure, you can settle for just a few matching hexagons or you can try to chain together as many combinations as possible. There are over 100 levels to work your way through and the game is absolutely free — aside for some in-app purchases. It also features Xbox Live achievements.
[ Download Hexic from the Windows Store ]
Halo: Spartan Assault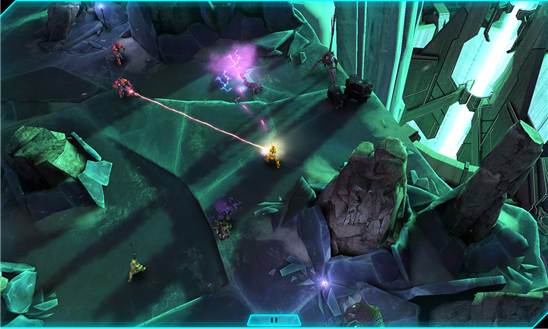 Microsoft's Halo franchise hasn't typically done well when it ventures outside of first-person shooting. Then came Halo: Spartan Assault. It's a top-down shooter with plenty of power-ups and levels. You don't quite feel like a Spartan; something gets lost in translation from first-person shooter to third person mini game. Still, it's a decent Halo game that you can earn achievements in.
[ Buy Halo: Spartan Assault from the Windows Store for $4.99 ]
Modern Combat 4
The Modern Combat franchise did for smartphone shooters what Halo did for console shooters. No, it's not a 1-to-1 recreated experience, but that's ok. Modern Combat 4 takes the very familiar, first-person shooting mechanic and reworks it for those with touch. Multiplayer is the highlight of Modern Combat 4. You can play with or against your friends. The developers have also gone a little further and added in-game voice chat and messaging. No other high-profile game on Windows Phone has either of those now. Its price reflects this. Modern Combat 4 costs $6.99, but it's definitely worth it.
[ Buy Modern Combat 4 from the Windows Store for $6.99 ]
Ilomilo
With most game makers sticking to iOS and Android, Microsoft needed its own mobile gaming franchises if Windows Phone was to succeed. After all, if you don't support your platform, no one else will. Ilomilo was one of the first great original puzzle games to make it to Windows Phone. It's quirky, the point of the game is to work your way around different puzzles and reunite to friends, Ilo and Milo. Ilomilo is $2.49, includes Xbox Live Achievements and has a free trial.
[ Buy Ilomilo from the Windows Store for $2.49 ]
Octagon
Maybe you've heard of endless runners. Octagon is an endless roller. The point of the game is to get as far as you possibly can in a level without missing a connecting area. Octagon has different modes for different play styles. One mode involves just lasting as long as you can. Another is a simple arcade mode. The best part of all, every level is randomly generates. There are no tricks you can learn from watching videos. Octagon isn't an Xbox Live game but does offer a free trial.
[ Buy Octagon from the Windows Store for $1.99 ]
Have fun with these games on your Windows Phone this holiday season!