7 Common iOS 7 Problems & How to Fix Them
In September, Apple finally released its iOS 7 update for iPhone, iPad and iPod touch, an update that replaced iOS 6 as the company's most current piece of software. Since its arrival on September 18th, iPhone and iPad users in particular have been vocal about iOS 7 problems and bugs that have been impacting their experience. Here, we take a look at what we consider the seven biggest iOS 7 complaints and offer potential fixes to iPhone and iPad users.
Back in June, Apple announced an iOS 7 update for its older devices including the iPhone 5, iPhone 4s, iPhone 4, iPad mini, iPad 4, iPad 3 and iPad 2. The company said that the update, with its new look and new features, would be rolling out to owners sometime in the fall. Fortunately, Apple delivered on that promise as the company announced a roll out date of September 18th alongside the iPhone 5s and iPhone 5c on September 10th. It then stuck to that date and made the software available through OTA and iTunes.
For the most part, iOS 7 reviews have been favorable and many iPhone, iPad and iPod touch owners have had a seamless transition from iOS 6 to Apple's new iOS 7. However, there are always rotten eggs with iOS updates and really software updates of any kind and we have been hearing about several iOS 7 problems that iPhone and iPad owners are having to deal with. Apple's discussion forums are rife with complaints about iOS 7 issues, some big, some small.
Apple, for its part, has done a great job of keeping bug fix updates rolling out. First, we saw iOS 7.0.1 roll out to owners of the iPhone 5s and iPhone 5c to fix some issues on launch day. We also saw iOS 7.0.2 roll out in an effort to quell one of the security flaws that got discovered shortly after the arrival of iOS 7 last month. The company has also promised two major fixes in an upcoming update. iOS 7.0.3 is rumored for next week and it could be that it arrives with those bug fixes on board.
While some iPhone and iPad owners will get relief after installing iOS 7.0.3, there are still a few days between now and its release. And we also imagine that problems will linger after it finally does arrive. With that in mind, we wanted to share seven iOS 7 problems that we've been hearing about the most and offer some potential fixes, some temporary, to those in need.
iOS 7 Battery Life Drain
One of the issues that typically surfaces after any iOS update is battery drain. iPhone and iPad owners consistently complain about the negative impact that iOS updates have on their battery life and iOS 7 unfortunately did not escape their wrath. iPhone and iPad owners have been piping up about battery drain issues within iOS 7 but unfortunately, it doesn't look like Apple considers this an iOS 7 issue. If it did, it would have acknowledged the issue and promised a fix, just like it did in iOS 6.1.
Instead, this is an issue that is likely going to be drawn out until the release of iOS 8 next year. And that means that iPhone and iPad owners are more than likely going to have to rely on unofficial fixes if Apple doesn't quell the issues in incremental iOS 7 updates. Fortunately, there are quite a few things that iPhone and iPad owners can try, should the device start experiencing heavy battery drain.
While there are a ton of things that people recommend, we think there are seven key fixes that iPhone and iPad owners should try. The last resort of course is going to be a hard reset of the device, something that likely isn't appealing to users, but something that actually might be a godsend for those sporting older devices like the iPad 2 and iPhone 4. It's a tedious process due to having to back up the device but hard resets often will make the device feel like new. They also sometimes help immensely with battery life issues.
Wi-Fi Issues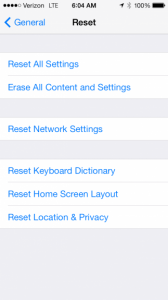 For the past year, Apple's discussion forum has seen lengthy threads in regard to Wi-Fi issues that iPhone and iPad owners have been having. Owners complained about a wide variety of issues from grayed out Wi-Fi to unstable connections. From the looks of things, it appears that many of those issues persist in iOS 7 as we've heard, and seen, complaints about Wi-Fi connectivity being up and down for some. We've also seen some owners complain about the connection being grayed out.
Unfortunately, Apple didn't roll out an iOS 6 update to address these issues and we have a very good feeling that Apple isn't going to send out an iOS 7 update to fix them either. That again means that iPhone and iPad users are going to have to rely on unofficial fixes that may work for some people but not others. We think that the same fixes that worked in iOS 6 may work with iOS 7. Users saw success with these fixes last year and they are worth a shot this time around as well.
We also suggest trying to reset the network settings on the iPhone or iPad. To do that head to Settings > General > Reset > Reset Network Settings. This isn't a guaranteed fix but it's certainly one to try if Wi-Fi isn't playing nice. If that doesn't work, it could be a problem with a router. We suggest making sure the router's firmware is up-to-date. If it is, try resetting it. Some people have had success with that. Older routers seem to have issues with newer iOS updates so it's possible that a router, not iOS 7, is to blame.
If nothing else works, we suggest trying a hard reset on the device as they, again, seems to solve some of the major issues with devices. If that's not an optimal route, try taking it in to an Apple Store. It's possible that if the issue is unsolvable that they'll offer a replacement phone.
iOS 7 iMessage Problems
iOS 7 users with the iPhone have been complaining about issues with the iMessage service ever since iOS 7 and iOS 7.0.2 were released. Some users are able to receive iMessages but not send them and some aren't able to receive them or send them. This is a big problem for those that don't have unlimited texting plans because the alternative is sending a text message.
This is a problem that Apple has acknowledged and has promised to fix in a future update, likely the iOS 7.0.3 update that is said to be rolling out next week. In the meantime, users are going to be looking for some solutions to this issue and fortunately, there is one that has worked, at least temporarily. The first thing to try is toggling iMessage on and off. If that doesn't work, try rebooting the phone. If neither of those work, it's time to reset the device's network settings.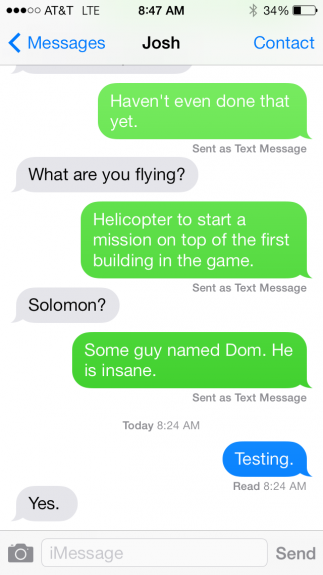 To do that, head into Settings > General > Reset > Reset Network Settings. The phone will reboot, and while users will lose their stored Wi-Fi networks, reentering a Wi-Fi password is a small price to pay for working iMessages. This solution hasn't worked for one hundred percent of iPhone owners but it's worth a shot if iMessage isn't working.
Keyboard Lag
An iOS 7 complaint that emerged shortly after the release of iOS 7 was about lag within the keyboard. iPhone owners, iPhone 4s owners in particular, were very vocal about the lag found within the new keyboard, something that makes writing email and writing messages a real pain. This is an issue that is more than likely not going to get an official fix but lucky for those experiencing it, there is a way to make it stop.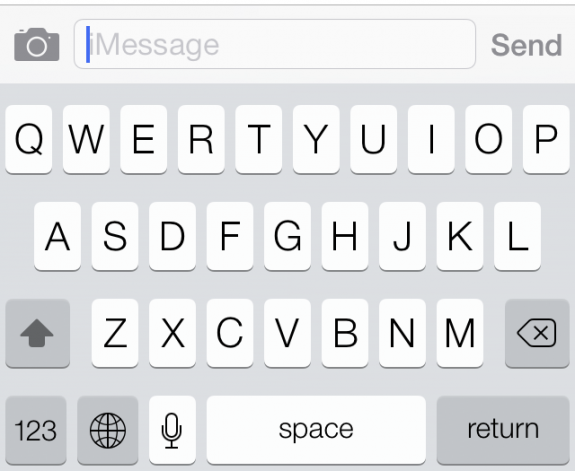 First, users will want to open up the Settings app and go to iCloud > Documents & Data. That will open up another window where there will be a toggle switch. Turn it off if it already isn't and the lag issues within the keyboard should dissipate. If that doesn't work, users will want to reset network settings as that appears to be another possible fix. To do that, go into Settings > General > Reset > Reset Network Settings.
FaceTime Issues
In addition to iMessage issues, we've been hearing complaints about another Apple service, FaceTime. iPhone and iPad users are apparently experiencing connectivity problems with visual and audio FaceTime calls and it's something that we have experienced first hand. While there isn't a fix that is working for one hundred percent of owners, there is something that those having issues will want to try.
Resetting network settings seems to be the trick for a lot of these issues and it has seemingly gotten rid of the FaceTime kinks for many users. iPhone and iPad users will want to access Settings > General > Reset > Reset Network Settings. If that doesn't work, try toggling FaceTime on and off as that might do the trick as well.
We've been experiencing terrible audio issues with FaceTime audio and most of the time, the drop in audio quality comes when switching between cellular networks, so 4G LTE to HSPA+ on AT&T for example. While this isn't a fix, we highly recommend using a stable home Wi-Fi network when making a FaceTime Audio call as they seem to be performing much better.
Security Flaws
In iOS 6, we saw a number of security flaws impact iPhone and iPad users. Those flaws allowed thieves to pass the lock screen and access things like contacts and the camera roll. Apple worked to quickly patch those flaws up and rolled out updates to address the issues. The same type of issues have emerged with iOS 7. Almost immediately, we saw a simple exploit allow users access to the camera roll, apps, contacts and more. Apple very quickly patched that issue up in iOS 7.0.2, only to see another flaw emerge shortly thereafter.
Right now, there is no known fix for the current security flaw that is affecting the iPhone, iPad and iPod touch. We imagine that Apple will be fixing it in an upcoming update so our advice here is to keep a close eye on a device until the company is able to fix the problem. There is, however, a security flaw that can be remedied.
Recently, it was discovered that thieves can very easily prevent iPhone users from remote wiping their device by putting the device in airplane mode even with the iPhone locked with a passcode. We imagine that Apple will fix this exploit down the road but in the meantime, there is a quick fix for those that are worried about their security.
iPhone owners will want to open up the Settings app and tap on Control Center. There, there will be two options including Access on Lock Screen and Access Within Apps. Users will want to make sure that Access on Lock Screen is disabled. This will prevent access to Airplane Mode while the iPhone is locked up with a passcode.
Apps Crashing
We've been hearing a lot of complaints about applications crashing in iOS 7 and applications logging out iPhone and iPad users for no apparent reason. This isn't an Apple problem so much that it's a problem for app developers. So that means that there likely won't be an iOS 7 stability update coming any time soon. There are a few things that iOS 7 users can try to make things more stable though.
First, make sure applications are updated. App updates with support for iOS 7 have been trickling out since launch and many iPhone and iPad owners out there are terrible about ensuring that their apps are constantly updated. Those who don't like doing this will want to turn automatic App Store updates on as it will update apps automatically and ensure that they are always on the latest version with the latest bug fixes.
As far as apps that are logging people out, owners may want to turn off the Background App Refresh feature that is found in iOS 7. To do that, head to Settings > General > Background App Refresh. This seems to work for some people and it worked for us. If nothing works, it may be that the app simply needs to be updated with fixes.

This article may contain affiliate links. Click here for more details.