7 Features I Want for the Windows 10 Anniversary Update
Microsoft's Windows 10 operating system isn't a year old yet. That isn't stopping the company from delivering on its promise to deliver frequent updates. Last year, Microsoft added a few new features with the Windows 10 Fall Update. The company is planning the Windows 10 Anniversary Update for sometime this summer.
Thanks to this week's BUILD 2016 event in San Francisco, California, we know a lot about the features developers will be able to use in the Windows 10 Anniversary Update to deliver useful app. We're talking converters for Desktop apps and the all-new Windows Ink experience for improving stylus support for the first time in ages. Cortana is getting new features too.
Read: 6 Great Windows 10 Anniversary Update Features Revealed
Certainly, those things are nice to have, but they're not exactly exciting. If Microsoft wants users to get excited about the Windows 10 Anniversary Update, it's going to need to deliver on big improvements in other areas where the operating system and its ecosystem still need work.
Here's 7 features I hope that Microsoft includes in the Windows 10 Anniversary Update. Some of them aren't groundbreaking, but they'd all go a long way in improving the everyday experience on notebooks, desktops and tablets running the operating system.
Refresh File Explorer
At this point, Windows 10's most pressing issue is what's called the File Explorer. The File Explorer is the app you use every day to look for documents, pictures and more on your device. It's the app that shows you what's in a folder and gives you options to open and save new files.
File Explorer works well, but hasn't had any significant improvements in years. With Windows 10 Microsoft only improved on its visuals. Opening up two folders still results in two different windows. It could and should allow for multiple tabs in the same browser window by now. Despite the visual refresh it received last year, it still looks like relic of a bygone era, an era when long scrollable lists and giant sidebars of shortcuts was a smart decision from a user interface standpoint. Microsoft has to upgrade File Explorer in time for the Windows 10 Anniversary Update.
Folders for Live Tiles in Start
Windows 10 allows you to organize Live Tiles and shortcuts in groups, but Windows 10 Mobile has folders for more exact placement and management. These are definitely something that Microsoft should consider adding in the Windows 10 Anniversary Update to notebooks, desktops and tablets.
Controller Navigation for Xbox App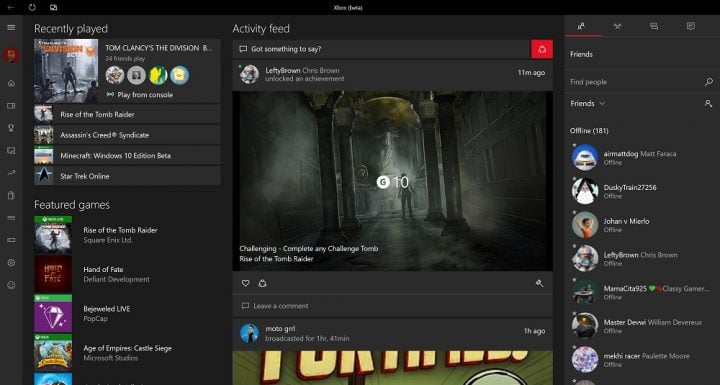 The Xbox for Windows app boasts support for the Xbox Elite and regular Xbox One controllers, but forces you to use a mouse and keyboard to navigate its interface. I'm not saying that they need to provide a fullscreen experience like Valve does with Steam's Big Picture Mode, but navigation with the controller inside the Xbox for Windows app itself is a must.
More Options in Windows 10 Settings
The Control Panel is a menace at this point. Power users can navigate the thing well, but getting the most basic of tasks done within it was a nightmare for the average person. Microsoft partially solved the Control Panel problem in Windows 8. It moved out the most often used toggles and switches to a new Settings app. In Windows 10, it made that Settings app better, with an easy to understand navigation and more options. For the Windows 10 Anniversary Update, Microsoft needs to finish the job by adding even more Settings.
I won't say that the Control Panel needs to be fully replaced. Power users love that thing for some reason. I am saying that any setting available there should be available in the Settings app. I'm also saying that Settings should be the only thing a normal user ever sees.
Changelog for Updated Apps
The Windows Store should do a better job of providing details of what changed with an app update on the Updates & Downloads page.
Metadata Editing and Music Video Viewing in Groove Music
Slowly, Groove Music is improving in some interesting ways lately. Rumors are that the client will finally get Gapless Playback later this week. A dedicated Recently Played area is coming too. There's still some things missing though. Ok, there's a lot of things missing.
First, Groove Music Pass subscribers actually get free music video streaming, but only through the Xbox 360 and Xbox One apps for some reason. Microsoft needs to rectify that, and fast. Second, the company needs to add metadata editing so that people can finally manage their media library without resorting to workarounds, tricks and extra apps.
Books in the Windows Store
Why Microsoft is still counting on Amazon and other third-party companies to deliver a decent reading experience on its platform is beyond me. Windows finds itself in an interesting situation. Amazon dominates the eBook space, but hasn't updated their Windows app in years. Kindle for Windows is slow, ugly and absolutely terrible. I'd hope that Microsoft finally begins to expand the Windows Store beyond Apps, Music and Video. It needs, a selection of books with a basic reading app to say the least.
It's not a bad idea to throw in podcasts either. That's another area growing in popularity that Microsoft has so far failed to deliver on.
Here's to hoping that Microsoft delivers these features and more. With the foundation now stable, the company should be able to build out Windows 10 quickly.
Microsoft hasn't set an official release date for the Windows 10 Anniversary Update. In fact, it's only ready to say that we'll see the upgrade arrive for free sometime this summer.

As an Amazon Associate I earn from qualifying purchases.