7 Games to Download for Android Phones for the Holidays
Giving or planning on receiving an Android smartphone or tablet this holiday season? First you're going to want to set up a Google Account and move your contacts, pictures and music. Second, you'll want to download some fun games to enjoy on your new Android device.
Here are 7 games to download and enjoy over the holidays.
Sky Force 2014
Flying in a straight direction and shooting at enemy ships coming from the top of the screen used to be about the only game you could play. Titles like Raiden Project come to mind. Sky Force 2014 is in the same style. In Sky Force 2014 you get a pretty basic ship that you can upgrade with in-app purchases. There are boss battles, voice overs and tons of weapons that add a bit more depth to the game. Sky Force 2014 is free but does, again, have those in-app purchases.
[ Download Sky Force 2014 from the Google Play Store ]
Minecraft Pocket Edition
Never has there been a more popular game and captivating creative engine than Minecraft. Each day thousands, maybe millions, log onto Minecraft servers around the world to mine materials, survive little green monsters and build tiny worlds of their own. Both Creative and Survival Mode are included in Minecraft Pocket Edition for $6.99. Survival is all about living on after you've had some encounters with those green monsters. Creative Mode turns Minecraft Pocket Edition into a virtual sandbox and unlocks every so that players can build whatever their heart desires.
[ Buy Minecraft Pocket Edition from the Google Play Store for $6.99 ]
Fruit Ninja
There was never really a lot to explain about Fruit Ninja. Fruits find their way on your screen and it's your job to slice them as quickly as possible. Of course, a game as popular as Fruit Ninja has some quirks and tiny details. Slicing multiple fruit with a single swipe quickly builds your score. Play in normal mode and you'll find yourself avoiding bombs that sneak their way onto the screen along with fruit. More blades add more effects.
This November Fruit Ninja picked up a huge update. Blades aren't just for pretty effects anymore. Now they and Dojos you earn effect gameplay. Fruit Ninja costs $0.99. It also has some in-app purchases.
[ Buy Fruit Ninja from the Google Play Store for $.99 ]
TwoDots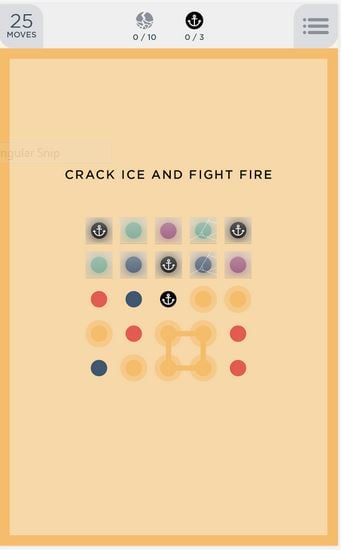 If you're familiar with Connect Four, then you know all you need to know about TwoDots. In the free game it's your responsibility to connect as many dots of the same color as you possibly can. Online play allows you to go against your friends over Facebook. Creating bombs using dots is still there too. TwoDots is free, but in-app purchases are present too.
[ Download TwoDots from the Google Play Store ]
Angry Birds Transformers
Angry Birds has taken on so many properties and went in so many directions that some people are hoping Rovio returns the game to its roots soon. They want the original premise back, you use different birds with different tricks up their sleeve to take out as many bad pigs and hideouts as possible. Angry Birds Transformers is not such a game.
Now players team up with the Piggys, also known as Deceiptihogs. You are now an AutoBird endowed with the powers and tools you'll use to save the world. Angry Birds Transformers is free, but does have in-app purchases.
[ Download Angry Birds Transformers from the Google Play Store ]
Leo's Fortune
Leo's Fortune is a pretty basic platformer game. You jump from place to place all to make it to the end of the level. Leo's Fortune is also, absolutely gorgeous. In fact, it's so good-looking that you'd think it was on a dedicated gaming console. Leo's Fortune doesn't include any in-app purchases. In exchange for that courtesy, players will need to pay for it. Leo's Fortune costs $4.99.
[ Download Leo's Fortune from the Google Play Store ]
Modern Combat 5
Your smartphone or tablet isn't as powerful as a living room gaming console, but that doesn't mean you can't enjoy some of the same types of games. The Modern Combat series is the mobile gaming world's equivalent of Call of Duty. Modern Combat 5 is a first-person shooter with multiple classes and weapons so that players can customize their character. Online multiplayer is key here. In fact, the game can't be played without an internet connection. Customizable controllers, support for external gaming controllers and a single player mode complete the Modern Combat 5 experience. Modern Combat 5 costs $6.99 and has in-app purchases.
[ Buy Modern Combat 5 Blackout from the Google Play Store for $6.99 ]
Have fun and remember to keep an eye on your Android device's battery and available storage space. Games can deplete a battery pretty quickly. They also can take up a lot of space.