7 HTC One Max Features You'll Want to Use
After countless leaks and rumors today the HTC One Max smartphone has officially been announced. With a huge full 1080p HD 5.9-inch display to compete with the Galaxy Note 3 and a fingerprint sensor on back to rival Apple's iPhone 5S, HTC has big hopes for this latest smartphone.
Now that the phablet is finally official, today we'll be highlighting 7 features of the upcoming HTC One Max you'll actually care about and use, as well as share a quick first look video provided by HTC. We've seen the device in countless leaks but the video released by HTC gives us a great look at what to expect from the new device, and why you'll want to buy one.
Fingerprint Sensor
One of the biggest features and most rumored specs of the new One Max is this fingerprint sensor on the rear. After initially hearing the Note 3 would have it too, but later dropped it, this makes HTC and Apple the only mainstream manufacturers with such an option. While many of you might look at this and think it's just a fad or for bragging rights, HTC is taking the opportunity to make this feature extremely useful.
After leaks last week today HTC confirmed the the fingerprint sensor will do a lot more than just give your device added security. You'll be able to scan all of your fingers into the database to unlock your device for extreme security, but thanks to the Android OS HTC added some quick app launch features as well.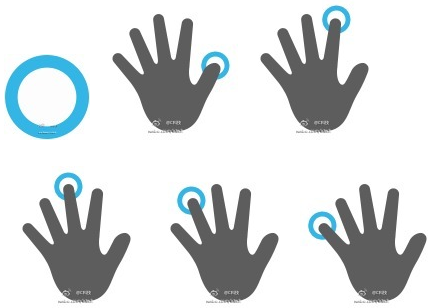 This isn't a one trick pony, and that sensor will be used to quickly fire up applications of choice. For example a users index finger will unlock your device, then you'll be able to configure three more fingers to instantly launch apps. The third or middle finger can then be customized to launch Facebook, the phone dialer, or many other options.
You'll be able to configure and set three different fingers to launch three different apps or functions. Then we also expect the Android hacker community to really open this up wide for all sorts of awesome benefits. Maybe customize fingers to call select contacts. Like a ring finger to call your wife, and things of that nature.
The fingerprint sensor idea is nothing new to smartphones, as we saw it a few years ago on Android, but now that technology and software can truly make it useful we have a feeling we'll be seeing plenty more in the near future.
Removable Back for Additional Storage
A trend we've been seeing more and more with smartphones as of late is this idea of sealing the device off completely. Apple took this approach from the beginning, and lately Android manufacturers are doing the same, but are getting a lot of backlash. Thankfully unlike the HTC One, the new HTC One Max will feature a removable back that will allow customers to add additional storage. While we won't be able to swap the battery like most Samsung devices, HTC will allow buyers to add a micro-SD card to increase their storage limit.
This might not be a huge feature for everyone, but we constantly see people upset about no micro-SD support. With a huge 5.9-inch full 1080p HD display having extra storage will really come in handy for those looking to throw a few movies on their micro-SD card. Not to mention add a music collection on an SD card to blast with the front-facing Boomsound stereo speakers provided by HTC.
Blinkfeed Improvements
With the HTC One the company announced an awesome new feature called Blinkfeed. Which was its own type of news aggregator and content feed all in one. Think Facebook comments and updates, news alerts, photos from your gallery and more all in one easy to see, scan, and view location.  Well, on the HTC One Max with Android 4.3 Jelly Bean and Sense UI 5.5 Blinkfeed is getting even better.
Blinkfeed makes your home screen come alive, full of content, and now will have more than ever. Along with news, sports, weather, Facebook, Flickr, Calendar and others, HTC has added Instagram, Google+, and even full RSS support into Blinkfeed. Which essentially means it will be a one-stop solution for nearly everything you'd like to quickly view. See your friends latest posts on Facebook, photos on Instagram, or get your own personalized news RSS feed delivered right to that 5.9-inch display all automatically.
Then, even though Blinkfeed is extremely useful we know not everyone wants this taking up space or wasting precious data. So HTC also has introduced a way to quickly disable Blinkfeed. With these additions added now, it looks like HTC is going to continue to upgrade and improve the overall Blinkfeed experience. This is another feature worth keeping an eye on.
And one last tip. The new Blinkfeed will allow up to 120 articles to be saved offline for reading later. So while on a flight or out of range with your provider you can always have content to read and enjoy.
HTC Zoe
Again the HTC One Max will share the popular Zoe feature from the One, only with Sense UI 5.5 they've added additional features and options to make it even better. With Zoe your gallery comes to life. Photos instantly are transformed into neat video clips or slideshows with fancy zoom effects with music, and this all happens automatically.
However, the update to 5.5 will also bring more options and creativity to Zoe. HTC decided to include a GIF editor, which could really come in handy, not to mention new highlight options and effects. Users can show an entire gallery of photos from a special event in a professional looking slideshow to friends and family all thanks to Zoe, and it will look great on the massive 5.9-inch screen.
Display and Stylus
Obviously one of the most important aspects of the new HTC One Max is the screen size. Coming in at a whopping 5.9-inches it's bigger than the Note 3 in screen size and the device overall. The idea of a phone that large might be a turn off to some, but once you use the device for some video playback, games, web browsing, or any other content consumption a screen of this caliber can become quite addicting.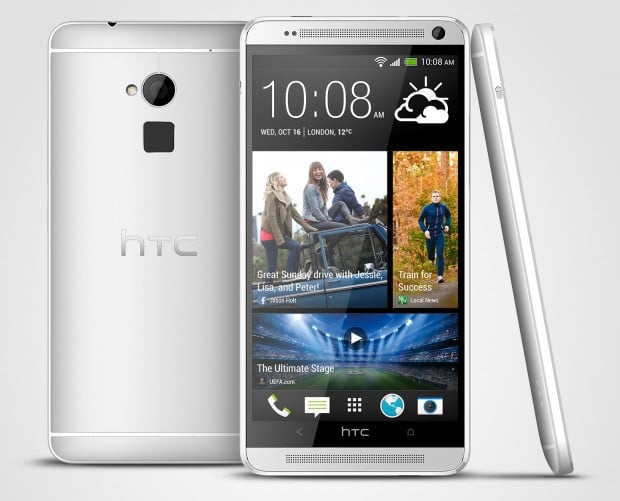 Unlike the Samsung Galaxy Note, HTC opted not to include a stylus to take notes and draw on the large screen real estate here. HTC will be offering a stylus, but it won't be quite the same experience Samsung offers. Not only will it not be built-in, but it also won't be as accurate without the WACOM digitizer Samsung uses in all its Note devices.
Hands down the feature users will use the most with the HTC One Max is the screen, simply because its sheer size and full 1080p HD resolution. Content creation and consumption on this device will be a breeze, and a joy for consumers.
HTC Boomsound
Odd naming aside, HTC Boomside (aka front facing speakers) is another feature that most users will truly enjoy, and actually want to use. I'm always running to a nearby laptop to show friends YouTube videos or music videos because my smartphone just doesn't output enough sound. HTC introduced the first quality speaker system on an Android smartphone with the HTC One, and will continue that effort with the One Max.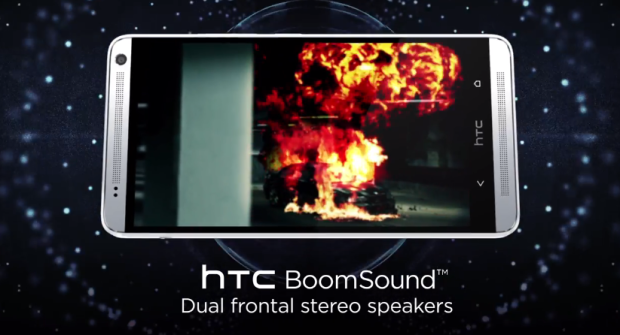 The HTC One Max no longer has Beats Audio integrated, but that shouldn't be an issue for most. HTC and Beats parted ways earlier this year and have ended that partnership, but that doesn't mean audio quality will suffer. We no longer have the Beats logo on the back, but the magic is in the quality of the front facing speakers, and some EQ tweaks. Both of which HTC has done a fine job with in the past. Basically, Beats Audio integration won't be missed, and you'll love the impressive sound that comes pulsing out of the HTC One Max.
Power and Speed
Last but not least is power and speed. HTC has done a great job lately keeping up with the latest hardware and software innovations. Not only do we get a near top-tier 1.7 GHz quad-core Snapdragon 600 with 2GB of RAM, but Android 4.3 Jelly Bean is on board for a smooth user experience as well. Anything from browsing YouTube, playing the latest games like Asphalt 7 and more will all be butter smooth on this smartphone. Or at least it should be.
Regarding power, HTC finally listened to customers regarding battery life and added a large 3,300 mAh battery to the smartphone. This will ensure hours of usage, and all-day battery life. To take this a step further the 3 little dots on the bottom of the device, which are pogo pins, will connect a new HTC Power Flip Case. This thin and durable case will protect the HTC One Max while also providing an additional 1,150 mAh of juice. Meaning your phone will stay charged up and powered on when you need it most.
Read: 7 Tips for HTC One Max Buyers
Final Thoughts
The HTC One Max is a unique smartphone and it won't be for everyone based on the sheer size of the device, but the millions that do decide to pick on up will probably love it. If you've enjoyed a Samsung Galaxy Note in the past, HTC is here with an all aluminum alternative to try and steal your heart and dollars. Which is best will have to wait until we get our hands on the One Max ourselves.
HTC announced the new One Max will arrive on shelves and carriers in late October, but we have no exact carrier details at this point. Sprint confirmed it will carry the device, and more US carriers will surely follow with similar announcements and pricing details.

As an Amazon Associate I earn from qualifying purchases.