7 iOS 9 Cydia Tweaks That Improve 3D Touch on iPhone
While we're waiting for an iOS 9.2 jailbreak to release any day now, here are seven iOS 9 Cydia tweaks that improve 3D Touch on iPhone.
The iPhone 6s was released back in September last year, and while it kept the same design and look as the iPhone 6, the new device includes an all-new display technology called 3D Touch.
3D Touch is a feature that simply adds more options on top of the traditional tapping that you do with the screen. One example is called Quick Actions, which brings up shortcuts for a specific app when you hard-press on the app icon, similar to right-clicking to bring up a menu with other options.
Read: Best iOS 9 Cydia Tweaks: The Ultimate Collection
There's also Peek and Pop, which allows you to peek into a link without fully opening it, but you can Pop into it if you decide you want to go there.
3D Touch is a great feature to have, but jailbreaking can make it even more useful, believe it or not. Here are seven iOS 9 Cydia tweaks that improve upon the iPhone 6s's 3D Touch
Traverse
Most iPhone apps have been updated with 3D Touch actions, while others are still being left behind by the developers. If there's an app that you want to add 3D Touch Quick Actions to, Traverse is a jailbreak tweak that can do this.
We talked about Traverse before, but it's worth another mention here. It relies on URL schemes that many iPhone apps support.
A URL scheme is essentially a URL that tells the 3D Touch Quick Action what to do. So for YouTube, a search URL scheme would be youtube://YouTube.com/results?search_query=%@. To find URL schemes for other actions and other apps, performing a Google search will usually lead you in the right direction. You can also take a look at this thread on StackOverflow listing all known URL Schemes used in the Settings app.
Appendix
3D Touch Quick Actions are only available for apps, but with Appendix, you can add Quick Actions to folders.
This makes it so that you don't have to open a folder and then open your app of choice, but rather hard-press on the folder and then choose an app listed.
The Quick Action menu contains the first four apps that are listed in the folder, so if you want specific apps to show here, you'll want to rearrange them in the folder so that they show up within the first four apps in the folder.
3DNotifications
If you want to get a quick look at your notifications without fully going into the respective app, you can use 3DNotifications, which allows you to Peek and Pop on notifications in the Notification Center.
You can tap and hold lightly on a notification to preview it. This will give you more information on the notification. You can also press harder to Pop into the notification and see it fully.
Furthermore, in Peek mode, you can swipe up to access more options or swipe to the left to clear the notification.
Tether
Perhaps one of the coolest jailbreak tweaks we've seen in a while is called Tether, which provides a quick and easy way to set alarms or reminders.
By hard-pressing down on an empty spot on your home screen, a new interface will pop up, from which you can then drag around your finger and set the time that you want your alarm or reminder to go off.
Then, when you lift your finger, you'll be asked whether it will be an alarm, reminder, or calendar event.
RevealMenu
If you don't have an iPhone 6s but want 3D Touch on your older iPhone, RevealMenu is a great jailbreak tweak that brings this functionality to older iPhones.
Of course, since older iPhones don't have the new display technology, RevealMenu relies on workarounds to get 3D Touch working. So to invoke Quick Actions, you simply long-press on an app icon, and to Peek and Pop, you hold down and swipe up, then roll your thumb to Pop.
It's a bit weird at first, but it's easy to get used to.
Point-and-Shoot
The Camera app comes with 3D Touch Quick Actions, but if you want a quicker way to snap a photo, then you'll likely want to try out Point-and-Shoot.
The tweak adds a new Quick Action option that you can select, which brings up a PiP frame of the camera's viewfinder, where you can then take a quick photo without ever opening up the Camera app.
Tactful
All jailbroken devices come with Cydia, but unfortunately, the app doesn't come with 3D Touch capabilities.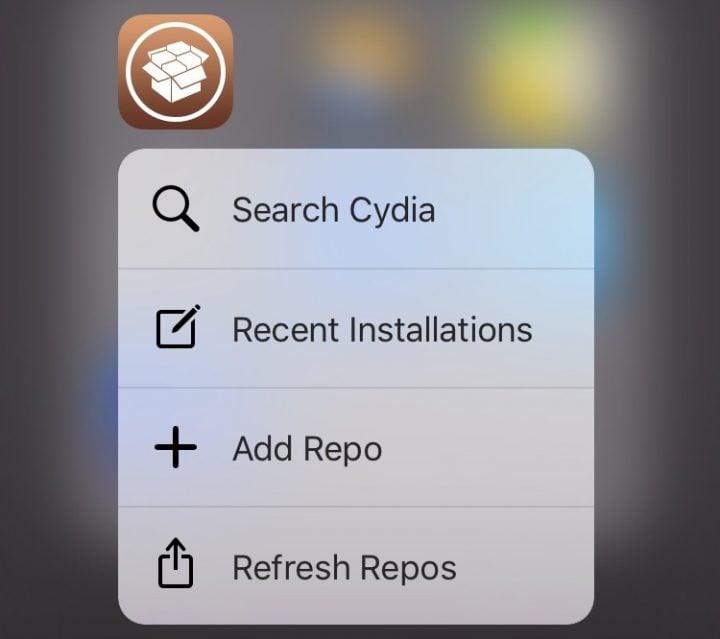 With Tactful, you can add 3D Touch Quick Actions to the Cydia app, giving you quicker access to different features of Cydia, like searching for a tweak or adding a repo.
It's not the biggest 3D Touch jailbreak tweak you can get, but it's one that can be useful for jailbreakers.