7 iPad mini 2 & iPad 5 Mysteries Remain
Apple finally confirmed its October 22nd iPad event today with media invites saying that it has more things to cover. Two of those "things" should be a new iPad mini 2 and an iPad 5, successors to the iPad mini and iPad 4, and devices that should appeal to millions of shoppers during the holidays. The devices have already leaked out extensively but questions about both the iPad 5 and iPad mini 2 remain. Here, we take a look at those questions and offer some possible answers.
Over the past few months, it has become clear that Apple has not one, but two new iPad models up its sleeve for the holidays. This comes as no surprise as it has been a year since Apple released the successful iPad mini and iPad 4 into the wild. It also doesn't come as a surprise thanks to the numerous leaks that have emerged showcasing Apple's products before Apple itself showcased them.
Rumors have revealed quite a bit about both devices. The iPad mini 2 is expected to feature a 7.9-inch Retina Display, a design that could be a tad thicker than the previous model to accommodate the Retina Display and a bigger battery, an upgraded camera, and a new processor that may wind up being Apple's new A7 chip.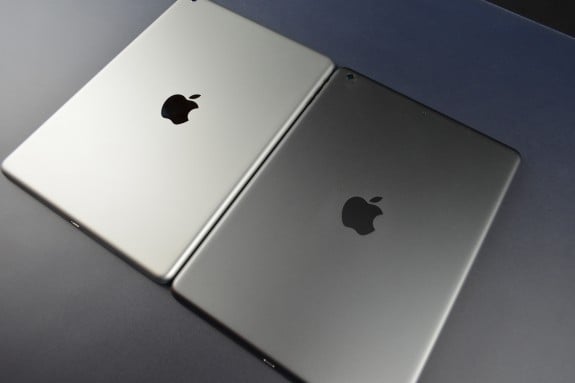 As for the iPad 5, it's expected to feature a brand new design that mirrors the iPad mini. With its thinner bezels, lighter weight and thinner form factor, the iPad 5 looks like it will be far more portable than the previous full-sized iPads. It's also expected to feature a new camera and a new processor but will likely keep the same 9.7-inch Retina Display found on the iPad 4.
Suffice to say, prospective iPad mini 2 and iPad 5 buyers have had many of their pertinent questions answered thanks to these leaks. There are, however, questions that still linger and here, we take a look at the few remaining iPad 5 and iPad mini 2 questions.
Release Date?
Despite knowing the iPad 5 and iPad mini 2 launch date, we still don't know when Apple plans on releasing the two devices to consumers. A new rumor today suggests that it's looking at October 30th or October 31st, Halloween, as a release date but we're extremely skeptical about those two dates. As we've pointed out before, we think that November 1st is a much more plausible date and here's why.
Apple follows patterns when it comes to launching devices. Last year's iPhone 5 launch almost exactly mirrored the company's iPhone 5s and iPhone 5c launch in that the company announced the devices in the early part of September and then released the devices 10 days later. Both launch and release dates were around the same date.
Unsurprisingly, the October 22nd date is one day off last year's iPad 4 and iPad mini 2 launch date and we fully expect the company to release the devices 10 days out from the event. That means, November 1st. November 1st is a Friday and Apple is notorious for releasing devices on a Friday. It's also one day before last year's November 2nd iPad 4 and iPad mini 2 release.
So while we don't have concrete information on this question, we would not be surprised to see November 1st emerge as the iPad mini 2 and iPad 5 release date.
Pre-Orders?
Historically, Apple has taken pre-orders for its mobile devices. Last year, it offered pre-orders on the iPhone 5, iPad 4, and iPad mini ahead of their release dates. This year though, things changed. While Apple offered a pre-order for the iPhone 5c, the company neglected to offer a pre-order for the iPhone 5s, instead, putting it on sale at midnight on its release date.
This makes predicting pre-orders for the iPad mini 2 and iPad 5 extremely difficult. However, our feeling is this. We suspect that Apple will offer iPad 5 pre-orders. We haven't heard anything about shortages and we expect demand to be far less than the demand for the iPad mini 2. So, we wouldn't be surprised to see iPad 5 pre-orders.
As for iPad mini 2 pre-orders, it's tough to say. The device appears to be following in the footsteps of the iPhone 5s as rumors point to it having supply issues. We also expect there to be steep demand, like there was for the iPhone 5s, so Apple could potentially neglect to offer pre-orders. It's extremely difficult to say and this might be a question that remains without a clear answer until October 22nd. At this point though, our gut says iPad 5 pre-orders at the very least.
Where Do Older Devices Fit In?
Another really important question that remains unanswered is where Apple's current iPad line fits in after the launch of the iPad mini 2 and the iPad 5. Right now, Apple sells a non-Retina iPad mini for $330. It also sells an iPad 4 with Retina for $499 and an iPad 2 without Retina for $399. Something is going to change when the new iPads arrive but it's not clear how it will play out.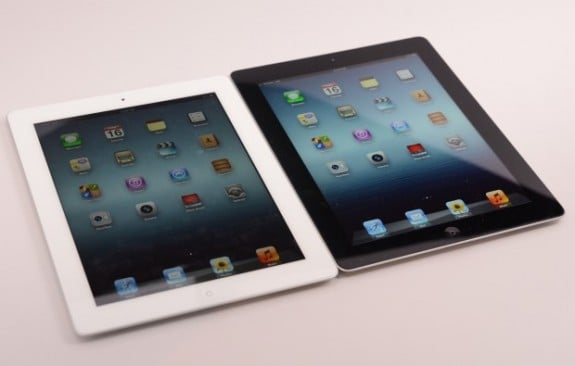 Here's how we see this playing out. The iPad 2 and its non-Retina display are old. We think that Apple will use the iPad 5 to finally push the iPad 2 out of its lineup. Apple has typically offered a non-refurbished budget option for those not looking to spend $500 so we could see the full-sized iPad lineup feature an iPad 5 that starts at $499 and an iPad 4 start at $399.
As for the iPad mini, the iPad mini 2 will most likely clock in at $330 as Apple tends to keep its prices consistent. As for the current iPad mini, well, it's tough to say. Again, Apple likes to keep multiple options available and given that the Nexus 7 is cheaper than the $330 price tag, perhaps Apple drops the non-Retina model by $50 or so. It's either that or it kills it off completely. Our gut says that it keeps it around.
Fingerprint Readers?
Leaks continue to suggest that the iPad 5 and iPad mini 2 may use the same fingerprint reader technology found on the iPhone 5s. TouchID, as Apple calls it, allows users to better protect their devices from theft, something that has plagued Apple devices for years.
The leaks, however, have proven inconclusive so the feature remains a big question mark as we head deeper into October. We've made the case for TouchID on the iPad mini 2 and iPad 5. We think there is a very good chance that Apple will include the technology on board its new iPads, not only to unify them, but to give owners that added sense of security. The iPad mini 2 in particular is a device that is used while on-the-go and something like TouchID would greatly benefit its owners.
That said, buyers will want to remain a bit skeptical as the feature hasn't been confirmed for either device. Remember though, the iPhone 5s' fingerprint reader also saw inconclusive leaks before it arrived.
Color Options?
One of the big changes to the iPhone were the new color options that Apple brought to the table. Gold, silver and gray are the iPhone 5s' color options, colors that join the various colors of the iPhone 5c. Apple clearly put an emphasis on this for the iPhone and it looks like the iPad 5 and iPad mini 2 should have some new colors as well.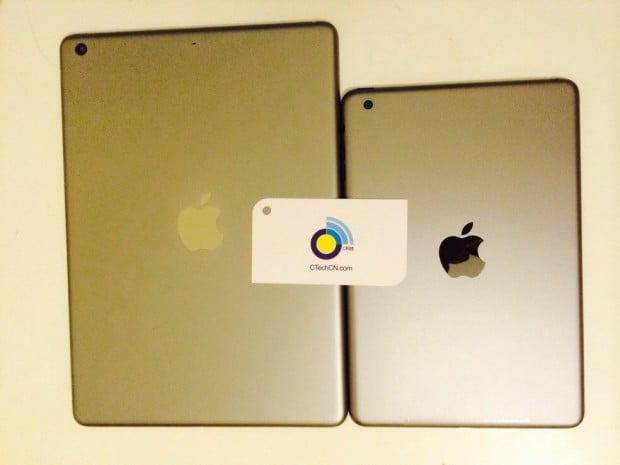 Rumors point to a space gray colored iPad 5 and iPad mini 2 and we've also seen gold iPad 5 and iPad mini 2 shells leak. The space gray color seems like a lock but the gold options are a little more flimsy. That said, we would be shocked to see only gray and white options. The gold iPhone 5s has been a popular color, particularly in China, so it would be strange to see Apple leave it out for the iPad models.
Will LTE Launch Later?
Many people forget that the iPad mini and iPad 4 LTE models didn't ship when the Wi-Fi only models did. Apple never said why, but it's possible that the device needed to obtain the proper certifications before arrival. That's not anything out of the ordinary, in fact, the Nexus 7 LTE launched far later than the Wi-Fi version. The question is, will it happen again?
It's an extremely difficult question to answer given that Apple devices don't reveal themselves at the FCC ahead of schedule and it's a question that likely won't be officially answered until October 22nd. If there is a delay, don't expect it to be as long as the wait for the Nexus 7 LTE, something that lasted over a month.
New Version of iOS 7?
Rumors suggest that Apple will introduce a new version of iOS with the new iPads. Rumors have suggested iOS 7.1. iOS 7.0.3 has also shown its face as well and it appears to be very real. The question is, will Apple roll out iOS 7.0.3 ahead of the event and then announce iOS 7.1 with the iPads or will iOS 7.0.3 be the next big update? Perhaps iOS 7.0.3 has been integrated into iOS 7.1?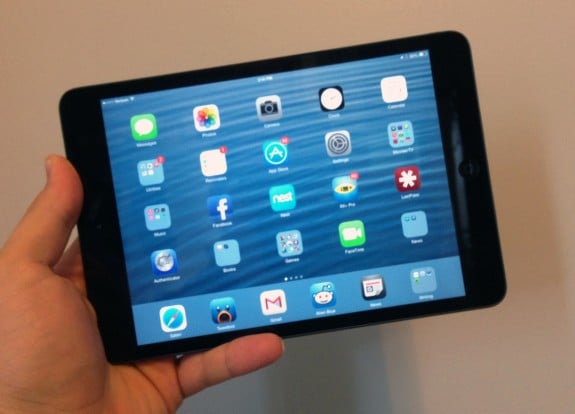 Very tough to call at this point but we would be shocked if Apple didn't roll something out within the next few days or in close proximity to the iPad event. The company confirmed an update for this month, one that will fix iOS 7 iMessage issues, so we know that one is coming. And the iPad event is a perfect time to make an announcement.

As an Amazon Associate I earn from qualifying purchases.