7 Jailbreak Apps That Are Obsolete Thanks to iOS 7
iOS 7 was announced earlier this year during Apple's spring event, and has been in beta ever since. However, Apple is expected to finally discuss a release date for iOS 7. It's possible that we may be able to download it as early as next week, or we could be waiting until the iPhone 5S is out on September 20. Either way, it looks like we'll be getting iOS 7 this month.
However, when a big new iOS release comes out, jailbreakers have to ask themselves whether or not they're going to upgrade to iOS 7. We already know that a jailbreak for iOS 7 is possibly in the works, but Apple put a lot of new features in iOS 7 that make some of the biggest jailbreak tweaks obsolete now, and here are seven of them.
SBSettings
SBSettings includes a lot of nifty tweaks, but the most popular feature by far as the quick access toggle settings that users could put in the drop-down notification tray. However, iOS 7 now includes Control Center, which is a menu that you can access by swiping up from the bottom. From there, you can toggle different connectivity settings. This essentially gets rid of the need for SBSettings for a lot of iOS users.
Auxo
Auxo is a relatively new jailbreak tweak that offers a much better multitasking tray and app switcher. With Auxo, you can see a preview of each app and you can close apps by swiping down on them — a much easier method than iOS's default way. In iOS 7, however, Apple added a similar app switcher user interface. It provides a card view of open apps, and swiping up on them will close them out.
AssistantEnhancer
Siri is definitely a lot of fun to use, and it can be a huge convenience when you have both of your hands tied up doing other things; Siri comes through is these kinds of situations. However, it's not without its faults, and there are still a lot of things that Siri can't do, but a jailbreak app called AssistantEnhancer adds more abilities to Siri, allowing her to understand a ton more commands. As expected, though, Apple has improved Siri in iOS 7, and while we don't know all of the new commands of the iOS 7 version of Siri, the effectiveness of AssistantEnhancer went down quite a bit.
Auto App Updater
It seems like new app updates are available every day, and you probably get even more update notifications with the more apps you have. Manually installing all of these updates can be a pain in the butt, but Auto App Updater is a jailbreak tweak that does it automatically. However, Apple added automatic updates in the App Store in iOS 7, so no more manual installs once you install an app.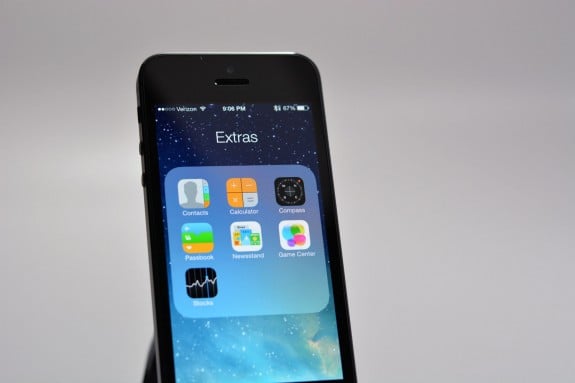 DeepEnd
iOS 7 comes with a new 3D parallax effect that creates depth on the otherwise 2D display; moving around your iPhone will create a 3D effect with the apps in the foreground and the wallpaper in the background. DeepEnd was one jailbreak tweak that did this first, with other jailbreak apps following suit shortly after, but now there's no need for it.
Clockify
Clockify is a jailbreak app that shows the actual time on the Clock icon on the iOS homescreen. It's certainly not a huge tweak by any means, as you can still get the time from the digital clock in the upper-right corner of the screen, but many users liked having a real-time Clock icon on the homescreen. Now, Apple has included that in iOS 7, but they still need to make the Weather icon show real-time weather. In the meantime, there's the WeatherIcon jailbreak tweak to show live weather on Apple's Weather icon.
UnlockFX
The old lockscreen in iOS (iOS 6 and older) remained unchanged for most of iOS's lifetime, which sparked a lot of jailbreak users to find something a little more fresh. UnlockFX is one of the most popular jailbreak apps that provides a different lockscreen experience. It gives users a number of different unlocking animations that can swirl, fly left, and move in unique ways. However, iOS 7 includes the ability to swipe to unlock anywhere on the screen, as well giving users access to notifications and Control Center right from the lockscreen.

As an Amazon Associate I earn from qualifying purchases.