16 Microsoft Apps iPhone Users Need Now
Along with new leadership at Microsoft came a renewed focus on bringing the best of its products to everyone. Today, there isn't a single Windows phone experience that isn't also available on iPhone and Android.
The are Microsoft-made iPhone and iPad apps for just about everything. What's more, most of these apps are just as good as what users get on Windows phone– and in some cases, even better. Here are 17 Microsoft Apps that every iPhone user should have installed on their device. Some of them are perfect companions to what's available with Windows 10.
OneDrive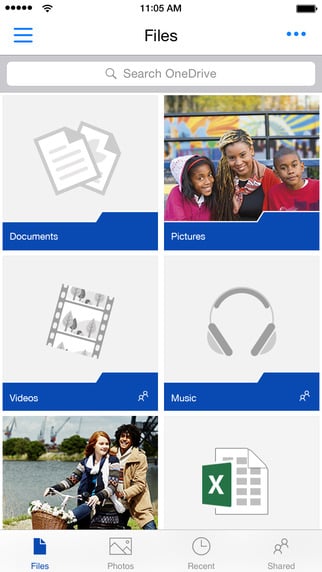 If you're thinking about storing documents and pictures online, you have to be considering Microsoft's OneDrive service. Formally named, SkyDrive, the service allows users to store almost anything on Microsoft's servers. Microsoft then makes that stuff available through tons of apps. OneDrive is built into Windows and Windows Phone, but there are first-class apps for Mac, iPhone and the web.
Microsoft gives every user 15GB of OneDrive store to start with and boosts that for things like referring friends. It also throws in more storage when iPhone users turn on automatic Camera Roll uploading. With Camera Roll uploading every picture you take on your iPhone is uploaded to Microsoft's servers as a back up, nearly effortlessly.
[ Download OneDrive from the iTunes App Store ]
Minecraft
Minecraft Pocket Edition is easily one of the most popular smartphone games ever released. Like the PC version, it's part sandbox and part survival horror. You build a fort or area of some kind and wait until it gets dark and creepers attack. Microsoft purchased the game and its developer some time ago.
[ Download Minecraft Pocket Edition from the iTunes App Store for $6.99 ]
Microsoft Office for iPhone and iPad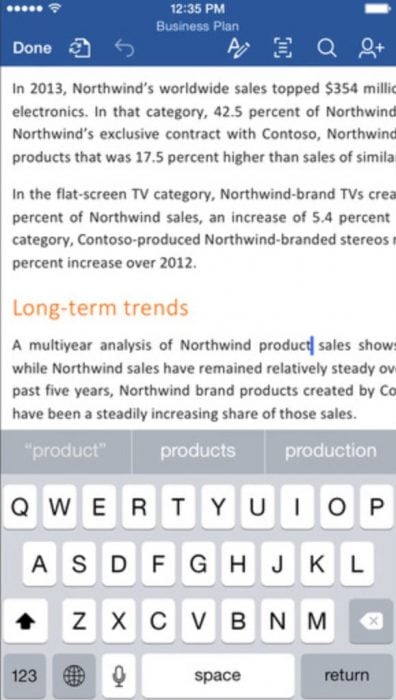 For years, Microsoft insisted that it had a plan for Microsoft Office. Originally, buying a Windows Phone was the only way to get Office on anything other than a Windows PC and Mac. Then Office 365 happened and iPhone owners could download mobile versions of Microsoft Office for the same $6.99 a month or $69.99 a year.
All of that changed last year when Microsoft unleashed a full plate of Microsoft Office offerings. Today, Apple's iPad and iPhone both have fairly complete versions of Word, PowerPoint, OneNote and Excel. What's more, Microsoft makes all of them available at no charge. Users can still purchase an Office 365 upgrade for more options if they choose, but editing documents, spreadsheets and presentations on iPhone is free.
[ Word, Excel, PowerPoint, OneNote from the iTunes App Store ]
Microsoft Office Lens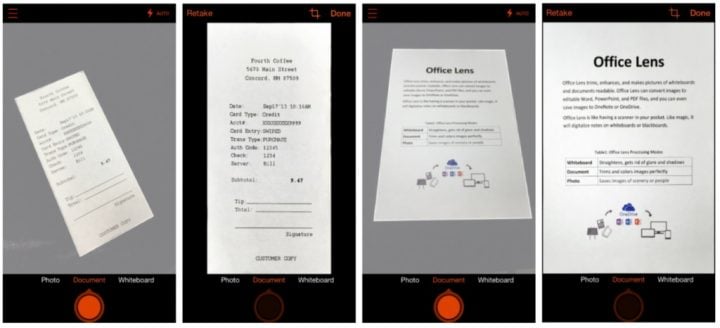 Tons of us are trying to get away from taking handwritten notes. Even more are trying to digitize documents without investing in a scanner. Microsoft Office Lens, an app available on iPhone now, makes this possible.
Office Lens can digitize paper documents or switch to WhiteBoard mode to record notes from a professor or teacher. Anything that the app scans can be sent to OneNote, Word or turned into a PDF.
[ Download Office Lens from the iTunes App Store ]
Cortana for iPhone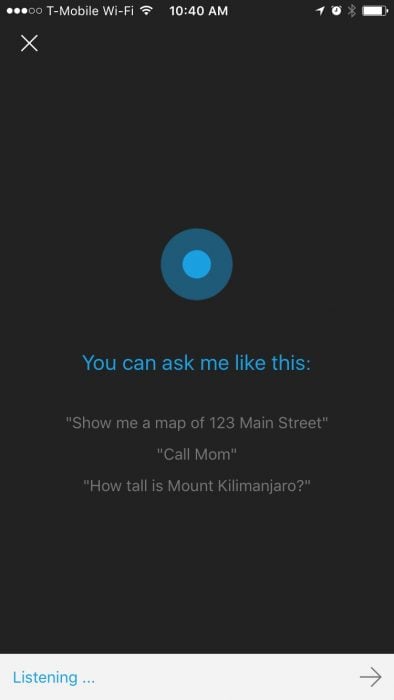 For years, Siri was the best, most personable digital assistant ever. Last year, Microsoft finally gave the personal assistant some much-needed competition. Cortana has been available on Windows Phone for years, but only last fall did she finally arrive on Windows, iPhone and Android.
Mostly, the iPhone version acts as a basic companion for Cortana on other devices. She can create reminders based on location, time and more. She also offers up local news and information on topics that users might find interesting based on what she knows about them. Also, she's snarky.
Microsoft is betting that you'll want to have your personal assistant every place possible instead of just on your phone.
[ Download Cortana for iPhone from the iTunes App Store ]
Outlook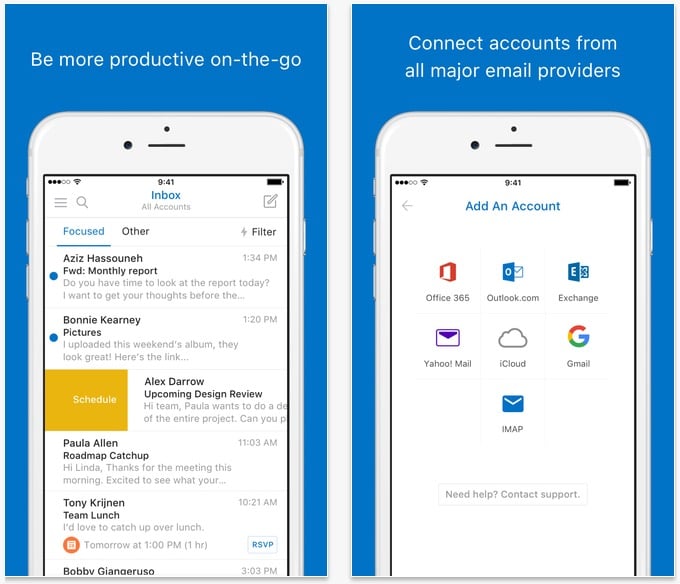 Microsoft's Outlook desktop app is synonymous with productivity. Large businesses and enterprises use Outlook to power their entire email and calendar experiences. Small business owners and users at home rely on it to keep their personal email and calendar organized and up to date. Until recently, there was no Outlook companion app for mobile devices. Instead, Microsoft encouraged users to sign up for Outlook.com, it's renamed and revamped Outlook service.
To be clear, Microsoft is still doing that, but it's tethered the service to a new Outlook for iPhone app. The company designed the app using new code acquired by Accompli, a successful iPhone and Android developer with a decent email app already available. The new Outlook for iPhone connects to Outlook.com, Yahoo, Gmail and more. Very accessible gestures and a Focused Inbox that lets users stay on task make it the best mobile mail app there is on iPhone.
[ Download Outlook from the iTunes App Store ]
Bing
By now you've heard of Bing, the world's second largest search engine. Bing doesn't come close to getting the credit Google does, but it has advantages. For one, there's a terrific search experience in Bing for iPhone. Second, iPhone owners who use Bing as their search engine earn points they can redeem for Microsoft Account credit, movie tickets and Starbucks.
[ Download Bing from the iTunes App Store ]
Xbox SmartGlass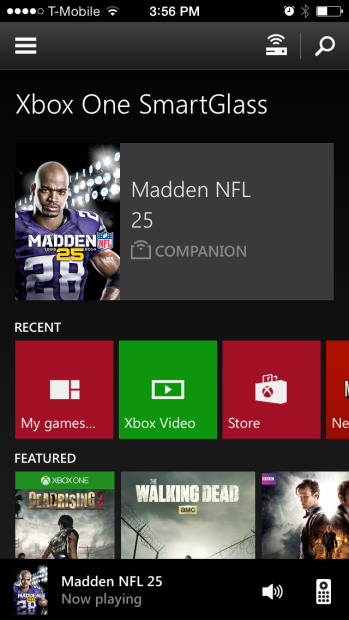 A lot of features have made their way to Microsoft's Xbox One console over the last few years, but none of them are as essential as Xbox SmartGlass. Even before it'd released the Xbox One, Microsoft was telling stories about how the Xbox SmartGlass app would be a core companion for any Xbox One owner. It promised that users would be able to control their console with their iPhone. It insisted that entertainment lovers would enjoy finding out more about the movies they watch on their television.
It delivered. Today, Xbox SmartGlass for the iPhone is essential. The app gives iPhone owners direct access to Xbox Live game clips and the Xbox Store. Additionally, there's a OneGuide area for quickly switching between channels. With the right add-ons for your console, SmartGlass will even stream live television.
Xbox SmartGlass is easily one of the best things to come out of Microsoft's new approach to gaming and entertainment. It's a must-have for Xbox One owners.
[ Download Xbox SmartGlass from the iTunes App Store ]
MSN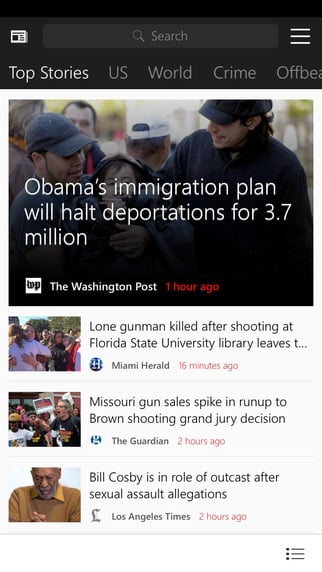 Next, there's the latest additions to Microsoft's line of iPhone and iPad apps: MSN. Reborn as lifestyle apps, each offers access to MSN's wealth of content without having to dive into a browser. For news fans there's MSN News, a news app and reader. For stock junkies there's MSN Money. Each is available completely free.
[ Download MSN Weather, MSN Sports, MSN News and MSN Money from the iTunes App Store ]
Microsoft Selfie
Just browsing through your Twitter or Facebook timeline reveals a somewhat controversial truth. We're taking more pictures of ourselves, more often. Microsoft Selfie for iPhone has algorithms and processing that guarantees you the best self-portrait possible, the company says. The app factors in age and more to make sure that the selfie you're using as your profile picture is the best it can possibly be.
[ Download Microsoft Selfie from the iTunes App Store ]
Around three years  Microsoft decided to heavily push its way into the iPhone and Android stores. As you'll find out if you download these apps, clearly the plan is working.

As an Amazon Associate I earn from qualifying purchases.