Earlier today, Apple rolled out the fifth version of the iOS 7.1 beta, bring the public iOS 7.1 release date a step closer for iPhone and iPad users. Now that the smoke has settled, details from the latest iOS 7.1 beta and from iOS 7.1 itself are emerging and we want to take a look at seven of the biggest new developments.
Since November, iPhone and iPad owners have been on pins and needles, waiting for the iOS 7.1 release. We say pins and needles because iPhone and iPad owners not only expect iOS 7.1 to deliver some brand new features like iOS x.1 updates typically do, but there are many users hoping for major bug fixes inside of Apple's major iOS 7 update.
Throughout the beta process, we have learned some pretty significant things about iOS 7.1. We've learned that it should have at least one major feature on board in the form of iOS in the Car. We've learned that Apple is tweaking the look and feel of iOS 7 including some major changes to the Power Off screen. And it also is working on fixes and enhancements to shore up the overall iOS 7 experience. Needless to say, iOS 7.1 is shaping up to be a pretty important update.
Today, we've seen new iOS 7.1 details emerge. Thanks to the iOS 7.1 beta 5, we have some new details about some of the changes Apple is making inside the next big iOS 7 update. We also have word on the iOS 7.1 release date for the public, a release date that appears to be much closer than was originally delivered.
Here, we take a look at seven of the newest iOS 7.1 details ahead of the eventual release of the iOS 7.1 Gold Master and the iOS 7.1 update for iPhones, iPads, and iPod touches around the world.
iOS 7.1 Release Date Close
BGR, the site that in December claimed that the iOS 7.1 release would arrive in March, has backtracked a bit, though, in a good way. Instead of an early March release, the site claims that the update will arrive in the "coming weeks" and that Apple will not release another iOS 7.1 beta. This means that iOS 7.1 beta 5 could very well be the last beta update for developers, based on BGR's track record.
No date is given but it appears that we could see the update arrive in February, something that Gotta Be Mobile thought was very possible many weeks ago. Nothing is set in stone but it appears that the iOS 7.1 release date is now closer than ever. iPhone and iPad users should expect a iOS 7.1 Gold Master to arrive before the public release.
iOS 7.1 Jailbreak
While an iOS 7.1 jailbreak hasn't been ruled out, things are looking bleak. We reported that Apple patched up exploits used by the Evasi0n 7 jailbreak in iOS 7.1 beta 4 and it now appears that iOS 7.1 beta 5 patched up even more of the exploits used by jailbreak developers. It appears that the new beta hasn't patched everything up but it appears that consensus points to Apple completely killing off support inside iOS 7.1.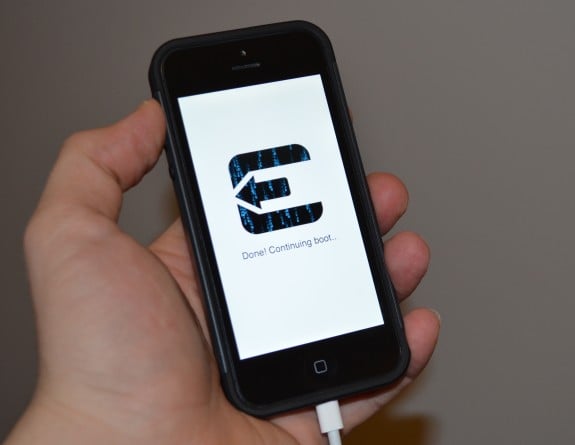 As we've pointed out, this doesn't necessarily mean that there won't be an iOS 7.1 jailbreak, but it does make the job a lot harder. Developers will have to find new exploits inside iOS 7.1 to use, a process that probably won't happen overnight. At the moment, users should remain cautiously optimistic but from the looks of things, we may not see a functioning Evasi0n 7 iOS 7.1 jailbreak right off the bat.
iOS 7.1 Features
Calendar
In iOS 7.1 beta 2, Apple added a new event list view within the Calendar application. The feature has remained inside of all of the latest iOS 7.1 betas and we expect it to arrive inside iOS 7.1 when it arrives.
The company did make one notable change inside of iOS 7.1 beta 5 though. Just like it has with many of the other features inside iOS 7.1, Apple has made the icon much easier to see thanks to a bolder red icon. It's not a dramatic change but one that heavy Calendar users will likely come to appreciate, should it remain inside the final version of the software.
Keyboard
Apple has been playing around with the stock keyboard in iOS 7.1. The company has been focused on making the keys a lot easier to see, which again is a trend throughout the latest update.
In iOS 7.1 beta 5, Apple has made the Caps Lock and Shift keys even darker, even bolder than before, making them extremely easy to see when switched on.
iTunes Radio
MacRumors spotted a small change inside of the iTunes Radio app that debuted with iOS 7 last September. In addition to the ability to buy a new song when something is playing, there is a brand new "Buy Album" button that Apple has tacked on to the UI.
Parallax Effect
With the release of iOS 7.1 beta 3, Apple added the ability to turn off the Parallax Effect when switching backgrounds. The Parallax Effect, which aims to give the software a 3D look, was blamed for making iPhone and iPad owners motion sick.
For whatever reason, Apple changed the name of the feature and it's now called "Perspective Zoom."
Siri
The final iOS 7.1 detail that has emerged today thanks to iOS 7.1 beta 5 are some changes that Apple made to Siri. The company has made some slight improvements to the voice in the service in select areas.
According to Apple's change log, the Siri voice in English (Australia), English (United Kingdom), Japanese, and Chinese (Mandarin) have all been improved inside iOS 7.1.
Again, there is no guarantee that all of these features will stick in the final version as Apple is known to chop features from its final iOS update releases.

This article may contain affiliate links. Click here for more details.