7 Reasons the iPhone 5 is Better Than the Nexus 4
The iPhone 5 is the best iPhone to date, but is it better than the Nexus 4, Google's flagship Android phone? That depends on each smartphone users priorities, but Apple's iPhone 5 still leads the smartphone pack in a number of key areas. While some power users are attracted to the cutting-edge technologies packed in the Nexus 4, the iPhone 5 has the most robust ecosystem.
There's a lot more to consider besides the below seven items when buying a smartphone purchase. Users should buy the phone that best fits their needs while remembering that we've yet to find the perfect phone. While the iPhone 5 is one of our favorite phones of all time, the Nexus 4 has some distinct advantages to look at as well.
Read:  7 Reasons the Nexus 4 is Better Than the iPhone 5
iPhone 5 Has a Higher Capacity Than Nexus 4
iPhone 5 storage capacity starts at 16GB and ranges all the way up to 64GB. The highest capacity might not be necessary for everyone, but apps, photos and HD video can gobble up space much faster than some users expect.
By comparison, the $299 Nexus 4 comes with a paltry 8GB of storage capacity and the $349 version matches the basic iPhone 5's 16GB capacity. Those kinds of capacity simply aren't enough to fully realize the Nexus 4's potential. High-end games can gobble up hundreds of MB each, while HD movies are well over 1GB. Google Play does allow users to stream movies rather than downloading them, but streaming movies is prohibitively expensive on mobile networks. Shooting video with the Nexus 4 gobbles up between 50MB and 90MB per minute depending on settings.  Don't forget that the Nexus 4's operating system and stock apps take up a bout 2GB of capacity out of the box, leaving just 6GB or so for users' files, apps and games.
It's truly pitiful that Google decided to sell a flagship device with 8GB of storage in the final months of 2012 and into 2013. That used to be ok in the age of SD video and VGA smartphone cameras, but we're in an HD world now and Google needs to make devices that can store big files. Unlike many Android phones, users can't add storage cards at will.
iPhone 5 Has 4G LTE
The iPhone 5 is the first iPhone to feature 4G LTE technology, which is what many people consider the only real 4G. In areas with solid 4G LTE coverage, the iPhone 5 downloads and uploads files blazingly fast. The  Nexus 4 may be the best Android phone money can buy without 4G LTE. Instead, the Nexus 4 uses HSPA+ wireless technology, which isn't as fast as 4G LTE.
The AT&T iPhone 5 can download data at about 30 Mbps in Silicon Valley, while the Nexus 4 downloads at about 15 Mbps. There's an even bigger contrast in upload speeds between AT&T's 4G LTE and T-Mobile's HSPA+ networks. As I mention in the above video, you probably won't notice the speed difference a lot of the time, so long as your area has strong signals from both AT&T and T-Mobile, but T-Mobile doesn't perform as well everywhere.  Some people, such as those that stream video or download a lot of big media files, should go for the absolutely fastest network available.
iPhone 5  Easier to Use than Nexus 4
The 4.7″ Nexus 4 display sure is nice for watching movies and reading Web content, but it's a pain to reach each every corner comfortably, even for users with big hands. The 4″ iPhone 5 display strikes a nicer balance between screen real estate and usability since it doesn't require users to contort their thumbs to reach for on-screen buttons and icons.
The Nexus 4 and iPhone 5 are approximately the same thickness, but the iPhone 5 is noticeably narrower, making it more comfortable to hold in most situations, especially while on voice calls. The smaller dimensions make it reasonable to stuff the iPhone 5 in a case without making the package too big  to fit in some pockets or creating a big bulge. The Nexus 4, like other large Android phones, feels too hefty with a moderately protective case. It would be laughable to carry the thing with a rugged case should a company like OtterBox decide to make a Defender Series case for the Nexus 4.
The iPhone 5 will instantly feel familiar to anyone that's used an iPod touch, iPad or older iPhone. Its user-interface doesn't have auto-updating widgets and it can't be customized as much as the Nexus 4's, but the truth of the matter is most people would gladly trade in advanced features for something they can actually figure out how to use. What Android enthusiasts called 'locked in', everyday users call security and convenience.
Most people don't follow the ins and outs of the latest smartphone developments, nor have the wherewithal to figure out how to do everything with Android. There are certainly bright spots in Android, but it the features, Google's built-in apps, and third-party apps aren't as cohesive as what's found on the iPhone 5.
iPhone 5 Has Better Support Than Nexus 4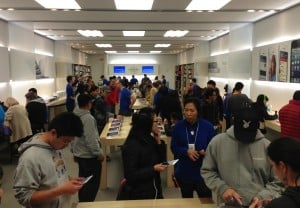 Apple's and its wireless partners offer iPhone 5 users something Nexus 4 users will have trouble find: real support. Having trouble with an iPhone 5 or just need to learn how to use the thing? All you need to do is book an appointment at an Apple Genius Bar or waltz into one of Apple's stores and take a class. Real humans will be there to give you a hand and even replace your phone if there's a defect.
Google is selling the unlocked Nexus 4 through its Play Store and through T-Mobile, though the phone is just about impossible to order from Google or the carrier. Thus far, most Nexus 4 buyers are purchasing through Google's Play Store, which means they can't get direct support from T-Mobile, AT&T or any other carrier. The phone is actually manufactured by LG, which means there's quite a few cooks in the Nexus 4's kitchen. Need help with a defect? Get ready to send the Nexus 4 back to Google via snail mail. Support may not matter that much to some power users, but it is a very big deal to most people.
iPhone 5 Available on More Carriers
The Nexus 4 is only compatible with GSM carriers, which means it can't run on Sprint or Verizon, two of the four biggest U.S. carriers. The iPhone 5 is available on  Sprint and Verizon, which is important if you're tied up in a shared plan with family members. Unless you're going to use a cheap pre-paid plan, such as the $30 per month T-Mobile plan, you may as well take advantage of the subsidies.
Carrier diversity is very important since coverage and call quality can vary from block to block. While some may praise a carrier as the best in the business, others simply can't wait to ditch the same carrier because they can't make calls from their homes or offices. Their simply isn't a 'best' network in the United States for everyone. With the iPhone 5, you can have your pick of the litter, especially once T-Mobile and Apple finally get hitched.
Call quality's just half the battle these days. Data speeds also vary wildly from block to block. For example, in some parts of San Francisco we see Verizon download speeds in the 25 Mbps range. In other parts of the city we can't download anything faster than 7 Mbps or so.
iPhone 5 Lives in the Best Ecosystem
Though there are several reports about Android activations eclipsing iPhone activations, developers and accessory manufacturers still put the iPhone first. Android manufacturers can brag all they want about market share, but the truth of the matter is that nobody spends as much on apps and accessories as iPhone owners.
There are countless cases, headphones and other gizmos built specifically for the iPhone. There are a handful of Nexus 4 cases out there, but don't expect to see anything close to the quality or quantity of Nexus 4 accessories to ever come close to matching the iPhone 5's.
Apps are more important than cases and docks. iPhone 5 users are treated to the latest and greatest apps, while Android versions of popular iOS apps are seemingly always released weeks or months later. How often have you heard about some awesome app that's available for iOS now with the Android version 'coming soon'?
Those who own Macs, iPads and other Apple gear will get the most out of the iPhone 5. The tight integration means users can do things like send and receive iMessages from any of their iOS or OS X devices. Buying a movie or album on one device means it's available to download on any other.  It's a seamless experience to go from watching movies purchased on an iPhone 5 to watching it on a big screen if you have an Apple TV. FaceTime is another Apple-only feature that makes it much easier to place and receive video calls from any device, so long as your friends and family also have iPhones or other Apple devices. Sure, Nexus 4 users can video chat, but not without doing some legwork to set up the calls in the first place.
The iPhone 5 Will Hold its Resale Value
Those that buy an iPhone 5 today at a subsidized rate stand a good chance of selling it for as much they paid for it a year from now. Depending on the iPhone model, market conditions and contract status, some iPhone users can upgrade to the latest and greatest iPhone once a year.
Android phones simply don't hold their values the same way iPhones do. That's partially because Google and manufacturers don't support older phones with as much enthusiasm as Apple does. For example, Apple is still selling the iPhone 4, a phone that it introduced in June of 2010. The iPhone 4 doesn't have all the features found in iOS 6 on the iPhone 5, but it's pretty cool that Apple's actively supporting a phone that's 2.5 years old, an eternity in smartphone years.
The iPhone 4S, which is just over a year old can easily be sold to a buy-back site like Gazelle for just over the $199 original purchase price.
The Galaxy Nexus, which also launched just over a year ago can only garner $103 from Gazelle. The Nexus 4 might be a bright spot in the Android landscape today, but it'll fade quickly as next-generation smartphones are introduced in 2013.

As an Amazon Associate I earn from qualifying purchases.