7 Surface Book Problems & How to Fix Them
Panos Panay stood on stage at a reveal event in early October 2015 and declared that Microsoft had decided to not play it safe. The event began with updates to the company's Microsoft Band tracker, then moved on to new devices running its Windows 10 Mobile operating system. An hour later Panay would announce Microsoft's most ambitious device release since the original Surface Pro and Surface RT. This device was called the Surface Book. Half notebook and half tablet, the Surface Book proved a bit buggy early on. Buyers complained about Surface Book problems for months.
Microsoft started aggressively addressing issues. Today, Surface Book problems don't seem nearly as prevalent as they once were. What's more, the Surface Book has gone on to dominate the Windows 2-in-1 conversation. For some, it's the must-have notebook of 2015.
Surface Book problems still exist though. Here are some quick and dirty ways of solving common Surface Book problems.
Read: The Best Surface Book Deals Available
Surface Book Problems: Freezing in Microsoft Edge
The Surface Book is solid hardware, but it's running a still new operating system that Microsoft hasn't completely managed to get as stable as older versions were. Windows 10 includes Microsoft Edge, an eventual replacement for Internet Explorer that is both touch and mouse-friendly.
Unfortunately, Edge suffers from some very strange, very odd issues where videos are concerned. Sometimes the browser will completely lock up. When this happens, press the power button on your device to send it too sleep. Now press the power button again and login into Windows 10. Everything should be fine now.
Surface Book Problems: Won't Detach from Keyboard
The Surface Book uses memory wire and an internal mechanisms to let users detach its keyboard directly from it's base. Microsoft says that it designed the device this way to avoid the flimsy, cheap mechanisms that plague other Windows 2-in-1s with removable displays.
To get the feature working on your device when it's stuck, you'll need to reset your device. You can do that by holding down the power button. When your machine starts again, you should be able to detach the tablet half of the device without issue.
Surface Book Problems: Display Driver Stopped Responding
The Surface Book suffered relentlessly from Intel driver bugs that forced its screen to go dark and Windows 10 to provide users with a message saying, "Display driver stopped working." Microsoft and Intel managed to work out the issue, but only for the most part. Sometimes the issue comes back with a vengeance.
There's nothing you can really do to fix this problem, but wait for Microsoft and Intel to provide software updates and address the issue. You can check for device updates, within the Settings app from the Update & Security menu.
Again, this bug has become less frequent in recent months, but it still happens from time to time.
Surface Book Problems: Surface Pen Stopped Working
Sometimes your Surface Pen, the electronic stylus that comes with the Surface Book, stops working. When this happens, you need to pair it with your device again or change out the battery.
Start by trying to re-pair. Hold the rubber top down on your Pen until you see a blinking light. Next, go to the Settings app on your Surface Book. Now select Devices, then look for the Bluetooth menu option. You should see the pen listed among the devices you can connect to.
Surface Book Problems: Fine Tune Your Surface Pen
To change shortcut options and Surface Pen sensitivity, go ahead and open the Surface app that came pre-loaded on your device. Look for it in the list of installed devices under "s".
Read: Surface Pen Tips for Surface Pro 4 and Surface 3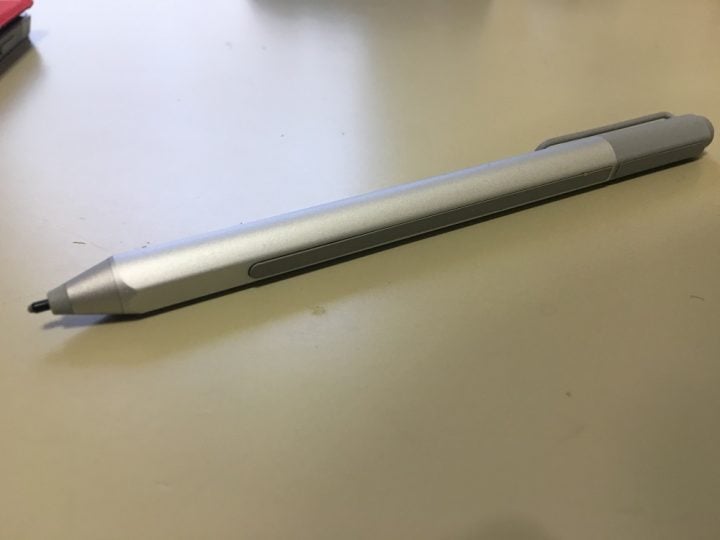 Surface Book Problems: Where to Find Surface Book Updates
As long as you have updates enabled on your device and an internet connection, you'll always get the latest updates. Windows 10 doesn't allow users to completely disable them. Firmware updates are included with Windows 10 updates.
To manually check for updates to address Surface Book problems, check out the Surface Book update history log on Microsoft's support website.
Surface Book Problems: How to Restore Your Surface Book to Factory Settings
At some point, you might run into a software issue so severe that you'll need to wipe away Microsoft Windows 10 and reinstall everything. Microsoft doesn't give flash drives or software discs with Surface Book, instead you'll need to use the operating system's built-in recovery tools.
Go to the Settings app and select the Update & Security. Select Recovery from the right menu. Now choose Get Started under Reset Your PC.
Note that you can reset your Surface Book using a USB drive by downloading the necessary files directly from the Surface Support website.
Gotta Be Mobile will continue to update this list of Surface Book problems over time.

As an Amazon Associate I earn from qualifying purchases.