No Shortages Here: 7 Tablet Alternatives to the iPad mini With Retina Display
With even Apple anticipating shortages for the refreshed iPad mini, this time launching with a 7.9-inch Retina Display resolution screen, when the slate goes on sale later this month, be prepared to anticipate long lines, shipping delays, and perhaps an even post-Christmas delivery if you don't act quickly to score one early in the launch cycle. And while the iPad mini with Retina Display represents a huge incremental upgrade to the previous iPad mini–high resolution display, speedy 64-bit A7 processor and much improved graphics–there may be other alternatives on the market out there in the 7- to 8-inch form factor category that you should consider.
1. Google Nexus 7 (late 2013 model): Google's tablet is considerably more affordable than Apple's slate, though Google doesn't offer as many configurations as Apple. While the iPad mini starts with 16 GB of storage and maxes out at 128 GB with 4G LTE connectivity, the late 2013 Nexus 7 (reviewed) slate made by partner Asus starts at $229 for 16 GB of storage and goes all the way up to 32 GB with 4G LTE connectivity that's designed to work on AT&T, T-Mobile, and Verizon's LTE networks. Packing in a full 323 pixels per inch on its 1080p+ display, the Nexus 7 comes with a more modest quad-core CPU that will still give you up to ten hours of battery life.
2. Amazon Kindle Fire HDX: Available in both a 7-inch and an 8.9-inch display, Amazon is billing its Kindle Fire HDX series as "lighter than Air," a nod to how light the slates are when compared to Apple's slimmed down larger iPad Air. Still, the weight reduction comes at a cost–rather than a unibody aluminum casing, Amazon goes plastic. With the same 1080p+ resolution as the Nexus 7 at the 7-inch size and going up to a high resolution 2560 X 1600-pixel screen on an 8.9-inch screen, Amazon is packing a lot of bang for the buck. Boasting a powerful Snapdragon 800 CPU, storage configurations of 16 GB to 64 GB, and WiFi or LTE for AT&T or Verizon, the Kindle Fire HDX is a compelling choice, especially if you're already an Amazon Prime customer or one who has bought into Amazon's ecosystem with books, movies, music, and other content. And though the Kindle Fire HDX runs Android, don't expect to see Google's services or Android displayed prominently on this slate as it is a heavily skinned and customized user experience developed by Amazon. The 7-inch version starts at $229.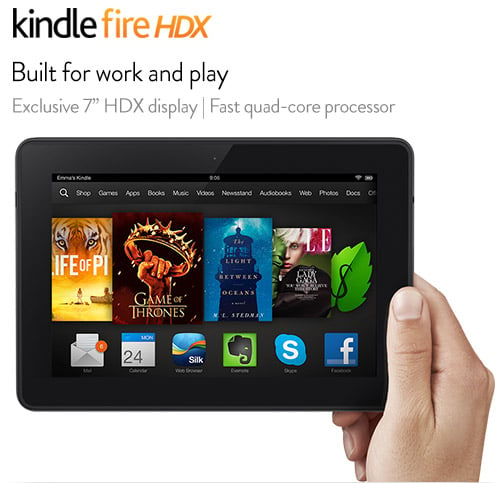 3. LG G Pad 8.3: The G Pad is an attractive and well designed tablet, but it still lacks the premium feel of Apple's iPad construction. Still, the G Pad delivers quite a bit of power with a Snapdragon 600 processor, placing it squarely between the Nexus 7 and the Kindle Fire HDX series in terms of performance. It does come with a micro SD card so storage shouldn't be a concern. LG is building out its ecosystem and the G Pad supports notifications from your phone, when paired with a software called QPair that will allow you to respond to text messages and answer calls from your smartphone on your G Pad. If you've used a recent LG Android phone in the past, you'll find familiar custom software on the G Pad as well, such as LG's Quick Memo. AT $350, the G Pad is a steep offering considering Apple just dropped the price of the non-Retina mini to just $300.
4. Samsung Galaxy Note 8.0: Samsung's Galaxy Note 8.0 is one of the first Android tablets to launch with an 8-inch display designed to take on Apple's iPad mini. The Note 8.0 resembles the design stylings of the Galaxy S4, though it will have a dedicated S Pen that will allow you to draw, write, or doodle with great precision as the digitizing stylus is powered by Wacom's technology. Available in either WiFi or with 4G LTE for data in the U.S. through AT&T, the Galaxy Note 8.0 is a compelling solution for those who rely on handwritten notes or drawings in their workflow, and the more portable size is also great for consuming content such as magazines and books as well. The S Pen bundle does come at a premium as Samsung is asking for $400 for the Note 8 in WiFi edition.
5. Samsung Galaxy Tab 3 8.0: With a similar screen and the same screen size as the Galaxy Note 8.0, the Galaxy Tab 3 8.0 (reviewed) is the slimmer and less expensive option. With slimmed down side bezels and more modest internals, the Galaxy Tab 8.0 is designed as the every day tablet if you don't need Samsung's digitizing S Pen stylus. And for a lot of users, this will be a great tablet to have still. Samsung also has a Galaxy Tab 3 7.0 tablet as well if you need a more portable screen size. The 7-inch version starts at $200 and the 8-inch edition costs $300 for Samsung's third-generation Galaxy Tab series, though you can find some discounts if you shop around.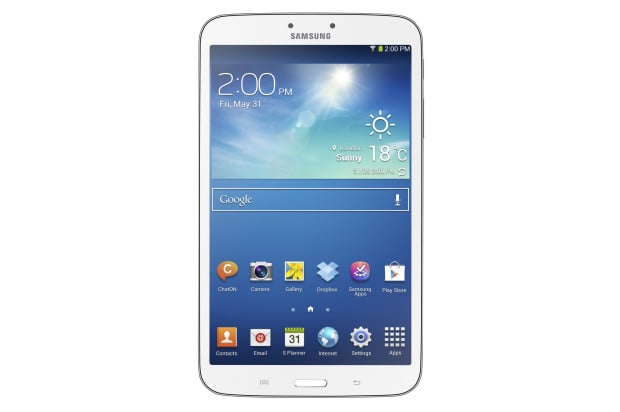 6. Dell Venue Pro 8: The Dell Venue Pro 8 will be released this month in time for the holiday shopping season and will be one of the few 8-inch Windows 8.1 tablets that will be coming to market. With a slim and sleek design, a companion keyboard that's designed as a complementary accessory to the Venue Pro 8, and a special digitizing pen, the Dell Venue Pro 8 will be a great tablet for those who rely or depend on the full power of Windows. And unlike Windows RT, this one runs on the full version of Windows so you can carry all your legacy programs with you. The Venue Pro 8 is powered on a quad-core Intel Atom processor, which this year packs in more power and is less anemic than Atom CPUs in the past. Still, capping out at 64 GB of on-board storage (you do have a micro SDXC card slot for an additional 64 GB), the storage is not that appealing considering that Windows' installation files will take up a significant chunk of that partition. Pricing is around the $300 range.
7. Toshiba Encore 8: Similar to Dell's offering, Toshiba's Encore is an 8-inch Windows 8.1 tablet that packs in a 720p resolution display. Specs are similar to the Dell as is pricing when it goes on sale in November. Ultimately, users will have to choose between design in comparing the two tablets.

As an Amazon Associate I earn from qualifying purchases.