7 Things Xbox One Buyers Need To Know In 2014
Fresh off its winter release, Microsoft's Xbox One entertainment console is doing better than most industry watchers would have predicted. Sales — in spite of the console's rather large $499 price tag – seem to be steady, and Microsoft's decision to abandon its original plans for putting disc-based games on the back burner seems to have paid off.
With the holiday season over and fresh titles on the horizon there's never been a better time to pick up an Xbox One. As such, users who wanted the console but couldn't be bothered to wait in line on launch day are expected to begin snatching up units heading into the New Year.
Here's what those Xbox One buyers need to know in 2014.
Good Games Are Coming
Potential Xbox One buyers shouldn't necessarily be worried about the rather slim line-up of next-generation titles that are available today. Now that we're through the holidays expect more game development companies and independent development studios involved in the [email protected] program to firm up their plans for game releases through 2014 and possibly 2015.
That isn't to say that the console's initial catalog of titles aren't worth picking up. Ryse: Son of Rome, Dead Rising 3 and Forza 5 are great titles for fans of their respective genres. Now that we're through launch, they're also slightly cheaper.
Read: 7 Xbox One & PS4 Games You'll Definitely Want To Pre-order
Titanfall is On Its Way
Sure, the Xbox One might have had some decent exclusive launch titles, but what every Xbox One owner seems to be waiting for is Titanfall. The action/adventure game melds two different play experiences. First, users play as the pilot of a giant robot. They can then leave that robot and use jetpacks and rifles to take out enemies. The title is only coming to Windows PCs and the Xbox One so fans of adventure games and first-person shooters have another small reason to pick up an Xbox One if they needed one.
You'll Need Some Extra Equipment
During the Xbox One reveal, Microsoft had some strong words for the cable boxes and extra hardware that users currently have to tether their television sets to. Unfortunately, users still need one of these pieces of hardware to get the Xbox One's TV app working. That's because each Xbox One only has an HDMI pass through port that talks to external antennas and cable boxes. There aren't any other ways to get Live TV working.
There Aren't Any Kinect 2 Games Worth Buying
I'll be frank. As of now there aren't any Kinect-only games that I'd recommend potential Xbox One owners pick up. That isn't to say that this won't change; I expect that Kinect Sports: Rivals will be great for families and parties. Either way, now is not the time to buy the Xbox One if a user is looking for Kinect-only games.  Fighter Within, Zumba Fitness and Just Dance 2014 just aren't that fun.
On the other hand, buying an Xbox One for other titles and then using the console's Kinect Fitness app isn't a bad idea. It's free for the time being and acts as a great private physical fitness trainer replacement.
Don't Leave Live TV Running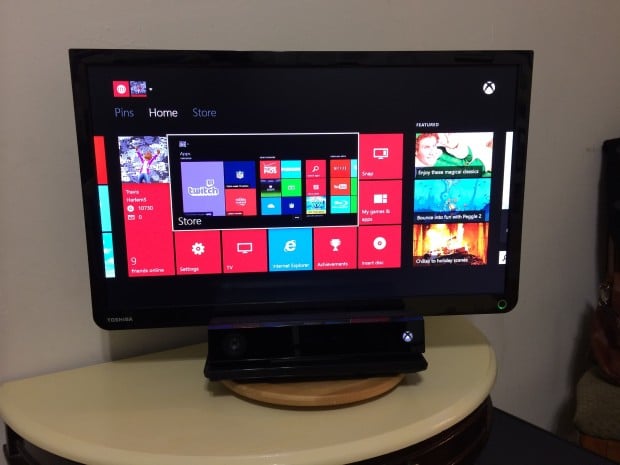 This might sound pretty basic but it's still pretty sage advice for Xbox One buyers eager to save some money anyway they know how. The Xbox One has a setting that allows it to turn itself off when it's been sitting idle for too long. The trouble is that you have to enable that. Even when it's enabled the Xbox One treats the Live TV app as if the console isn't idle. This keeps the Xbox One from turning off in the middle of a show or movie. It also ensures that the console won't turn itself or the television off if the user has fallen asleep.
So far, the only work around I've really found is to watch video from another app before you fall asleep. Of course, you can also tell the Xbox One to turn itself off before you fall asleep too.
Look at the List of Entertainment Apps Before You Buy
The Xbox One and Xbox Live have an impressive amount of entertainment apps available today. However, users upgrading from the Xbox 360 may want to check out the list of available apps  to make sure their favorite apps have made the transition.
For example, HBO Go, Starz and Xfinity are still missing from the Xbox One's line up.
Download Xbox One SmartGlass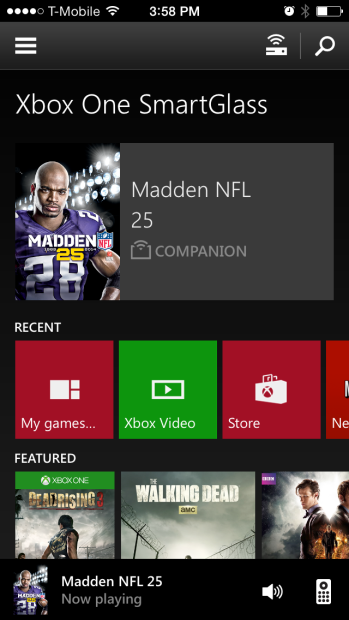 Microsoft created the Xbox SmartGlass apps as a way to extend the Xbox 360 to the devices that users typically have on them when they're watching anything on their television. The Xbox One's version of SmartGlass, which is available for Windows, Windows Phone, iOS and Android, adds a few new ideas to this concept. For starters, there's now volume control and keyboard functionality for most apps. Plus, Microsoft has added the ability for game developers to treat SmartGlass-equipped smartphones and tablets as controllers.
In theory, Xbox One users will only see SmartGlass come into play more in 2014.
Read: How to Use Xbox One SmartGlass
The Xbox One is currently on sale in most stores and online for $499.99.