7 Tips for New MacBook Pro Buyers
Apple's fall event is now set in stone for October 22nd which means that new products are on their way. Apple is expected to introduce a number of new products including OS X Mavericks, the new Mac Pro, and two new iPads in the iPad mini 2 and the iPad 5. There are also rumors that indicate that the company could revamp its MacBook Pro lineup with new MacBook Pros. Here, we offer some tips for those who are thinking about buying a new MacBook Pro in the near future.
For weeks now, rumors of an Apple launch event have been swirling around, teasing prospective shoppers with a number of different products. Rumors suggest that the focus of the now confirmed October 22nd launch event will be on the new iPads, the iPad 5 and the iPad mini 2, that have been leaked numerous times in recent weeks and appear destined to replace the company's current flagships. The company will also likely detailed a Mac Pro price and release date which is failed to do at WWDC.
Furthermore, Apple is expected to attach a release date and price to OS X Mavericks, the software that it first showed off at WWDC 2013 alongside the iOS 7 update for iPhone and iPad. The software is expected to arrive soon after the launch event and rumors suggest that the company could be offering some new hardware to usher in OS X's new era.
For weeks now, rumors have suggested that Apple could be revamping its MacBook Pro lineup with new Haswell processors, better battery life and faster Wi-Fi, things that came to the MacBook Air lineup back in June. If true, OS X Mavericks would more than likely be on board with a release dates that are timed together.
While nothing is certain, there are plenty of people that are likely gearing up to potentially buy a new MacBook Pro this holiday season and here, we offer seven key tips for those who are in the hunt for a new laptop.
Do Not Buy a New MacBook Pro Right Now
This seems obvious for people following the rumor mill but for others that might just be coming on board, it's a simple piece of advice that could prevent a major headache. Simply put, do not buy a MacBook Pro right now. The Apple Store still has them on sale and retailers like MacMall do as well. Avoid them. Instead, wait a week because Apple is likely going to announce new, upgraded models that will keep the same price points as the current models.
The arrival of new MacBook Pros is not guaranteed and there is no telling how it might shake up its current offerings. That said, we would be shocked if the company didn't revamp the MacBook Pro with Retina, at the very least, with a full on lineup change a distinct possibility as well. If something does happen, it will be well worth the wait.
If Apple doesn't announce a new MacBook Pro, which again would be surprising, then buyers can simply buy into one of the current models as the company would not likely introduce a refresh until 2014. Wait a week, don't be stupid.
Prepare for Imminent Release Date
Should Apple come out with new MacBook Pro models, there is a good chance that it will immediately put them on sale. The company has done this in the past, most recently with the MacBook Air refresh which went on sale shortly after Apple's announcement at WWDC.
Right now, rumors suggest a release date a few days after the initial announcement, October 24th or October 25th to be exact. Apple also recently released the Gold Master version of OS X Mavericks, the software that will likely be on board the new MacBook Pros, a sign that the release is imminent. So we recommend preparing for a MacBook Pro release on October 22nd. And if that doesn't happen, shortly afterwards.
We don't anticipate site issues or major delays with the new models, if there are any, but we highly suggest gathering all of the pertinent information ahead of time. That means Apple ID, that means researching the competition and that means taking a look at the MacBook Air lineup to get a feel for the hardware that will likely be on board the MacBook Pro in just a few days.
In-Store Selection Will Be Limited
Do not expect to be able to go into an Apple Store and snag anything other than the a stock version of the MacBook Pro. Apple Stores typically carry the bare bones, stock versions of the device. Buyers who need the basic models will be able to go into an Apple Store on release day and pick one up. Those who need to make alterations will not be able to waltz in and get what they want.
Instead, buyers who need to make upgrades or alterations, will need to make them online or in store, and prepare for varying degrees of shipping times. For the most high-end MacBook Pro, users should expect the device to arrive within a few weeks, meaning, November. This is important to know because many people will be buying these as gifts and will want them to arrive well ahead of the holidays.
Take a Close Look at the MacBook Air
Prospective MacBook Pro buyers need to do their homework prior to next week's launch. What we mean is, take a look at the competition. There are some great Windows-powered devices out there but there is also a big time in-house competitor as well. The MacBook Air just received big upgrades to battery life, processor and Wi-Fi in June and it's definitely worth a look in the build up to next weeks event.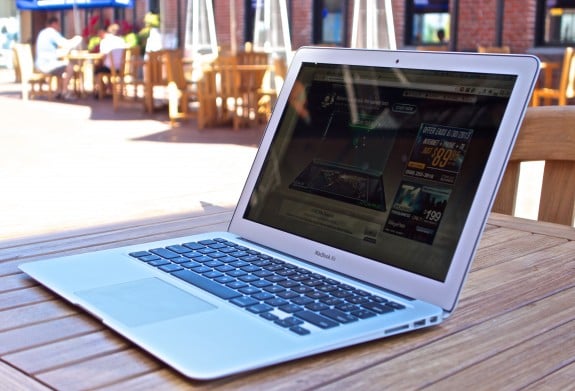 Many buyers might find the MacBook Air's 11-inch screen size to be a better fit and its cheaper price tag to be a little easier to swallow. It may not have the horsepower that the MacBook Pro does but the MacBook Air is no slouch. For the average user, it might make more sense than the MacBook Pro which is aimed at those that need a ton of portable power. Even if it doesn't wind up being the top choice in the long run, it's worth checking off the list before buying so make sure to take a close look.
Need Tons of Power? Apple Has a New Mac Pro
Apple's other MacBook won't be the only other device to take a look at. While many buyers won't need the power that the MacBook Pro provides, many others will find themselves questions whether it provides enough power for what they want to get done on their machine. The new Haswell processor would certainly provide a big jump in performance over the last model, no doubt, but there will definitely still be limitations.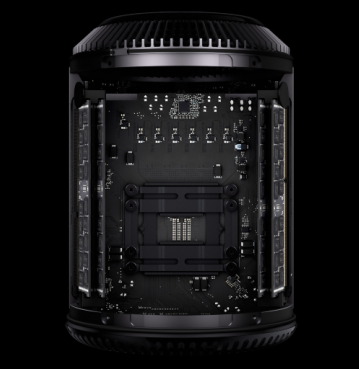 For those that want a ton of power but don't want the compromise, the new Mac Pro will definitely be a device worth looking at before deciding on a new MacBook Pro. The new Mac Pro is coming with a sleek new design and a ton of horsepower for those that need it. With its dual-GPUs, 4K video support, and an array of high-performance processor configurations, the Mac Pro is likely going to be a dream device for those who need top notch performance.
Obviously, there are going to be trade-offs between the two, things like portability and cost, but for those that have been teetering on the edge with their current MacBook, take a wait and see approach and definitely take a long gander at the new Mac Pro.
Think About AppleCare
That new MacBook Pro is not going to be a cheap device, especially for those that opt to buy the MacBook Pro with Retina Display. And while many buyers will try and tell themselves that safeguarding their device won't be worth the price, particularly those that haven't had issues in the past, we highly suggest thinking about investing in Apple's AppleCare.
For one, it's nice having peace of mind, knowing that if there are issues in the first year and beyond, the device is covered. Many people swear by the phone and in-store support and it's especially handy for those that live near an Apple Store. It also offers a longer warranty, something that could prove beneficial in the long run.
It's not a necessary purchase on day one, Apple allows buyers to take up to a year to decide, but we suggest taking a close look at it in the next few weeks. It could wind up being worth the extra cost.
Save a Little Extra Accessories
Many MacBook Pro buyers will likely be taking their device around with them on-the-go. Apple does a great job with its designs but there is always a chance that the metal on the device could get scuffed up. After lugging around a MacBook Pro for years, the front of the device is dinged up pretty badly, something that not only makes it look bad but lessens its value, something that could come into play when it's time to sell it for a new one.
That said, we highly suggest taking a look at MacBook Pro accessories, even if it may not seem necessary. In particular, a protective case or sleeve might come in handy for new MacBook Pro buyers. We recommend taking a look at what Speck has to offer. And for those that don't like the touchpad, and there are people that will hate it, Apple's Magic Mouse is an affordable alternative.
So, save a little extra for accessories. Many people will ultimately decide to pass on them, but we highly suggest investigating them ahead of the October 22nd launch in order to get a sense of what may or may not work.

As an Amazon Associate I earn from qualifying purchases.