7 Tools to Make Samsung Galaxy S4 Battery Last All Day
We already showed users how to get more battery life out of their Samsung Galaxy S4, but sometimes tweaking the software and OS settings might not do the trick. We want to share some hardware accessories that can help push that battery life a little further and make the Samsung Galaxy S4 last all day.
Many people get enough battery life out of their Samsung Galaxy S4 without tweaking things or buying accessories. However, on a long trip, they use the phone more and the display stays lit all day. No amount of tweaking extends the life enough. When someone uses their phone more than normal and a power outlet eludes them, these accessories might save the day.
While we're focusing on the Galaxy S4, our advice applies to any phone with swappable batteries. We put these solutions in order of most convenient to least.
Carry An Extra Battery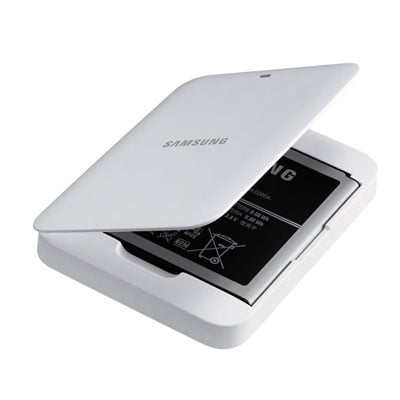 A replaceable battery makes the Samsung Galaxy S4 a great option over an iPhone or HTC One, though both are two great handsets. GS4 users can get a spare battery or two to double or triple their phone's battery life. We like the Samsung Spare Battery Charging System for about $50 retail or $42 at Amazon, because it comes with the second battery and charges it for us while not in use. Charge overnight and grab it with the phone in the morning.
When one battery dies, pop off the back of the Galaxy S4 using a thumbnail in the tiny slot in the upper left corner of the back of the phone just above power button. The bottom left edge of the battery has a spot where the same thumbnail can get ahold of the batteries edge. Lift it out and then insert the new battery with the four gold-colored contacts towards the top left. It only fits one way.
An alternative comes from Mugen Power. The KiDiGi dock for the Samsung Galaxy S4 will charge the phone naked, or in some low-profile cases. It includes a slot for an extra battery. The dock costs $25. Add a Mugen Power 2750mAh battery for $44.50. We tested the battery over the past few weeks and found that the extra juice the battery offers in the same size as the stock Galaxy S4 battery gave us an extra hour or two beyond what the Samsung 2600mAh stock battery provided. It also comes with NFC, something most third-party batteries lack. With the two products, users get a dock, battery and spare battery charger for little more than the Samsung system.
An Extended Battery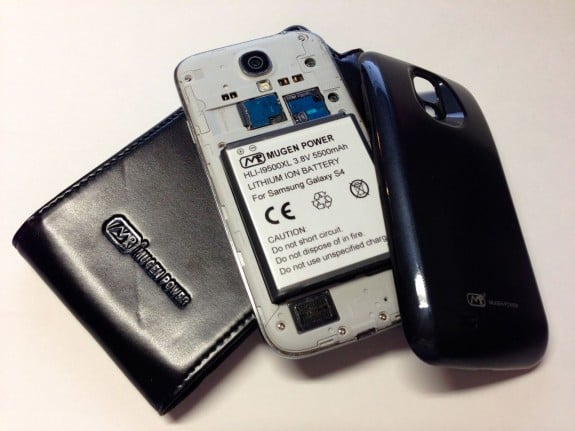 Mugen Power also offers an awesome extended battery solution for the GS4.  An extended battery gives users far more power than the stock batteries. Mugen Power's battery includes NFC and 5500mAh of power for $89.50. They throw in a cheap leather case, which we didn't really like very much. There's also a replacement phone back that accommodates the thicker battery. However, we loved running on a single charge for more than 24 hours. The battery adds bulk and thickness, ruining one of the Samsung Galaxy S4's most attractive aesthetic appeals: its sleek and thin design. Don't think of this as a permanent solution, but something to keep on hand for those special days when the phone gets a workout.
A Battery Case
The Incipio Offgrid Samsung Galaxy S4 Battery Case "…provides a 3100 mAh battery to keep the Galaxy S4 going all day." That's from our review of this battery case for the Samsung Galaxy S4. A battery case uses the phone's built-in micro-USB port to connect to the case's battery. It adds some bulk, but also adds battery life.
An External Battery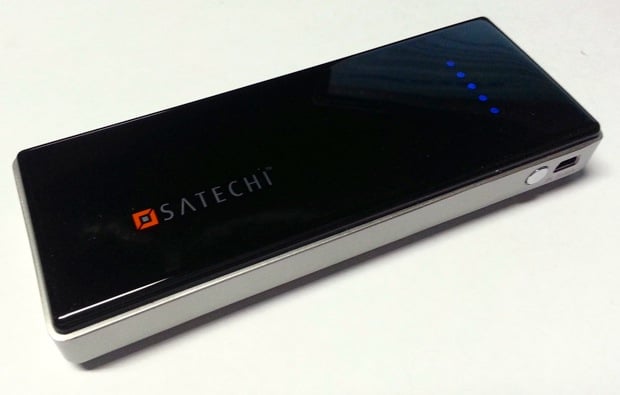 Get an external battery to extend the life of the phone. This works no matter which kind of phone a user carries, so long as it charges with a USB cable. We've tested a few of these, but the Satechi 10000 mAh Portable Energy Station gives us the best balance of power and cost. The battery sports a 10000mAh battery with two USB ports. Others offer more power, but this one comes at a great price. Get one at Amazon for about $57
For people willing to spend more and need more, get the limeade 18000mAh battery at Amazon for $100. It will charge up to two USB devices. Similarly, NewTrent sells the PowerPack+ NT135T which includes a 1350mAh battery and two USB charging ports. They sell it for $70, making it a nice solution for those who want to save some money but need a little more juice than the Satechi 10000mAh battery. See their video below.
Each of these offer a 1amp and a 2amp USB port so users can charge phones like the GS4 while using it to listen to music, get GPS turn-by-turn navigation and offering other devices the personal hotspot connection to the Internet.