8 Great Road Trip Apps for iPhone
My family and I are enjoying a road trip across the southeastern US and thanks to the following apps we've had a great trip so far. The iPhone apps below have helped us find our way, get good prices on both gas and hotels and discover cool activities and places we would have otherwise drive right past.
Navigon MobileNavigator North America – $59.99
Navigon MobileNavigator North America is a full scale GPS replacement app with navigation, voice and points of interest.
Thanks to the Navigon app, we have been able to find every location we wanted to travel to. We drove from our home in North Carolina to a hotel in northern Alabama. Then we went to Shreveport, LA, New Orleans, LA and Mobile, AL. All along the way we found how to get there with Navigon. If you want to stop for some food, the app has points of interests and reviews of restaurants and hotels from Zagat (in-app purchase). It also alerts you to traffic so you can find an alternate route that might save some time (also in-app purchase). We really like that it shows the road signs with exit numbers, names of cities that might be on the sign and road names or numbers. The voices are easy to hear and we've found that it is a very accurate app. Some points of interest are out of date on occasion, but most of the time you can trust it. Thanks to this app we found an outstanding restaurant in Shreveport, LA where I enjoyed some Crawfish Fettucine and my son had some Creole chicken!
Google Maps – Built-in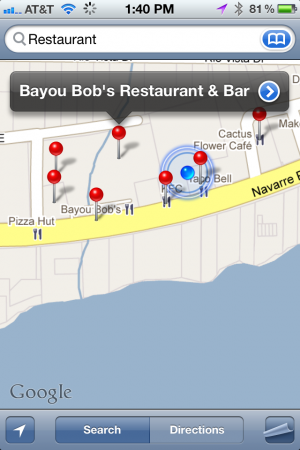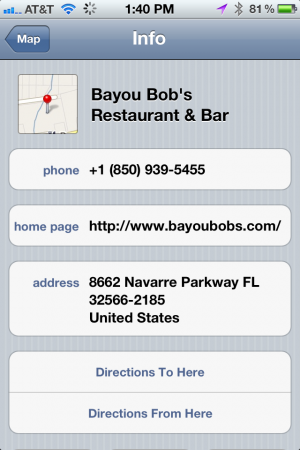 This is a built-in app, but it picks up where Navigon leaves off. Some of the things we wanted to find were not in Navigon. But we opened up Google Maps and searched. Why not use it all the time? It doesn't have spoken turn-by-turn directions and only works when you have an Internet connection. Sadly, much of northern Mississippi, Alabama and Louisiana do not have fast broadband wireless service.
When we did have a good Internet connection, we found some of what we were looking for with Google Maps. If a restaurant we thought looked good was not in the Zagat reviews of Navigon, I looked them up in Google Maps and used the included reviews. Here is how to find a good place to eat:
Let Maps find your location
Enter Restaurants in the search field
Wait for the pins to drop and find one you might enjoy (above left)
Tap the pin and the restaurant's Google Maps page opens (above right)
Tap the link to the restaurant's website which will open in Safari
Now search Google for the restaurant to see if it is reviewed or one of apps below
If it wasn't for Google Maps I would not be able to say that I've enjoyed Aligator and Crawfish Pizza.
GasBuddy – Free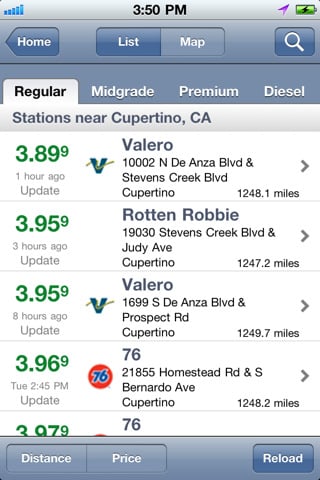 GasBuddy will help you find the cheapest gas no matter where you are traveling.
We have dumped a lot of petro in the old tank on this long trip and GasBuddy has probably saved us at least twenty dollars. As soon as we need gas, I fire up GasBuddy, let it find us and the search for gas prices near me. It shows the stations either by list or on a map. The map view is not that useful since they get too cluttered. But the list view makes it easy to find the cheapest price and usually it is within a mile or so. We use the "Directions to Station" link to find out how to find the station. If you prefer higher grade gas than regular unleaded, you can sort by those prices. It works with diesel too. If you sign up for an account you can report prices. I've found that most of the prices are within the last few hours and were accurate all but one of the dozen times we've used it.
Priceline Negotiator – Free
Priceline Negotiator helps you locate and save at local hotels.
We've stayed at about four hotels now and three of them were found thanks to the Priceline app. Sadly, the negotiation part of the app is lacking, but you can still find a deal. Rather than a back and forth price naming game, the Priceline iPhone app only lets you negotiate based on what previous deals people have found in your area. It lists those deals and then you can negotiate. If it doesn't find one you are out of luck with the negotiations. However, it has still been helpful because of the other two features. The Browse feature lists hotels in the area you want to stay. It shows the name of the hotel and the price. That is how we've found our rooms. It also has a Radar feature that finds hotels in the direction you are traveling. For example, if you are headed east on I-10 it only looks for hotels in the area coming up on that route. Based on prices from other sites, we think we've saved at least $90 in room fees using this app.
Roadside America helps you find unique, fun and funny points of interest as you travel across America.
This is my favorite of the road trip apps because it has made our vacation something really special. My family and I have found some really great sites thanks to this app. It finds your location using location data and GPS and then searches and lists interesting and sometimes crazy sites to see nearby. Sometimes the sites are almost 100 miles away and sometimes we were heading one direction and the sites were behind us. But the ones we found have been awesome and made our day. For example, we found an alligator farm in central Louisiana.
A few other places we found were the Naval Aviation Museum in Mobile, AL, the Tabasco Factory on Avery Island, Louisiana, and USS Alabama Battleship memorial. And probably my favorite was Lambert's Cafe in Foley Alabama. It is the "Home of the Throwed Rolls", where they throw hot dinner rolls at you that are the size of two large fists.
Interstate America tells you what is waiting for you off each exit on your trip.
When you are driving down the highway and just want to stop and get out to stretch, it is nice to know what is coming at the next few exits. With this app, you can find out what they have. It shows things like gas stations, restaurants, and hotels. You might need gas, a place to get your car fixed, or just some ice cream. This app will find it for you.
Rest Stops Plus – $1.99
Like the above app, Rest Stops Plus helps you find a place to take a break from your driving. Unlike an exit, at a rest stop you don't have to necessarily buy something. Just stop, take a bathroom break, stretch and let the critters do their thing, and get back on the road. This apps finds rest stops so you can see if you should stop at the next exit or wait for a few more miles for a rest stop.
Photosynth is a service from Microsoft that lets you upload multiple photos of a location and use them to create a Photosynth which is a 360 degree panoramic view of the location. It is actually more than that because you can snap shots not just in the horizontal axis but in the vertical axis and all other angles so that you can see the environment as if you are standing in the middle. The app lets you share the results in two formats. Below is a panoramic photo. Click it to see the larger image. The other is an interactive version.
Here is the interactive view of the beach where my family stayed during our vacation.
This is a fun way to share your vacation experience with friends and family as well as remember those special locations yourself. It is not perfect, as you can see from my beach Photosynth. It is really hard to get a clear fully Photosynth of all angles, especially when you have something like a roof or floor that is all one color to deal with. In those cases it is best to just get the area that  has something interesting to see.
Wherever your travels take you this summer, if they also take an iPhone along for the ride, you'll have a collection of apps to help you get there faster, save more money and have more fun along the way.