8 Rounds Of Fun As The Newton Takes On The Samsung Q1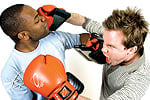 Sometimes it is wonderful to just kick back and waste some time. This knockdown, drag-out between the Apple Newton and the Samsung Q1 is not only a great time waster, but a nice little history lesson and perspective peeper as well. Follow the link to see who gets to do the victory dance in this 8–round prize match over at CNET UK.
Hat Tip to jkOnTheRun. Picture via CNET UK.