"My Font Tool" Tablet PC PowerToy InkShow
–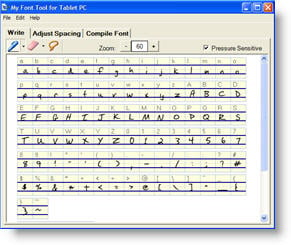 Want to personalize your Tablet PC, UMPC, or other ink enabled device running Windows Xp / Tablet PC Edition? Well, in this edition of a GottaBeMobile.com InkShow, we will show you a cool little toy that allows you to do just that!
The name of the application is "My Font Tool", and is actually a Microsoft Tablet PC "PowerToy". PowerToys are small applications that Microsoft allows you to download and install for free, that add some kind of limited functionality in some category. There are games, utilities, training apps, plus other categories of useful tools.
My Font Tool allows you to create a True Type font — in your own handwriting! Check out the InkShow, and learn how you can create your own handwriting font! Let us know if you produce any cool looking fonts, and we may post a few of them!
Enjoy the show!

As an Amazon Associate I earn from qualifying purchases.