9.7-inch iPad Pro & iPhone se Pre-Order Date & Time
The 9.7-inch iPad Pro & iPhone se release date is confirmed for the last day in March, but you can order the new Apple devices before the release to make sure that you get one. Later this week the 9.7-inch iPad Pro & iPhone se pre-orders start. This is what you need to know about when and where to look.
At around 11 PM Eastern, 8 PM Pacific Apple took the Apple Store offline, which is a common occurrence before the pre-orders or sales start. Expect this to come online seconds or minutes after the iPhone se and 9.7-inch iPad Pro pre-order time.
On March 21st Apple announced the iPhone se and 9.7-inch iPad Pro just weeks ahead of Apple's 40th birthday during a special event at the Apple Town Hall. In addition to the new 9.7-inch iPad Pro & iPhone se the company debuted new iOS 9.3 software, an Apple TV update and an Apple Watch price-cut.
You can buy the new Apple iPhone se and the smaller iPad Pro in March and get them in March. There are a lot of interesting features in the new iPad Pro and the iPhone se does more than you would expect from a small and familiar design.
Right after the event Apple released OS X 10.11.4 and iOS 9.3 as well as made the Apple Watch price drop live.
While you need to wait over a week for the iPhone se and 9.7-inch iPad Pro release date, you can order this week. Here is a look at everything you need to know about the 9.7-inch iPad Pro & iPhone se pre-order date.
9.7-inch iPad Pro & iPhone se Pre-Order Date
The 9.7-inch iPad Pro & iPhone se pre-order date is March 24th. This is a Thursday, likely due to Good Friday the next day and Easter Sunday that weekend.
[contextly_sidebar id="yImHSjMGuT0wWSg4rrz2EhzXBx7aSVGC"]Apple is more flexible than in the past when it comes to offering pre-orders. Unlike some new products we know when the devices go on sale. If you want to get the 9.7-inch iPad Pro or iPhone se on release day you may need to order on the first day.
If you want to pre-order as soon as the option is available you will need to stay up late or get up early. When buying a new iPhone se you will need to know account information, so you may want to be at your computer.
9.7-inch iPad Pro & iPhone se Pre-Order Time
The 9.7-inch iPad Pro & iPhone se pre-order time is 12:01 AM Pacific, which is 3:01 AM Eastern. That means a very late night or early morning on Thursday if you want to be the first to order.
It's tough to say how fast the stock will sell out for the iPhone se or the new smaller iPad Pro. You may be fine waiting to order until the morning.
You can only place an iPhone se pre-order or 9.7-inch iPad Pro pre-order online. You can order from Apple, Verizon, T-Mobile, Sprint or AT&T. It looks like Best Buy will offer the 9.7-inch iPad Pro, but it isn't clear if you can buy the iPhone se there yet.
Get Ready for your iPhone se Pre-Order
If you are buying the iPhone se you need to check that you are eligible for an upgrade with your carrier. You should also decide how much storage you need and what color you want to buy. It's also a good idea to think about what type of payment plan you want to use or if you want to sign a contract.
You can see the purchase options on the Apple Store page to figure out which way you want to pay for your new iPhone.
Knowing the answers to these questions and making sure you are an authorized user on your account is a smart way to prepare.
if you are upgrading from an older phone you should check trade-in prices on Gazelle, at Apple, Amazon or Best Buy to see if you can get good money for your old iPhone or Android. If you are upgrading to your first smartphone you will not likely get anything for a trade.
Release Date Reservations
We don't know if Apple plans to offer 9.7-inch iPad Pro & iPhone se reservations to pick up the new devices in a store on the release day. We've reached out to contacts to see if this will be an option, but at this time the only known way to guarantee that you get the iPhone or iPad on release day is to pre-order for delivery.
17 Best iPhone SE Cases
Speck iPhone SE Clear Case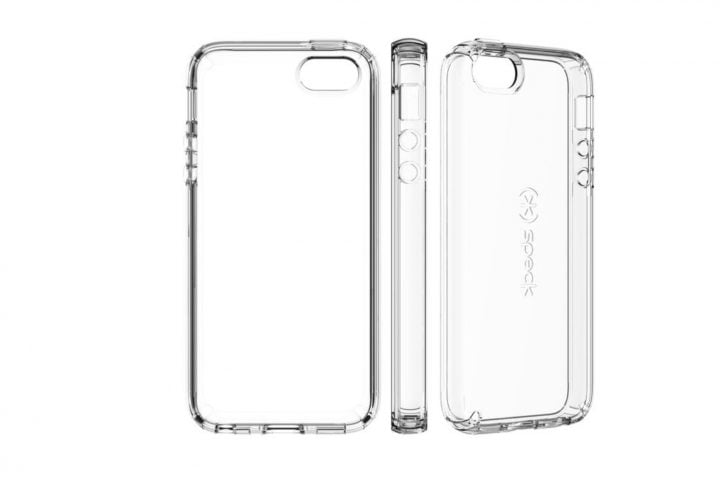 The Speck iPhone SE clear case is an excellent option if you want to protect your iPhone SE, and show off the color you chose. We are impressed with the clarity of the Speck clear iPhone cases and the company offers a 30-day guarantee.
While this case adds a good amount of protection and a raised lip to help protect the screen it does not add much thickness to the iPhone and you can see the iPhone SE design through it.
There are button covers for easy access to volume and power. Openings for the Lightning connection and headphone jack are wide enough for the standard cables and for many third-party options.
$34.95 at Speck

As an Amazon Associate I earn from qualifying purchases.