9.7-inch iPad Pro vs 12.9-inch iPad Pro: What You Need to Know
Apple updated its iPad lineup: there are now two iPad Pro tablets, and while they're very similar, there are some important key differences Apple fans should consider. We look at the 9.7-inch iPad Pro vs the 12.9-inch iPad Pro: here's what you need to know.
Last year, Apple attempted to re-invigorate its declining tablet market share by introducing an all kind of iPad, the iPad Pro. There were a large number of changes between the then-flagship iPad Air 2, and the new iPad Pro, but the most noticeable of them comes down to sheer size: the iPad previously topped out at a 9.7-inch screen size, while the iPad Pro had a much larger 12.9-inch display.
As soon as news broke, the internet started in on Apple and wondered why the company couldn't produce an iPad with all the features of the Pro, but the smaller body of the 9.7-inch iPads. Yesterday, that's exactly what they did. Apple's newest iPad, the 9.7-inch iPad Pro, has all the same technologies as the iPad Pro save its bigger screen; it's also more advanced and, dare we say it, cheaper.
9.7-inch iPad Pro vs 12.9-inch iPad Pro: why they're the same
When you're trying to tell the newest iPads Pro apart, it's not just a case of smaller iPad Pro vs bigger iPad Pro, although that's definitely part of it. Here's how they're more alike than they are different.
Software
Both iPad Pro tablets are running iOS 9.3, which was released to the public as part of Apple's event. That means that all the new features found in 9.3 – and this was a pretty big iOS point release for Apple – are fully available on both iPads.
Pixel density
Pixel density is a measure of how sharp a screen looks by calculating how many pixels you can find in an inch, diagonally across the display. Despite having different sizes and different resolutions, both iPads have the same pixel density, which is 264.
Processor
The 9.7-inch iPad Pro and and the 12.9-inch iPad Pro are both powered by Apple's latest chip, the A9X; additionally, they both have an M9 motion co-processor. Technically, the bigger iPad Pro is clocked a few percent faster than the smaller one, but it's not going to be something you notice.
Apple Smart Connector
This golden connector, which you can spot on the left side of every iPad Pro, is made up of three circular pins. Currently it's only being used for the Apple Smart Keyboard, a folding cover that has a built-in keyboard. Both iPads Pro have a corresponding keyboard case, though early experiences with the smaller iPad are reporting that it suffers from the same problems that every 10-inch tablet keyboard does.
Apple Pencil Support
Each tablet has the necessary hardware to support the Apple Pencil, the only iPad stylus that has native support from Apple and iOS. The Apple Pencils are identical, unlike the keyboard accessory, so they can be used with and charged by either iPad Pro.
9.7-inch iPad Pro vs 12.9-inch iPad Pro: how they're different
Despite having largely identical internals, the two iPads different in a number of key ways:
Size
This is perhaps obvious, but one of these iPads Pro is substantially bigger than the other: the 12.9-inch iPad Pro features a screen that's three inches larger, when measure diagonally, and the iPad itself is nearly twice as large (the smaller iPad Pro is only 60% as big as the larger model). It's also much heavier, coming in at 1.57 pounds, which is almost the same weight as the original 2010 iPad. The 9.7-inch iPad Pro, meanwhile, weighs only 0.96 pounds. The smaller iPad Pro also gets a new color: rose gold.
Camera
Perhaps the biggest change between the two iPad Pro models is the refreshed camera found on the smaller tablet. The original iPad Pro included an 8MP camera on back and 1.5MP camera on the front, similar (and probably identical) to the ones Apple included on the iPhone 6. The newer iPad Pro, meanwhile, has the cameras found on the new iPhone 6s – a 12MP rear shooter with an f/2.2 aperture, and a 5MP sensor on the front-facing cam. It also means that the 9.7-inch iPad Pro can shoot 4K video and 240fps slo-mo, compared to a max of 1080p and 120fps on the largest iPad.
Flash
The large iPad Pro has no flash, just like every other iPad. Apple has never made photography – in terms of actually taking pictures with an iPad – much of a priority for its tablet lineup, despite the number of users who will hold up their tablets to record a memory. The small iPad Pro comes with the same dual-LED True Tone flash that has been a part of the iPhone since the 5s. It also means that this new iPad will be able to use the flashlight icon found on iOS' Control Center, found by swiping up from the bottom of your screen. Given the new, higher resolution front-facing camera, Apple also included Retina Flash on the smaller Pro. This display mode maxes out the display brightness (brighter than you can get on your own) and flashes a tone-matched color on the display to offer a sort of selfie flash.
Speed
Apple underclocked the smaller iPad Pro CPU by a few percent, but it's not something you're going to notice in day-to-day life. The GPU, meanwhile, is 16% slower on the new iPad. This might actually net you a faster experience in games, however, as the larger iPad has almost twice as many pixels to drive as the smaller one. Similarly, the big iPad Pro has a nearly 40% larger battery, but the two iPads Pro will probably have identical battery life. One place where you might feel the performance difference is in memory-constrained tasks: the big iPad Pro has 4GB of RAM, while the smaller iPad Pro has just 2GB – you might notice apps and webpages are kicked out of memory more often on the smaller iPad than on the larger one.
Display
Aside from the size differences, the smaller iPad also has a much lower resolution. The 12.9-inch iPad Pro has a screen resolution of 2732 x 2048, while the 9.7-inch model tops out at 2048 x 1536. As indicated above, however, the two have similar pixel densities, so they should appear the same in normal use. Thanks to the larger iPad's size, however, some uses, like split screen document work, will be better suited on it. Apple also mentioned during its presentation that the new iPad Pro has a lower reflectivity than any other tablet, but we don't yet know if the difference is meaningful. The small iPad Pro also supports a new True Tone display mode, which will match the white balance of your screen to the white balance of the surrounding light.
Hey Siri
Despite both iPads featuring the same chipset, hands-free Siri functionality is different between them. On the large iPad, you can only use the "Hey Siri" command to ask Siri something if your iPad is plugged in. On the smaller iPad Pro, you can use it any time, just like the iPhone 6s, as long as you aren't in low power mode.
9.7-inch iPad Pro vs 12.9-inch iPad Pro: which one should you buy
Honestly, in terms of how you'll use them on a daily basis, the two iPad Pro models are much more alike than they are different. The biggest plus to upgrading to an iPad Pro, support for the outstanding Apple Pencil, is available on both models. It really comes down to where you'll use each iPad, and how important portability is to you.
The 12.9-inch iPad Pro is big. It doesn't really sound like it on paper, but it's very noticeably larger, and you'll feel it in your bag (one flight attendant wouldn't stop talking about how "Oh my god, that iPad is huge!", even to the point of showing it to the pilot). If you're constantly on the move, you might not want to deal with the extra weight, even though it is much less than most laptops.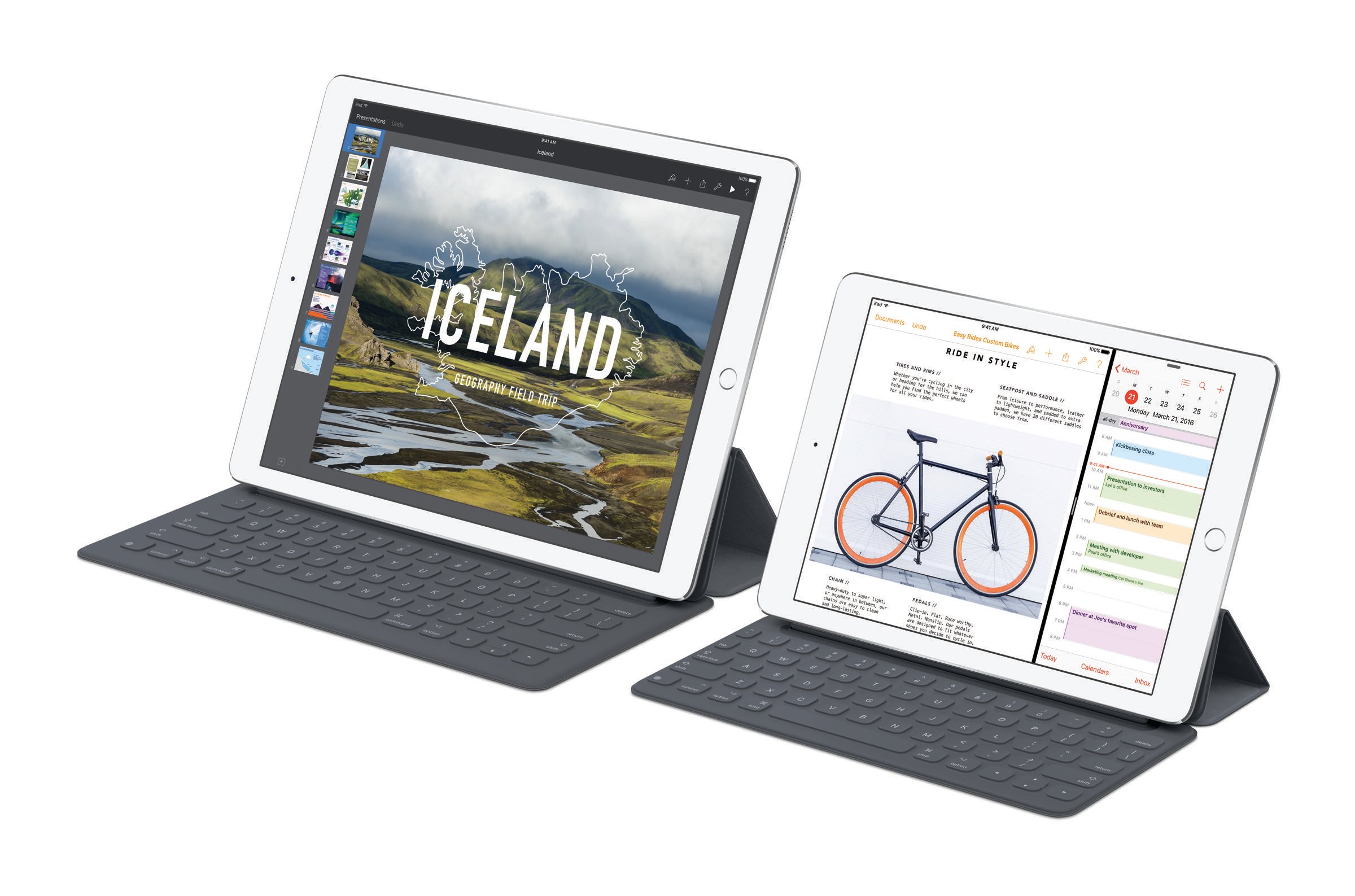 That size difference has its advantages, though. On the larger iPad Pro, you can do more expansive sketches without needing to pan around your workspace. Videos look nicer, too, especially if you're watching something with a pretty wide aspect ratio (on the smaller iPad, they're tiny, thanks to every iPad's 4:3 aspect ratio). Any split screen usage also favors the larger screen, as it's easier to read two documents side-by-side on the larger device, and the large iPad Pro is the first iPad that you can read magazines and comics on without ever pinching to zoom or feeling cramped.
Apple's 9.7-inch iPad Pro, however, packs a ton of power into that smaller space, even with the lower 2GB of RAM. It's the perfect portable sketchbook, weighing less than a pound, and if you ever use your tablet's camera (it can be useful in the kitchen, or for scanning, for example), this smaller iPad Pro has a much nicer one, especially on the front. This smaller iPad Pro is also much more comfortable in the lap or being held in your arms; while the larger screen on the bigger iPad Pro is nice, it can sometimes be awkward if you're not at table. That size issue flips around if you're planning to write with a keyboard; try and use both iPad Pro keyboards in a store before shelling out the cash – it can be pretty frustrating to type for a long time on a cramped keyboard.

As an Amazon Associate I earn from qualifying purchases.