9 Essential Apps for Blogging from the iPad
The iPad is not the ideal tool for blogging, but with the right selection of apps it's easy to post from the iPad.
I would hate to blog from the iPad everyday, but these apps allow me to compose and post full articles to GottaBeMobile and my personal blog when it's not easy to grab a notebook.
My aversion to blogging from the iPad stems from the inability touch type accurately and quickly on glass, but with a iPad keyboard case solves half the problem.
These 9 apps for blogging on the iPad are the other half of the solution, allowing iPad users to blog without a laptop.
I  wrote this entire article using some of these apps with only minor final editing done on my laptop.
Text Editing
There are two approaches to editing the text part of the article you want to post, writing in a text editor or in a blogging app.
I recommend writing in a good text editor and then pasting the text into the a blogging app when finished. This prevents lost work from the frequent WordPress app crashes.
Text editors also provide fewer distractions, allowing writers to focus on the task at hand.
Users who prefer to write directly in a blogging app would be best served with Blogsy, which unlike the WordPress iPad app, doesn't crash every other day.
Blogsy does the job for entering, editing and formatting text on your iPad before uploading to your blog. In addition to editing text, Blogsy makes lets users insert pictures from the camera roll or photo sharing sites like Flickr. The app also handles YouTube embedding, but it isn't compatible with every blog.
For those who want a good text editor instead of working in Blogsy, there's the free Evernote app. It lets you type text and sync it across multiple devices, making it easy to start a post on the iPad, continue on the iPhone with dictation and finish on a computer before posting.
I prefer to use Pages ($9.99) for all of my text editing on the iPad. Pages is the best iPad Word processing app I've used.
If you want a simple text editor for distraction free writing, try Simplenote (Free with $19.99 in app purchase for added features). I like the simplicity and the fact that it syncs between iPhone, iPad and computer using their server.
Blogsy supports a number of blogging platforms including;
WordPress (both WordPress.com and self-hosted)
Blogger
Posterous
TypePad
MovableType
Drupal
Joomla
IBM Connections
The WordPress app works better than it used to, but not as well as Blogsy. Blogsy also offers more features than WordPress. The downside is that Blogsy forces users to spend some time learning the complicated interface.
Once you have your text editing and formatted as you like it in Blogsy or WordPress, you will want to add some media to spice it up. Pictures and video help make a blog post.
Image Editing
Use one of these great iOS photography apps to capture photos on your iPad or iPhone, or use the built-in camera app on the iPhone for fast access to the shutter. The iPad Camera Connection kit ($29.00) makes it a snap to import photos from the iPhone or a DLSR.
Once I have my images on my iPad I use a photo editor to crop and enhance the images I plan to use in my blog post.
Snapseed ($4.99) is my image editing app of choice. It has advanced image enhancement tools as well as filters that give your images a cool vintage effect or to transform it into a beautiful black and white image.
 If you dont' want to use the iPad Camera Connection Kit, you could just upload your images to a photo sharing site. Blogsy supports Flickr and Picasa. I post images there from other devices and download them to my iPad for posting or embedding with Blogsy.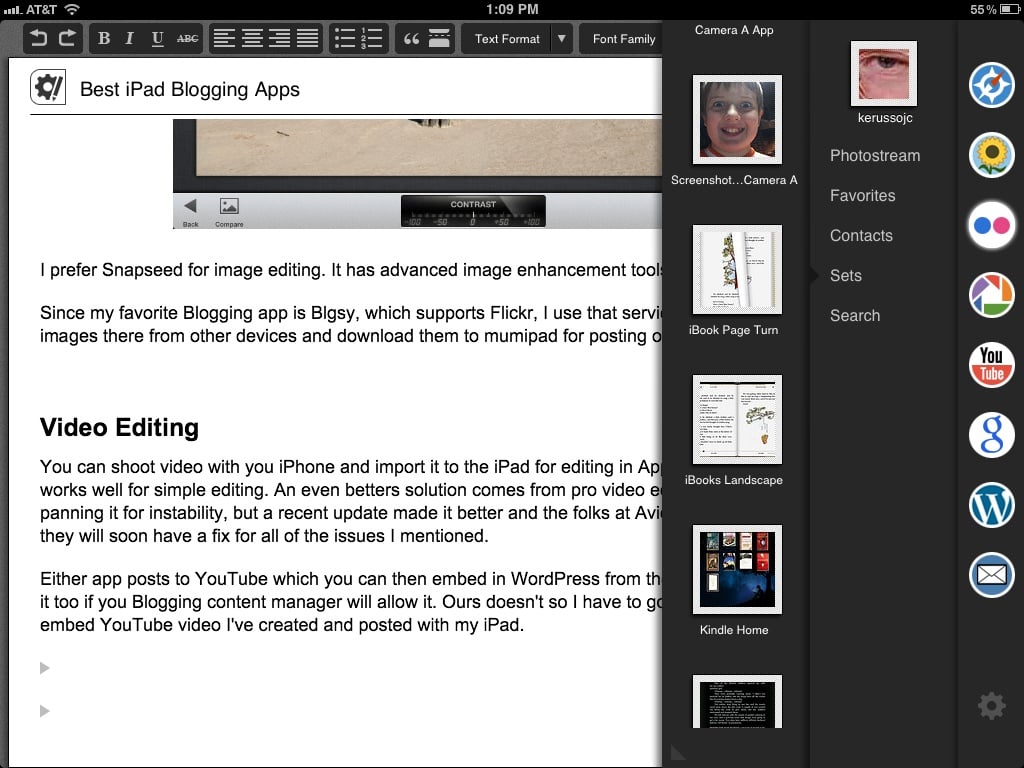 Flickrstackr ($1.99) is a great tool for interfacing with your Flickr account directly on you iPad. It lets you upload and download images on Flickr. If you run a commercial blogging site you can also find images that photographers have tagged as "creative commons" meaning you can use them free with attribution. This lets you add beautiful images to your blog post without fear of lawyers contacting you.
Video Editing
You can shoot video with you iPhone and import it to the iPad for editing in Apple's iMovie app. The app works well for simple editing so long as you don't plan to use AVCHD video from a camera. I shoot video using my iPhone 4S or my Nikon point-and-shoot camera and import it using the iPad Camera Connection Kit.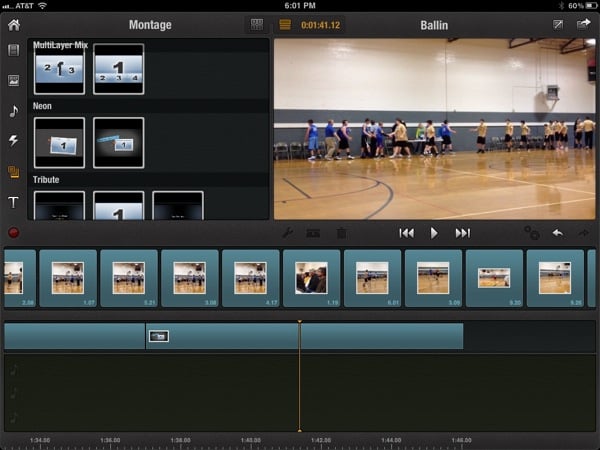 Recently I found an even betters solution for video editing. It comes from pro video editing king Avid. I reviewed Avid Studio for iPad, panning it for instability, but a recent update made it a little better and the folks at Avid contacted me to let me know they will soon have a fix for all the issues I mentioned in my review. I use it now for most of my iPad video editing.
Both iMovie and Avid post to YouTube, which you can then embed in WordPress via the online editor.
Finishing Up
When it comes to the final check before publishing, the WordPress backend works best. The online tool handles grammar and spelling and serves as a place to check that images and video are properly inserted.
Once everything looks good, hit publish and wait for the hits.

As an Amazon Associate I earn from qualifying purchases.