9 Exciting NHL 16 Details
The NHL 16 reveal didn't answer a lot of questions compared to what EA Sports showed off for Madden 16 and FIFA 16, but after a lot of digging we are able to share exciting NHL 16 details that gamers need to know.
NHL 16 delivers a return to several features that gamers missed on NHL 15 last year and a focus on team-play that can deliver online and on the couch multiplayer moments. We also get to play in the new EA Sports Hockey League (EASHL) with an updated version of the online team mode for the Xbox One and PS4.
Although EA announced many of the NHL 16 features in May, we are slowly learning about other small additions to gameplay that fans of the series will be pleased to learn about. Even though many of these changes didn't make the highlight reel on stage at E3 2015, we think you'll appreciate the many small upgrades that are quite exciting for NHL fans.
The NHL 16 release is on Xbox One and PS4, but there is a legacy edition for older consoles. This is not the new game, but a mix of gameplay modes from earlier NHL games combined with updated rosters and schedules for the new season.
Here are the most exciting NHL 16 details that you need to know about now.
9 Exciting NHL 16 Details
NHL 16 Release Date Confirmed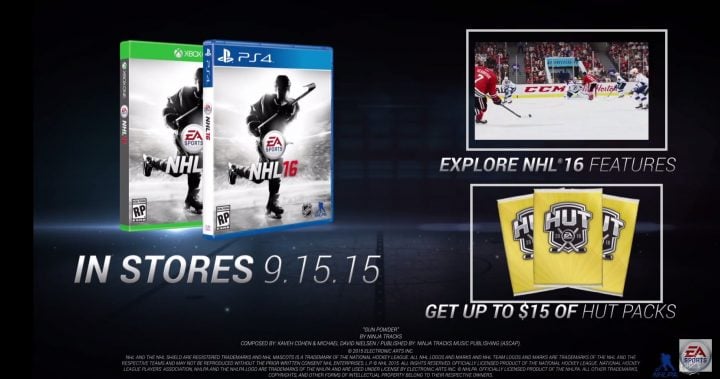 EA Sports confirmed the NHL 16 release date for September 15th. This places the game ahead of FIFA 16 and leaves room for a NHL 16 demo release date in early September.
We also learned that there is an early NHL 16 release date on Xbox One with EA Access. The EA Access program offers new EA games up to play five days early, with six hours of gameplay. These are the full games and progress carries over to the official release. EA Access is $5 a month or $30 a year. The service also offers access to a range of older EA games.
Gamers can pre-order NHL 16 on Amazon, at GameStop and Best Buy. The game is $59.99 for the base version and $69.99 for a deluxe version with Hockey Ultimate Team bonus content. Expect to see NHL 16 deals closer to the release.