9 New Xbox One Experience Problems & Fixes
Changing how something you've already sold to users works is always risky. The New Xbox One Experience is almost an entire redesign of the Xbox One's interface. It's the riskiest thing Microsoft has done since it announced plans to force users into installing disc-based games on the console's hard drive and keeping their console connected to the internet all the time.
That bet on always-on connectivity didn't work out for Microsoft, but the hope is that the New Xbox One Experience will. Whereas persistent internet connectivity felt like something the company was forcing on users, Microsoft says that the New Xbox One Experience was designed by users themselves. That is, the company listened intently to what people wanted and what they hated about the old Xbox One software. The company then got to work designing and creating an interface that wasn't as slow and confusing as the original was.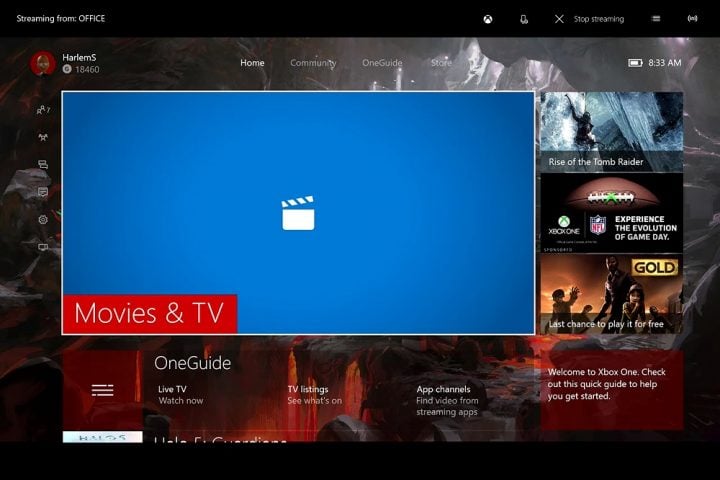 Depending on who you ask, the New Xbox One Experience update achieves the goals Microsoft set for itself. Starting a party, disabling Kinect, sending a message or snapping an app are incredibly quick tasks to accomplish now. What's more, there are on-screen ways to do everything within the Xbox One. Not having on-screen, always visible options for somethings made the old software too confusing.
Read: Stunning New Xbox One Dashboard Revealed
With every new software update there are problems and the New Xbox One Experience is no exception. Since the update arrived on Microsoft's servers for everyone, users have reported running into error codes and feature failures. None of these New Xbox One Experience problems are too widespread, it seems. All could ruin an otherwise very nice upgrade.
9 New Xbox One Experience Problems & Fixes: Live TV Stutters
Xbox One owners and Reddit/XboxOne community members report that the Live TV app sometimes stutters as they're trying to watch something through their cable or satellite box.
Right now, the only way to solve this issue is to completely close all apps that might be open using the Menu button on the Xbox One Controller, community members say.
9 New Xbox One Experience Problems & Fixes: Missing Full Screen Achievements App
The New Xbox One Experience doesn't have a dedicated Achievements app anymore. Instead, Microsoft has rolled that functionality into each user's profile.
To see your Achievements, go to your profile by selecting your picture in the Guide that pops-up when you press the Xbox logo on your controller twice. Achievements are also available in each Game Hub.
9 New Xbox One Experience Problems & Fixes: Controller Update
Anyone that connects an Xbox One Wireless Controller with a headset jack to their console after installing the New Xbox One Experience Update is prompted to update the software running on their console. You can choose to skip the update, but it's better if you simply install it and get it over with. The update shouldn't take long. You won't have to plugin your controller to install it either.
9 New Xbox One Experience Problems & Fixes: Audio Apps Close
The Xbox One has a setting that lets it turn itself off and save users on their power bill after the console has set idle. Gotta Be Mobile's own Xbox One console shuts down after an hour, even if an audio app like TuneIn is stilling playing music.
There's no fix for this yet beyond changing the Xbox One's power settings so that it doesn't turn itself off on its own.
9 New Xbox One Experience Problems & Fixes: Error Code 0x800705b4
Giving users an area code of 0x800705b4, many users report that apps downloaded to their console simply won't launch after they've been updated.
Microsoft knows about this issue. In its list of official workarounds, the company says that users running into this issue should simply uninstall the app, then reinstall it.
9 New Xbox One Experience Problems & Fixes: Kinect Voice Controls Aren't Working
If you're Kinect 2 sensor doesn't work after going through the upgrade process, Microsoft recommends going into the Xbox One's Kinect area in the Settings and checking to make sure the device is still connected to the console. Users who don't see anything should restart their console by holding their finger over the console's power button until it shuts off.
9 New Xbox One Experience Problems & Fixes: Error Code 0x87de0003
Error Code 0x87de0003 sometimes pop-up when trying to open an app or game. Microsoft's Xbox website says this is because user's consoles can't find a license for a game or app.
Users who have the code report that their console eventually fixed itself. We couldn't find any workarounds or trouble shooting tips for this problem.
9 New Xbox One Experience Problems & Fixes: TV Tuner Streaming Fails
There's also no fix for streaming to an Xbox One SmartGlass app from the Xbox TV Tuner. Users with the TV Tuner connect to their Xbox One report not being able to watch anything on their iPhone, iPad, Android or Windows device.
9 New Xbox One Experience Problems & Fixes: Slow Xbox One Start Up Time
When you first install the New Xbox One Experience it can take a very, very long time to get going. Microsoft says in some cases, the restart will take 15 minutes. Don't shut down your console if this happens. At least wait a half-hour or so to see if everything works itself out.
Good luck with any issues you encounter. Hopefully, Microsoft will have some more guidance out on a few of these new Xbox One experience problems in the coming days.

This article may contain affiliate links. Click here for more details.