$99 HP Stream Tablets & Notebooks Coming For The Holidays
Microsoft and its Windows hardware partners might not have taken the threat posed by Chromebooks seriously before, but as the ultra-cheap HP Stream notebook and $99 Stream 7 tablet show, they definitely are now.
Announced today on its Blogging Windows news blog, there's no mistaking the HP Stream notebooks and the HP Stream 7 and HP Stream 8 tablets for what they are: Google killers and a way to easily shore up the amount of devices with Windows 8 being sold.
The HP Stream 7 and HP Stream 8 are tablets on a mission to stop Android's growth in the low-end tablet space with a low price and plenty of extras. When the $99 HP Stream 7, which will have a 7-inch screen, and the HP Stream 8, with its 8-inch screen, launch users will get a one-year subscription to Microsoft's Office 365 Personal service. That's the same subscription service that allows users to install a copy of Microsoft's Office productivity suite to the Desktop. Users also get 1TB of OneDrive storage and 60 minutes of Skype each month. Users who purchase the HP Stream 8 for $149.99 will get 200MB of data without a wireless contract for the entire time they have the device.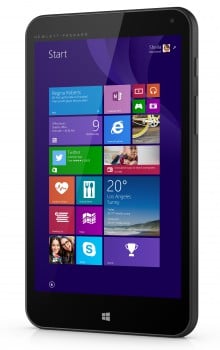 Both the HP Stream 7 and HP Stream 8 will be available on store shelves this coming November for the holiday season. Both tablets have Intel processors. What that means is users will be able to download all the programs they're already used to, like iTunes, in addition to those from the Windows Store.
Whereas the first weapon on Microsoft's arsenal is aimed squarely at those looking for something to browse the internet or watch video on, the HP Stream is aimed mainly at the low-end productivity market. The HP Stream is a miniature laptop with all the trimmings. There's an 11.6-inch high-definition display and full-size keyboard for those who need to get work done. Inside is an Intel Celeron processor for installing Desktop apps. Other than the bright magenta and blue colors, the only extra the HP Stream has is a front-facing web camera for chatting.  Like the HP Stream tablets, each user who purchases an HP Stream laptop will get one year of Office 365 Personal. Microsoft is also handing out $24 gift card with the HP Stream as well.
Microsoft says that the HP Stream will be available for purchase in the United States in two different versions in November. One version will include a 11.6-inch screen and cost users $199.99. Another version will include a more mainstream 13.3-inch screen and cost users $229.99. That 1TB of included online storage will come in handy considering the HP Stream notebooks will only come with 32GB of storage. With prices like that the HP Stream hits all the right notes for users who are flocking to Chromebooks.
Essentially, Chromebooks have the same hardware as low-end laptops, but run Google's Chrome OS operating system instead of Windows. Smartphones and tablets have helped give rise to a new subset of users who want options to be productivite, but don't actually need something as high-end as a $500 PC. Those who've followed Microsoft's antics in the low-end PC space will no-doubt find this strategy a bit familiar. Microsoft, HP and others teamed up to offer low-end machines like these a few years ago after the Linux operating system and cheap hardware gave rise to Netbooks. Netbooks were popular for a time, but as smartphones improved and tablets became relevant, sales of netbooks stalled. It didn't help that Microsoft and its partners flooded the market with low-cost machines that lacked full versions of Windows.
Thankfully, Microsoft isn't repeating the same mistake here. The version of Windows 8.1 that comes on the HP Stream 7, HP Stream 8 and HP Stream notebooks will allow user to change their Desktop background and more.