A Big Milestone at GottaBeMobile.com!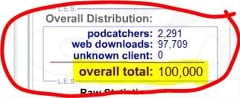 When Dennis and I started GBM last March, one of the major things we wanted to do was produce quality Tablet PC / Ultra-Mobile PC video reviews that cover hardware, software, accessories, and interviews. We felt it was important to visually show what could be done with Tablet PC technology and how it could impact the mobile professional. We decided to brand them as InkShows, and they have been a huge hit in the community.
Just 10 1/2 months after launching GBM and at exactly 6:53PM MT tonight, we crossed a major milestone: the 100,000th InkShow was downloaded!
To help celebrate this momentous occassion, we are giving away a GBM mascot, Splotch, to one lucky winner. To get your chance at winning a Splotch, submit a reply to this news post telling us what you think the two most popular InkShows are. You can get a list of all of our InkShows here. When submitting your entry, post the title and the hyperlink to the InkShows, along with which one you think is first and second. Only one entry per person. International and U.S. residents are welcome to enter this contest. We'll take entries through Sunday, 9:00 PM MT and announce the winner on Monday morning. In the event of multiple correct entries, TeamGBM will decide whether to pick one random winner from that group or award each of the winners a Splotch. Submit your entry as a reply to this news post, and be sure to leave your email address, spam safe if you prefer.
A special thanks to Warner and Matt who play a big role in making the InkShows that you enjoy watching. In addition, we'd like to thank our InkShow Sponsor, TechSmith, for being a big part of what we do. We'd also like to thank Allegiance Technology Partners for providing a lot of the hardware you have seen in our InkShows.
Our last thanks go to you, the GBM reader. Without you, there wouldn't be a single InkShow downloaded, and it is because of you that we will continue to work as hard as possible to bring you the latest in Tablet PC and Ultra-Mobile PC technology.

As an Amazon Associate I earn from qualifying purchases.