A comic book master shows us how it's done on an iPad
Take one iPad. Install Sketchbook Pro from Autodesk. Give it to renowned comic book artist and newly named co-publisher of DC Comics, Jim Lee. And in about an hour, you get this impressive, finger-drawn color sketch of Wonder Woman. Makes me glad I held on to his complete run on Uncanny X-Men.
Lee was getting his hair cut (which I really need to do) and decided to burn time by tweeting a brief step-by-step of how to draw Wonder Woman on an iPad. Process took him 80 minutes and 11 screengrabs. Images and commentary are on his Twitpic, and scifi blog i09 has saved it all for posterity.
While Lee is a professional and widely-beloved comic book artist, it's still quite impressive that he was able to put together a full-color sketch (he's not a colorist) with his fingers, though from his tweets, it seems he has a Pogo stylus on the way.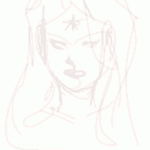 If you'd like a five-second version of the 80 minute process, I've put it together in a little animated gif.

This article may contain affiliate links. Click here for more details.