A Day at Apple Headquarters
I spent a big chuck of the day at Apple's mother ship in Cupertino for the iPhone OS 4.0 event. Warner, Sumocat, Kevin and Amy have already covered the details of the Apple's operating OS here on GBM and over at Notebooks.com. Our friends over at Laptop Mag were kind enough to give me their press pass in exchange for a write up of the event, which can be found at the Laptop Mag blog.
In short, I have a new faith in the iPhone as a 'serious' smartphone, but am disappointed with a number of other things, including the short term plans (or lack thereof) for the iPad.
I arrived about half an hour before the 10am kickoff and was one of the last to arrive. The lobby was full of tech writers and iPhone app developers, many of whom were tapping away on their notebooks and smartphones. I only spotted two guy actually using an iPad during the event, even though a good portion of the crowd (including me) just bought them. Keep in mind, many of the writers on hand are hard-core Apple fan boys. There are simply better tools for writing stories and taking notes.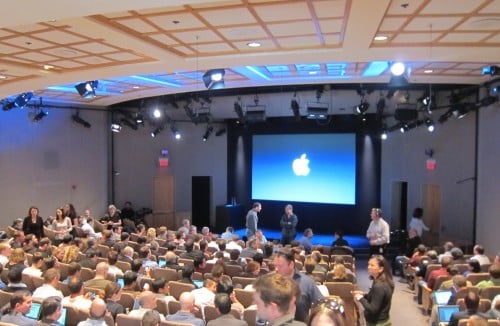 I've been to several Stevenotes at MacWorld Expos and WWDCs, but this was my first time attending a smaller scale event at the Cupertino campus. There were only a couple of hundred attendees, including press, developers, partners and Apple employees crammed into Apple's executive briefing center. There were many friendly faces in the crowd, including Harry McCracken of Technologizer, Ryan Block of GDGT, and  Peter Ha of Time.
Fortunately, Apple PR gave guys with big DSLRs preferential treatment and we got to head into the theater before the rest of the crowd. The theater was pretty cramped and it was standing room only. I chose to stand in the back of the room so I could spread out and move around a little to take pics.
Steve Jobs took the stage right away, without a cheesy introduction from an underling. He delved right into the initial success of the iPad and shared some pretty astonishing numbers. In the first five days of hitting the market, Apple's sold 450,000 iPads. That's somewhere in the neighborhood of $250 million in sales in less than a week and a success by any measure.
While selling 450,000 iPads in less than a week is impressive, it's nothing compared to Apple's reach in the hand-held space. Apple's sold 50 million iPhones and 35 million iPod Touches thus far. It'll be interesting to see where developers focus their efforts once the iPad launch buzz dies down.  I think it's easier to justify a $10 or higher price tag for apps on the iPad than on the iPhone, but the volume isn't going to be there for quite some time. There's some serious money going after the iPad app and gaming market.  Kleiner Perkins Caufield & Byers, a Silicon Valley venture capital fund, just doubled its iFund to $200 million. Its portfolio companies are in the midst of rolling out dozens of iPad apps.
I've been at odds with my iPhone 3GS, mostly because of reception issues. I've begun carrying a Blackberry with a T-Mobile SIM card to supplement my iPhone because of AT&T's network woes. I really like the iPhone interface, but it's all for naught if I can't even make a call or get online when I need to.  But Steve Job not only convinced me not to ditch my iPhone 3GS, he also sold me on the 4th generation iPhone. Of course Apple hasn't announced a new iPhone quite yet, but I'm pretty positive Apple will introduce more robust hardware to ring in iPhone OS 4.0. The new OS  isn't perfect, but it does address most of the common complaints about the iPhone's software.
Apple Does Not Like the Pen
After listening to Steve Jobs and Friends for a couple of hours, there was a question and answer period. For those of you hoping that the iPad will someday evolve into the ultimate inking machine- don't hold your breath. When asked about how users would be able to close apps running the background, Jobs took a couple of swings at the competition.
"If you see a stylus, they blew it,"  Jobs said. "If a user has to see a task manager, they blew it…If our competitors introduce a competitor to the iPad, they'll be lucky if they get 3,500 apps after the first year. "
You'd better get used to taking notes with your finger or using a Pogo Sketch stylus. It'll be a cold day in sunny Cupertino before Jobs lets something approaching a Wacom digitizer grace the iPad, or any other Apple device for that matter.
One story that was a little lost amongst all the buzz about multitasking and iPad development is that the iPhone will finally be ready for the enterprise. A lot of the biggest companies in the world simply don't allow employees to use iPhones with corporate email or on their networks because of management and security issues. iPhone OS 4.0 will allow developers to offer management and security solutions that are up to par with what's offered on other platforms. Now I don't think everyone's going to rush out and force their users to turn in their Blackberry smartphones for iPhones, but it certainly opens a new door for a whole new user-base.
Time to Trade in the iHardware?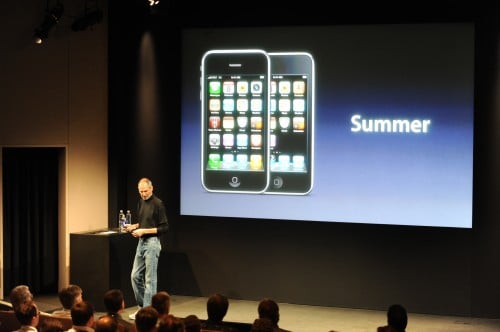 Now as excited as I am about iPhone OS 4.0, there's one thing that really bugs me. Why do us iPad users have to wait until fall for the new operating system when it's coming out for the iPhone this summer? My guess is that Apple will be introducing improved iPads for the holidays, which is when new iPods are typically introduced every year. I feel like my five day old iPad is already obsolete and I'm considering returning it.
As Jobs pointed out, multitasking will not work on the iPhone 3G and a few other Apple devices. This means a lot of applications will not be fully functional on many year-old iPhones. Like all that fancy stuff Jobs showed you today? You'd better be prepared to buy a new iPhone. Apps that don't support multitasking will likely fall by the wayside.
The iPad Needs Some Killer Cases and Use Cases
After organizing my thoughts about the event and uploading some photos, I headed over to Apple's company store. It's essentially a small Apple retail store, but its stocked with a bunch of Apple-branded apparel and keepsakes that you won't find elsewhere.
My nephew is using my iPad more than I am and I really need to buy some protection for it. Unfortunately, the Apple retail stores just don't stock anything that fits my needs. Several other iPad users at the stores expressed frustration with the Apple iPad case and the poor selection of third party iPad cases available at Apple stores. The Apple iPad case was sold out. The selection was limited toa $59 Lucky Jeans branded case that looked like it was worth about $10,  over-sized iPad travel packs, a silicone Belkin  case and a bunch of neoprene sleeves. Nobody, it seems, is offering an iPad case that protects the display, allows users to easily remove the iPad when needed, allow for docking with Apple keyboards and doesn't feel cheap.
Speaking of cases, Apple needs to start showcasing some use cases beyond consuming content and playing games.  None of the iPad owners I talked to today use the iPad for productivity applications or real work. Just about everyone seemed to be using their notebooks (predominantly MacBook Pros) and smartphones (almost all iPhones) to get things done before, during and after the event. I'm still trying to figure out if and how I'll be using the iPad on a daily basis.

As an Amazon Associate I earn from qualifying purchases.