A Gadget Geek's Visit From St. Nicholas
Many have already started their Christmas holiday this weekend and you can almost feel the hustle and bustle of travelers trying to beat the bad weather here in the US as they scurry to celebrate the holidays with loved ones. Of course the stores would prefer you to hustle and bustle into their doors for just a day or two yet. We certainly hope that you are traveling safely to visit family and friends, and we know many are hoping to be delighted with new gadgets come Christmas morning. Once you settle in after your traveling and shopping, here's a little holiday treat for all of the gadget geeks out there and those who love them.
A Gadget Geek's Visit from St. Nicholas
(With apologies and a nod to Clement Clarke Moore)
Twas the night before Christmas, when all through the house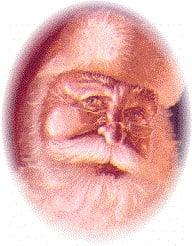 Not a creature was stirring, not even a mouse;
The touch screens were zooming and pinching with care,
Hoping soon NORAD would show St. Nicholas there;
The children were nestled all snug in their beds,
While visions of console games danced in their heads;
And mamma in her 'kerchief, and I in my tin hat,
Where taping over webcams to keep out the RAT.
When out on the lawn, there arose such a clatter,
I sprang from my standing desk to see what was the matter.
Using control center I swiftly flicked on the flash,
Opened the curtains and launched Instagram in a dash.
The moon on the breast of the new-fallen snow
Gave the lustre of mid-day to objects below,
When, what to my wondering eyes should appear,
But an Amazon Drone with a package held near.
With a dart and a weave, it avoided the trees,
And sailed through the wires without asking please.
It fluttered and hovered and started to land,
And I shouted, come quick our package is at hand.
I rushed to the door and opened it quite quick,
It unloaded and then, flew off with a flick.
With eyes all a flutter I snatched up the box,
Hoping this delivery was more than just new socks.
And then, with a holler, I heard my wife thrash!
Oh, honey, my dear, they've stolen our cash!
With package in hand, scurried I to her side,
With fear in my heart, we'd been taken for a ride.
Our shopping and shopping she wailed in a scream,
They've swiped our credit card data, our bank account's clean!
With a pause and a gasp I questioned her, how?
They hacked into everyone, we're all broke now.
Not an instant went past as I grabbed my phone near,
To Twitter, I cried, a thread must be here.
We searched and we searched, Twitter stalled and it failed.
Come morning I thought, we'll then be both jailed.
It wasn't just us, this was major fraud throughout,
The stores were apologizing, this must be our out.
We called our bank's hotline and what did we hear?
Don't worry dear customer, there is nothing to fear.
With a sigh of relief, and a hug, oh but brief,
We wept tears of joy, and got over our grief.
Then on to the tasks we'd let fall behind,
The clock's tick tick tocking was there to remind.
With haste and a flurry we set about our chores.
And then another noise, I heard from outdoors.
I leapt from the presents to see what was the matter,
When on the roof there arose such a rollicking clatter.
With Ma at my side we both turned around,
Down the chimney St. Nicholas came with a bound.
You know what he looks like, no description I need tell,
But with all that soot, white or black, what the hell.
He went about his business with obvious glee,
As he sprinkled presents and gifts beneath the tree.
Then laying a finger aside of his red nose,
And giving a nod, up the chimney he rose.
We leapt from our hiding and ran into the night.
Could this be? Was this possible? We screamed with delight.
He sprang to his sleigh, to his team gave a whistle,
And away they all flew like the down of a thistle.
We stumbled agog into our home, now twice blessed,
For our cameras were on, while this elf did his best.
"OK, Google" I cried, as the web we did search
We must hurry. Faster, to upload and be first.
Quickly editing our video, with fingers a whirring,
Tomorrow on YouTube the hits will be stirring.
But what to our wondering eyes did we spy,
A signal jammer left running by this clever guy.
No broadband, we cried! How on Earth will we cope?
St. Nick spoiled our fun, that jolly old dope.
Left folded on the mantle, we glanced a small card.
And reading it we laughed, with tears flowing hard.
"No Vimeo! No Facebook! No Vine! No Snapchat!
No Path! No Google+! There's no sharing, that's that!
No Flickr! No Auto Awesome! And of course, No YouTube!
Do you think old St. Nick such an ignorant rube."
"Enjoy what you have, let your dear family rejoice.
Turn off your blamed gadgets and give thanks with your voice.
Listen closely to one another, and hold each other dear,
For there will always be gadgets each and every year."
"For the precious time that you have, you must not let slip.
Use it wisely, use it bravely, don't let it 'scape each other's grip.
Turn off your connections, no more bits, not one megabyte,
'Happy Christmas to all, and to all a goodnight.'"

As an Amazon Associate I earn from qualifying purchases.