A Geek Weekend at the Kitchen Table

I'm been without my voice, suffering from laryngitis since last weekend. On top of that it was a crazy week at work, so I got no rest on that side of my life. (I secretly think my staff likes it when I can't speak.) But, my staff came to the rescue and stepped up to give me the weekend off from the theatre to rest my voice. The timing was excellent on a number of fronts. I could sure use the rest. My wife and I are searching for a new car purchase. And I had a number of geek and gadget projects to work through this weekend including setting up a new iMac, updating the Sprint (HTC) Mogul, and getting a printer hooked up for the Asus Eee PC. We don't have a large apartment (life rarely gives us time there) and so when I'm geeking out, I'm usually working at the kitchen table, or setting in my easy chair. This weekend's projects took over not just the kitchen table, but also the kitchen.
Setting up a new iMac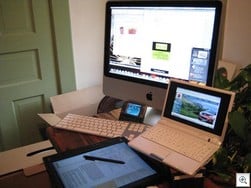 The biggest of these projects was setting up a new 20" iMac for my office. I lugged the box home on Thursday after it arrived and got down to some work with it on Friday night. I've been contemplating this move for my office desktop computing needs for some time now and since the newer iMacs are now starting to show on the Apple's refurb list, I thought I'd take the plunge. So far, my theory that I can run whatever desktop apps I need from seems to be holding. Why buy a Windows only machine when you can run both Windows apps and Mac apps on the same machine through virtualization? I'm using a combination of Boot Camp and VMWare Fusion for these needs (Thanks to Marc Orchant for some tips on this) and that is working quite well. I also think that rumor or not, we're heading to some sort of new Apple mobile device sooner rather than later, and I need to get prepared for that eventuality. Also of note, I installed Vista Ultimate on the iMac and opening up Windows Journal (yep it is there and opens) it is interesting to scribble in Journal with a mouse. I may have to pick up one of the smaller Wacom Tablets that are available these days to hook up to this and check that out.
Obviously, I haven't really pushed the envelope on what running my desktop apps means on the iMac and in a virtual machine, and won't until I get things set up at the office and get into a real work week there. But at the moment things look promising. (Side note: Amazing how much stuff I'm getting rid of that has been hanging around on my desktop that I don't use anymore.) I have to also say this, it is fun and exciting to be faced with a whole set of new challenges that require some new learning as I start to get to know the Mac OS.
HTC Mogul ROM Update and Office Mobile 6.1
Concurrently, HTC released a ROM Update for the Sprint Mogul. This update follows (relatively quickly I might add) on the heels of an earlier ROM update that basically failed out of the chute last month. That earlier ROM update caused all sorts of issues with lockups, BlueTooth randomly turning off, and other problems. Kudos to HTC for getting this out so quickly. After the disaster with the first update, and HTC counseling that users should roll back to an earlier ROM, it looked like this wasn't going to happen until the 1st quarter of 2008. But things moved quickly. Good thing.
So, in the middle of setting up the iMac, I was also running the new update and setting up my Sprint Mogul again. I'm glad to report that the newer ROM Update is working like a charm, with no perceived issues so far. I also took the time to install the upgrade for Office Mobile. Verison 6.1 seems to working as advertised without any issues.
Looking for a Printer Driver for the Asus Eee PC
And the third geek project to occupy my kitchen table this weekend was the Asus Eee PC. My wife, Thomasin, has really taken to the Eee PC. She still has some issues with it being so small at times, but she loves the mobility. The only rub we've found so far is that I haven't yet found a Linux printer driver for the Cannon i70 printer we use at home and I spent some time looking for that this weekend. I've seen plenty that say they work, but haven't had any luck yet getting that to work here yet. It could just be that I'm such a Linux noob that I'm doing something wrong. I'd appreciate any advice anyone wants to toss in on that one.
What about my Tablet PC during all this? It was right there with me every step along the way. My To Do lists for setting up the iMac where there in OneNote 2007. I sync my Sprint Mogul to the ThinkPad, so that was the primary device to get a workout during that install and re-install process. And while I've been searching on the iMac for answers on the printer driver issues, and some research for that new car purchase, there is nothing like picking up my Tablet PC, heading to my easy chair with a Hot Toddy (for purely medicinal reasons of course) and searching the InterTubes in slate mode.
Oh, and my voice? It is not all the way back, but it is well on the way. Hopefully I'll be able to do the next GBM Podcast with Sierra tomorrow night. And even though we haven't gotten the printer working with the Asus Eee PC, Thomasin is happy that she gets her kitchen back today.

This article may contain affiliate links. Click here for more details.